When Jason Holmes met Martin Brighty, owner of Soho-based gentlemen's outfitter Peckham Rye, he discovered the latest chapter in a tailoring story that has spanned two centuries and three continents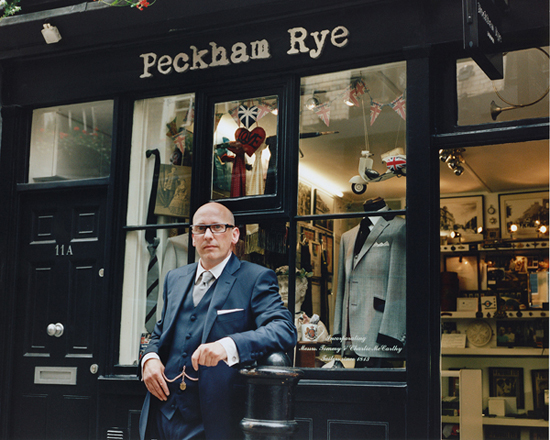 Peckham Rye nestles between Victorian terraces at the north end of Newburgh Street, its shop front a proud eye gazing calmly out into the narrow cobbled thoroughfare. The small window is crammed with all manner of things sartorial, and as you walk past, your pace slows, you stop, and you peer in. Two bespoke suits stand sentinel, one topped by a bowler hat. Paisley and polka dot scarves hang from an umbrella.
And neck ties, numberless and bright. Peckham Rye, tie. You smile at the rhyming slang and put your plans on hold, shoot the Roman bust in the window a quick look, and step inside.
The day I first visited Peckham Rye saw me hunting for a pocket square. On entering, I noticed a framed black and white photograph hanging on the wall by the door. On closer inspection, it was of a Victorian street scene, but not a London vista. The pavements were wider and cleaner, the buildings clad in stucco. The cut kerbstones more porous, somehow heavier. It was somewhere in India. A glimpse into Britain's colonial past, my parents' past, the country of their birth. The Raj. The parade of drapers, tailors and tea rooms was familiar to me, so I made my way inside, to be greeted by Martin Brighty, Prada specs perched on his nose.
'That's Brigade Road in Bangalore in the 1800s,' says Martin, reading my shocked expression.
'Bangalore? My parents met there, courted there!' And so for the first time in my life, family connections aside, I meet a Londoner with a link to the old country. And in the most unlikely of places.
The shop is cosy. Take a dozen steps and you reach the back wall on which hang more black and white photographs of Martin's forebears in India and London, all of them tailors. A Maltese Cross sits behind the desk, in remembrance of Martin's maternal grandfather who was in bomb disposal in Malta during World War 2.
Cufflinks and bow ties are arranged like sweetmeats on the counters. The myriad pocket squares are designed in London spot, check and paisley. It becomes immediately apparent that this is no ordinary store. Images of Britain's colonial past adorn the walls. It is a past to which Martin's family, like my own, will forever be entwined.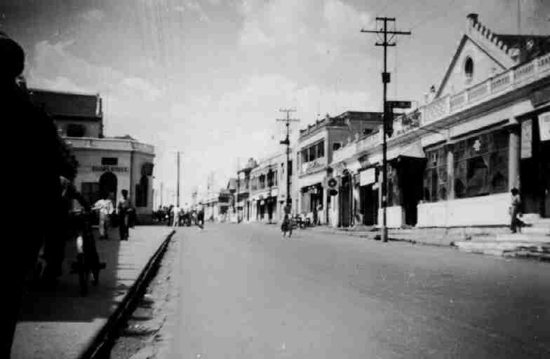 Lying parallel to Carnaby Street, Newburgh is a shorter thoroughfare of repose in the heart of the West End. 'It's perfect for us. A little cobbled street, with a little window, but a big heart,' says Martin, taking his seat in the basement cutting and fitting room. 'Would you like a cup of tea?' I can't refuse.
Six generations of family tailors have plied their trade, courtesy of the East India Company, in London (1799), Bangalore (1829), Gibraltar (1859) and Ontario (1865). They began as military tailors - a service Martin provides to this day - but the business now has a global reach as an independent British company with genuine heritage.
It strikes me that it's more than just old world charm on offer. It's about loyalty to your customer. About staying true to values you hold dear and maintaining tradition. 'We examine our clothes,' says Martin. 'We have pride in our product.' He is also open to tailoring ideas from clients. 'When you see a customer smile when he tries on a suit, it's priceless.'
Martin is originally from Peckham Rye in south London but Tommy McCarthy, his forefather who began the business, hailed from the other side of the river.
Thomas Marshall McCarthy was born in 1799 in the Ratcliffe Highway area of East London, a scene of social squalor a stone's throw from the docks. He joined the East India Company in 1813 as an apprenticed tailor and soon after left London for the subcontinent. 'Of course, the East India Company practised legitimised piracy,' says Martin, referring to the immense riches the EIC reaped.
By the 1830s, Tommy McCarthy was running a successful tailor's shop catering to the local military clique on Brigade Road in Bangalore, a south Indian city renowned for its military cantonment, year-long sunshine and an abundance of trees which gave it its name, the Garden City. 'It's very sad in a way that people don't know how important Brigade Road was to people from overseas. It must have been a busy place, with good business being done,' says Martin.
India was and still is a beguiling place, I say. 'I can't help thinking about how difficult it would have been to readjust back to life in England after that experience, especially for the children,' he says. Martin's forefather returned to Blighty with the army before he died in 1873, while my family - army and civil service people - stayed out there until Britain returned its Jewel to its rightful owners in 1947.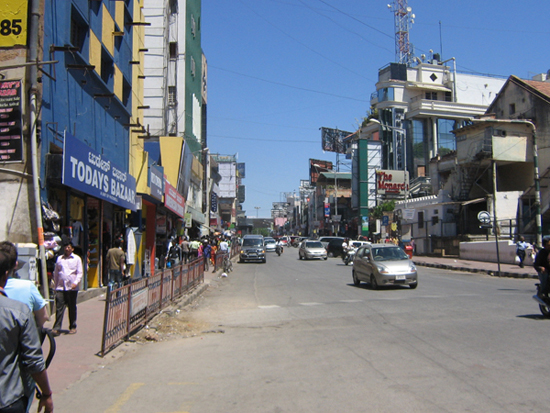 British language, culture and cuisine was forever changed by colonial exploits. 'Absolutely,' says Martin. 'For example, paisley first came to Britain by the trade of cashmere goods from the Vale of Kashmir to British India. Something which is considered a very British, or Mod, design is in fact Persian in origin. Also known as a boteh.' Imports by the East India Company in the 17th century made paisley designs popular, the name 'paisley' coming from the Scottish town famous for the woven shawls which bore the boteh design.
Martin's Newburgh Street store opened in July 2009, but prior to that it was a wholesale operation. Martin and his late mother had often discussed opening a shop in the West End, again in keeping with tradition; at the turn of the century the family had owned another tailor's shop near Hanover Square. It was almost inevitable that the business would return to the area.
Peckham Rye also sponsors Acid Jazz Records boss Eddie Piller's monthly Modcast and now counts a number of celebrities among its clientele including supermodel David Gandy, who calls Peckham Rye 'a truly historic shop in my favorite city'. He also rates the personal service as second to none: 'I'm taken back to a world of men's shopping that doesn't exist anywhere anymore.'
Martin has recently launched a bespoke service, with suit prices ranging from £900 to £2,500. Suits made for servicemen can take as long as six months to complete because of the logistics of getting busy servicemen in for fittings. I ask Martin to name some of his military clientele, but he just smiles. 'There's a dignity in secrecy,' he says.
Peckham Rye's popularity with various regimental men sees Martin forever being invited to official functions, but he always declines. 'Don't mix with your customers, that's my rule. It's bad manners.'
And of the future? 'To keep the business in the family, to pass on Tommy's legacy to the next generation,' he says, walking me outside. We stand in the street to better see the shop. Stencilled on the window are the words 'Incorporating Messrs. Tommy & Charlie McCarthy Tailors since 1813'.
Family matters. It's all a question of family matters. I arrived looking for a pocket square and left with so much more.
© Jason Holmes / jantholmes@yahoo.co.uk / @JasonAHolmes
11 Newburgh Street
London W1F 7RH
Tel: 020 7734 5181
Photograph of Martin Brighty by Carlotta Cardana (www.carlottacardana.com)
Photograph of Brigade Road, Bangalore, Karnataka as it is today, by JAH
Photograph of Brigade Road, 1940s by Antony Loach