Softly spoken and languid, Anna Söderström, guides me around her new collection of knitwear in her Camden pop-up shop.
'This is my first show. I've 150 pieces in the collection, and all are made by myself,' she says. 'My designs are labour intensive, all handmade from wool, alpaca or Scottish cashmere.'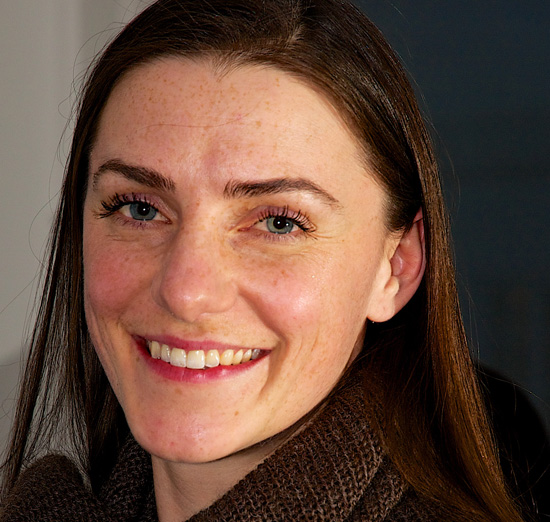 Born and brought up in Sweden, Anna, 29, studied languages at Oxford University and now lives in Highgate with her partner and ex-Python Terry Jones and their young daughter, Siri. Juggling the demands of her new business and that of being a mother currently consumes all her time. 'I awake at 7am and begin work,' she says. 'I've made all these shawls, scarves, hats and wrist warmers you see at home. I source the yarn from around the UK, because I think it's important to use home grown materials, but I do use the occasional yarn that is sourced from abroad.'
Anna is an advocate of the Drapers SOS Save Our Skills campaign which also has the backing of Arcadia boss Philip Green. Save Our Skills champions the sourcing of product categories which are no longer cost effective to produce offshore.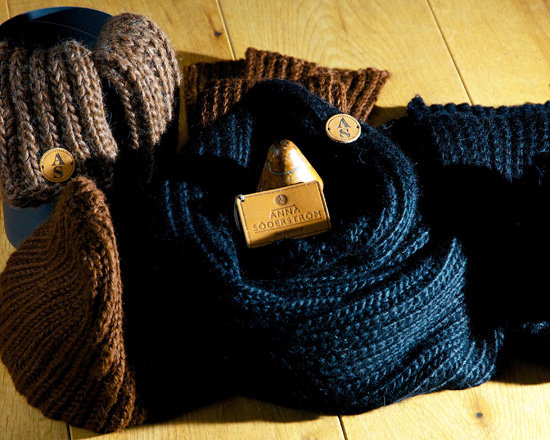 'I'm at an early stage in production, but expansion is definitely on the cards. I'm making knitwear at the moment, but I'm going to widen the scope of my designing and enlarge my team.' As an independent designer, Anna is able to work closer to each season with her lead times which removes the protracted necessity of sampling and sourcing from a market like China.
'I began production by procuring 20 kilos of yarn, ready to knit, although some of it is dyed for me to my specifications.'
Three years ago when she was pregnant, Anna took up designing and is self taught. 'I'm in a creative period right now. I'm an independent and it's still all about learning every aspect of the business side of things. I've employed branding and web people, but I've produced the photography and the copy for my online presence.' The brand's distinctive 'AS' logo and website was designed by Andy Isaac.
'Some pieces I make on my machine. It's a bit like a weaving loom. Some pieces are hand knitted, others a mix of hand and machine-made.'
Each of her designs possesses the classic look of John Smedley or Margaret Howell knitwear. 'I only want to work in natural fibres and British yarns, and create personal relationships with suppliers. This way I feel I'm in control of what I'm putting my name to.'
In 2013, she plans to place her designs in independent boutiques or in larger shops like Liberty of London. So an interesting designer has pitched into London's creative fold. Indies take note.
© Jason Holmes 2012 / jantholmes@yahoo.co.uk / @JasonAHolmes
Photographs by George Stavrou / gsstavrou@hotmail.com
Visit www.annasoderstrom.com for further information.