The descent takes a couple of minutes as we negotiate staircases and doors that lead nowhere before we reach the parapet that overlooks the stage which lies in the bowels of Smithfield Market's entertainment parlour, Fabric.
As a place better known for DJ sets, the incongruity of Anoushka Shankar sitting cross-legged upon the stage was sadly lost upon the majority of the paying audience.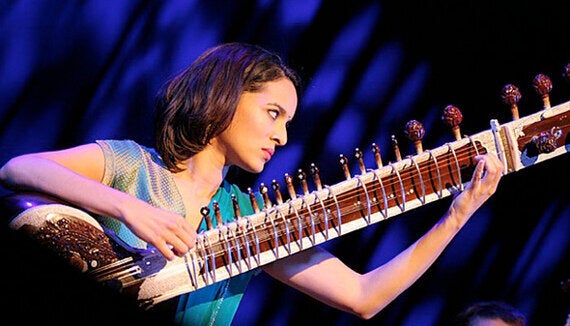 Why shouldn't she play here? That was, perhaps, the unspoken question. The answer, which never came, is that she deserves a more considered setting for her music.
What Anoushka was doing here was selling a strain of high culture to the masses in a venue better associated with bacchanalia at the behest of her record label, Deutsche Grammophon, for whom she is promoting her new album Traces of You.
Which is not to suggest she is not a great sitarist, because she is, her playing at times bluesy, the musical structures of her pieces western and four-minutes in length, then suddenly of the East and able to disorient.
But Anoushka is the digestible face of Indian classical music, and with a name like Shankar, she is beautifully marketable.
Wisdom dictates that we should consider her as a jumping off point, for as lovers of music we must always embark upon our own search for the real sitar masters who dwell in obscurity on the subcontinent. She is, therefore, our entry point into this divine world.
Anoushka learned from her father, Ravi, but as a teacher could not impart all that he knew. 'What I was privy to, being around him, is that he considered himself a student,' she tells me. 'He was aware of the infinite nature of growth as an artist. But I don't know where I am in the scheme of that.
'To everyone, my father is the master of this instrument, a foremost exponent of the classical Indian music style, his knowledge and innovation of the sitar the pinnacle of achievement.'
Born in London, Anoushka moved to New Delhi then on to California, and began touring the world at 13. She is an internationalist, having gained a rootlessness but also an individualism. A critic's worry is that the insidious creep of westernisation might in some way drive a wedge between her being and her spirituality, thus retarding her learning of an instrument to which a player must devote his or her entire life. It's a moot point.
'Spirituality goes beyond national borders,' is her answer to the accusation that she plays the sitar to western audiences ignorant of eastern spiritualism.
'I am connected to India through my art and music more than anything else. It gave me a real grounding in the culture,' she says, by way of admitting her cosmopolitan nature.
'Indian classical music is at the heart of who I am. I was immersed in it from birth. I was surrounded by music and dance. My mother encouraged me to play, but even though the encouragement came from my family, I was able to explore it for myself.'
Mid way through the gig, I realise this is the first time I have heard a sitar played live in London, and not through a lack of desire. The fact remains that, however much the liberal elite of this country espouses an ardour for all things Indian, or pan-cultural, it prefers things to be commoditised, packaged and made sellable. And only a name can achieve that.
Anoushka's playing is immaculate, but the evening has served as a potentially reductive experience in that the music actively associates itself with the jet set, rather than with a land of immense artistic and cultural wealth.
Yet only the fusion of musical styles and genres can sustain music, because, as is evinced in the rock world, a tedium can arrive as a thousand bands motor with the same back beat, copyists one and all.
'The point where East meets West in music should be about respecting each other's styles,' says Anoushka, 'and there should be a dialogue that feels truthful and respectful.'
While she is a cross-genre composer as well as a sitar player - having incorporated flamenco, jazz, electronica and Western classical music into her oeuvre - she remains mindful that her music is underpinned by Indian classicism. 'Two distinct classical styles exist in India: the Hindustani system of the north and the Carnatic of the south, so when you see north and south Indian musicians play together, that in itself is a fusion, a crossover.'
But the very name of Shankar is vexing, for when Anoushka concedes that the world of the sitar possesses a 'dynastic aspect', one thinks of Jagger or McCartney; all three names conjure a sense of heritage and musical excellence, but also remind us that for our love of music to survive in tandem with the business of music, new blood must get a chance.
The danger is that if the scions of the illumined musical masters hog the spotlights of today, scores of musicians unknown will never get to grace the stages of tomorrow.