In the heart of Soho lies a tailor's shop whose tale of the tape stretches back five decades. Jason Holmes reports
Chris Kerr possesses an air of watchfulness, borne perhaps from looking out into Berwick Street from the cutting board which sits at the front of his Soho shop. The spectacles he wears are of heavy acetate, the navy suit fitted with little give, the whole look rounded off by black brogues and a metal watch.
We sit in armchairs and chat. 'I've been here since October 2011,' he says. 'Before, we were further up the street at number 52, but we've always been on Berwick Street.
'Me, personally, I'd been at number 52 for 14 years. But before that my father Eddie had it from 1960. My dad was always a tailor. He began at the age of 14, as you did back then. He was from Shoreditch and my mum was from Hackney. I've got two brothers, one's in the RAF and the other's in the print trade. My grandfather was a cabinet maker, he had a place on Hoxton Square. It's a damn shame we haven't still got it, we'd be very rich people now!' he laughs.
Chris Kerr resettles his bins on his nose. 'Like a lot of East Enders, my family decamped to Essex. I started my working life in London in the print in the East End in reprographics at the age of 16. I was unionised and was in the NGA [National Graphical Association].
'I did my apprenticeship and worked there until I was about 22. It wasn't for me in the end, being stuck in front of a computer screen. I was a page planner and retoucher.
'So I decided to join my dad. He had a great job, meeting loads of famous people.' Chris is the son of legendary showbiz tailor Eddie Kerr. 'There were three partners in the business back in the Sixties when they started it up. In Soho, back then, there were probably 20 or 30 tailor shops all over the area.
'My dad started in the East End in a factory, worked his way out of that into a couple of shops in the Commercial Road area, then ended up working for someone on Brewer Street.'
Men were a sharper dressed bunch five decades ago. 'All men had their suits hand made back then, and they were coming to Soho for them. Savile Row was exclusive, so most people came here. Tailor shops were all over the East End and Soho,' he says.
'My dad was offering the modern man's suit, and I still do that today.' Chris gestures at the suits in the window. 'As opposed to the mid-1960s Savile Row suit which probably wasn't for the modern man. The classic 1960s suit was very boxy, had no waist, and big shoulders. The trousers were higher-waisted and tapered, so what is now considered the slim-fitting classic 1960s suit was very different in reality. Some suits were like that, but not many, and they came into vogue much later on.
'Eddie was the cutter, and had a salesman partner, but now I do everything. We cut here in the shop at the front,' he says, pointing at the board with his chin.
'People want bespoke suits more now, but having said that, we've never had a slump. Last year was our busiest year. All the fashion magazines like GQ or Esquire are full of spreads on suits, and they are all beneficial to our business, helping to keep the craft in the public eye.'
So who does he rate? 'I respect John Pearse who works out of Soho. His demeanour is very good. He's a very funny man too. His attitude is good because he sees himself as more exclusive than Savile Row!'
Chris is proud of his flexibility as a tailor. 'Savile Row can be inflexible, whereas our job is to be flexible. Most guys want a modern look, which is slim, fitted, with jackets with one or two buttons and narrow lapels. Certain people will ask for very particular things. One of our clients, Vic Reeves, is very specific about the look he wants.'
And what's his footwear of choice? 'You can get fantastic dress shoes, wholecut shoes which I prefer, at George Cleverley in Burlington Arcade. They're handmade and beautiful.'
The shop is open from Monday to Friday, and Saturday mornings. Chris points at a couple of newly made Western-style suits hanging to one side. I look at the cuff label and read the Hollywood star's name. 'They're for a new film,' he says.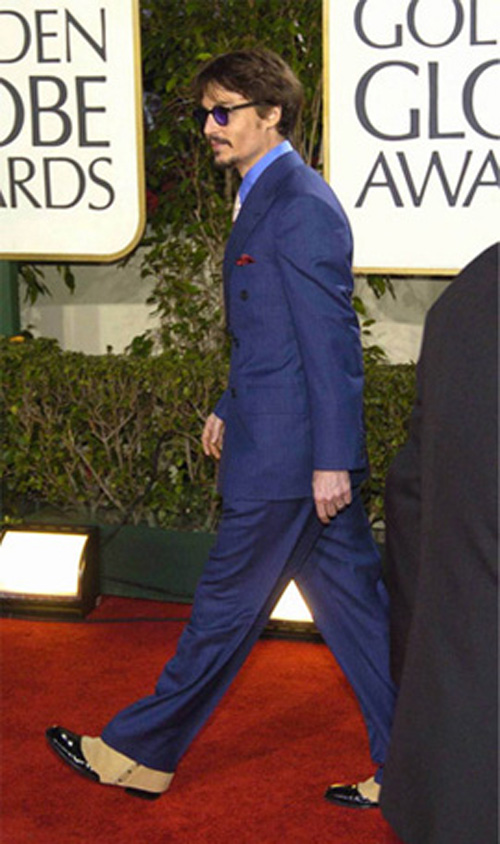 'I've also just restyled the new Dr Who, and made suits for Phillip Schofield, Chris Moyles, Derren Brown to name a few. I've made some stuff for Paul McCartney, some of his stagewear. I've worked on Casino Royale, the Sherlock Holmes movies with Robert Downey Jr, made suits for Lee Evans, Johnny Depp (pictured), Rob Brydon, Nick Cave, Lee Mack and Harry Hill. We also worked on the Captain America movie, providing the 1940s-look suits, and made Terence Stamp's suits for his role in Valkyrie. I'd've liked to have made a suit for Frank Sinatra,' he adds, rather wistfully.
'A lot of my ideas I keep in my head, but all the individuals' patterns are archived.'
Chris makes suits for men, shying away from becoming a cutter of ladies' garments. 'We're not specifically ladies cutters, because it's a completely different process that is required to arrive at a certain look. They're completely different beings!' he laughs.
'I have about 10 suits, all mine, which were cut here for me. About eight people work here, including my dad. He works here part-time.
'I'm 40 now. There's nothing better than running your own business and being our own person. You can't touch it. You work harder, but the buck stops with you,' he says, before adding, sotto voce, 'I love Soho, and I can't think of anywhere better to have my business.'
© Jason Holmes 2012 / jantholmes@yahoo.co.uk / @JasonAHolmes
Chris Kerr
31 Berwick Street
London W1F 8RJ
+44 (0)20 7437 3727
chris@chriskerr.com
For information on Chris Kerr Bespoke Tailors, visit www.chriskerr.com or follow Chris on Twitter @SohoBespoke
Photograph by JAH
Suit image courtesy of Chris Kerr