"In Belfast in the early '70s things were tricky. When I asked my local green grocer if I could do some paintings for his window for Christmas, he paid me in vegetables. The next year when I did the butcher's, he paid me in sausages. By the time I was 13, I realised I had a business. So I started charging."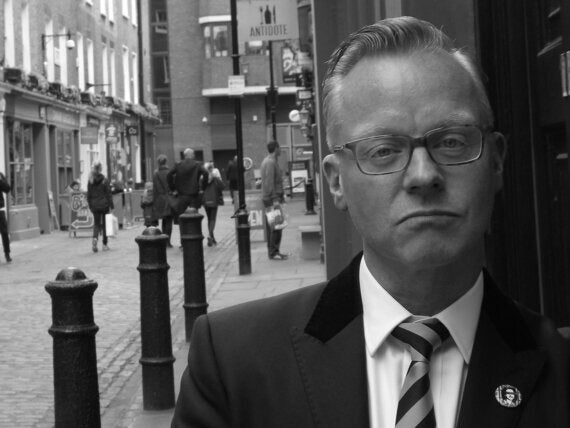 These are the words of Dameon Priestly, an artist who at a young age found art and the need to work. It's the perspiration that leads to the inspiration after all, and as a young lad in Belfast, he realised early that if he were to live the life to which he'd been born, he'd have to seize the initiative.
"I was born an artist and I'm going to die an artist, and I believe that what I produce people should see."
Shades of Francis Bacon and Peter Blake are discernible in his works. "Certainly I love Sickert, Bacon, Lautrec. They were drawn to the seedier side of life. They drank too much and did all the wrong things, but they were all geniuses."
Priestly studied art at the University of Ulster in Belfast from 1986-88, but having already profited from private commissions from the age of 8, he knew how to give his career wings.
"At art college in 1986 I specialised in fashion and I was British design graduate of the year in 1988. The 1980s was a great time for design because designers like Gaultier and Jasper Conran had started doing diffusion ranges. I ended up working in fashion forecasting because that was about having vision and being able to tell stories."
But he says he knew his talents lay elsewhere. "I decided to devote myself to fine art out of the blue in the mid-90s, much to my wife's surprise."
The recession of the time had seen freelancers go to the wall, but commercial illustration work for fashion magazines saw Priestly through this rough patch. "Slowly but surely I was able to get my name out there. The more work I got, the more I was able to fine tune myself."
In 2000, Priestly exhibited at the Elms Lesters Painting Rooms off the Charing Cross Road. "I contributed 200 paintings. The show ran for two weeks and that was my first big success. The door was open."
He says the key to getting your name known in the '80s involved doing something that was different. "But that's difficult when it comes to fine art. Yet if you're able to draw upon the traditional skills of storytelling and plot and strong visuals, then you're on the right path.
"I draw things from the past and set them in a contemporary setting and I work quickly because I know what I want each piece to look like before I begin," he says. "The underlying stories of my work are melancholic and dark which means there's a specialist market for it which is ranged within an art market that is saturated with art fairs that sell paintings to match your curtains."
And right there lies the problem of our post-Saatchi/YBA era which sees a hoodwinked populace embrace interior design of a generic Habitat-style variety over genuine art.
"I still do commercial projects and commissions, but I only take on things in which I feel I can invest a little bit of me." Priestly has recently conjured commercial works for Peckham Rye and the Big Easy and has painted a mural for Kettner's champagne bar in Soho.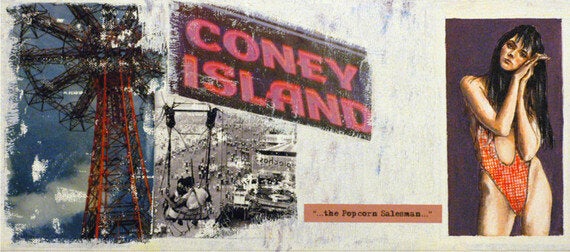 On young artists who work with a hands-on approach, such as the burgeoning art collective Vermilion Hook or the artist/photographer Edie Lawrence who are proactive in their approach to work, he says: "It does work. Anyone can talk a good story, but you need to be able to back it up. You have to have confidence in what you do but also be able to deliver, and on time.
"You should also never run out of ideas. But it's still a business. And you're only as good as the last painting. It's about having the tenacity and confidence to knock on doors and say that I'm going to do this no matter what. And you have to be clever about how you market yourself.
"Yes, you need to sell something or you can't do it. But if what you're doing is good enough, it will sell."
And what of the need for patronage in the art world given that the UK art establishment tends to ignore talent that rejects its attitudinal backwardness? "There's plenty of commercial money out there to be spent on artists, but that's very different to a sole patron willing to invest in art. That's a rare thing. And there are always going to be people who love art, but often they're not the people with money. That's the Catch 22.
"I've got a couple of private collectors who found me by default and began to collect my work, so there are people out there who genuinely love the art world and have a few quid. But you can't look them up, they have to find you."
Priestly produces three series of work each year, comprising 36 pieces in total. That's the discipline that keeps him ticking. "My only strategy is to stay focused on what I think I should be doing.
"The biggest mistake you can make as a painter is believing you're an artist, and the biggest mistake you can make as an artist is not being true to yourself," he says. "If you compromise, go get a job in a bank."
Portrait photograph of Dameon Priestly in Soho by @JasonAHolmes