It's quiet out here in the East End at the artist's studio. Sketches are pinned to walls and canvases lean whose naked ghost figures cling to the fabric in vain hope of the artist completing them. Ed Gray stands at the room's centre and regards his work. He's at home and abroad in this space, the one side of his being as family-orientated man having sent his artistic self out to work.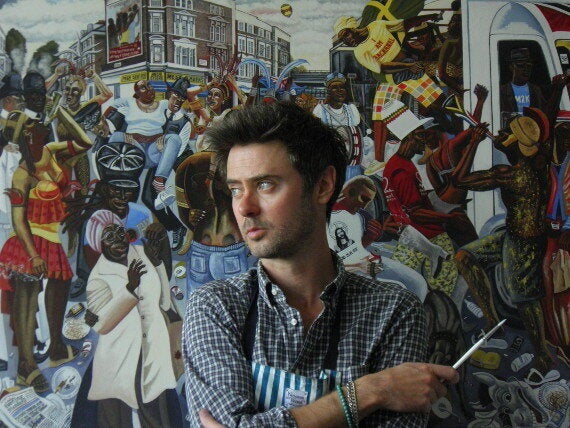 Here in Mile End, he cuts a condensed figure. A painter at work has fled the hearth to dredge the subconscious in solitude. The modern Hogarth I meet, therefore, is a refracted version of himself, and purer for it.
'The energy comes from the drawings. I look to entice a person into the picture, and direct their eye. William Hogarth is my hero. All his work possesses what he called the line of beauty,' he says, drawing a sweeping black 'S' shape upon the studio wall. 'It's a way of creating a rhythm, a harmony within the picture.'
Ed has walked here without an umbrella, coming across the river from his home in Rotherhithe, oblivious to the apocalyptic weather.
'As an artist you're constantly nomadic,' he says of his globe-trotting. He has sketched and painted his way around the world, from New York to LA and Bermuda, from the heart of South America to Cape Town and Japan. His magpie eye has ensured that all he has seen has made its way into his work.
Painting, and the teaching of painting, has become his life since he was a kid and, like Hogarth, Ed's work is a form of documentary employing pictorial satire; a continuous excavation of a London being buried beneath the detritus of a modern world. His is a noble task as he attempts to delay the tide of change so that he can rescue an essence of the immediate past, and it is for this reason that his work has become collectable, with some canvases now selling for £25,000 each.
'I do occasionally suffer from a sense of frustration that I can't work fast enough,' he says, eyes roaming the walls.
The stylised paintings are devotional in their depiction of people suffering from urban alienation or else going with the flow of life's ecstasy and agony. The influence of Piero della Francesca, Pieter Bruegel and LS Lowry is evident in the imagery.
Taking the traditional route to begin with, he studied fine art in Wimbledon and Cardiff. 'I was going down to the fish market in Cardiff and painting it, along with the cake shops and bakeries of the town. I was influenced by American painter Wayne Thiebaud and was left to my own devices, which meant I developed my own style early on. I suppose I became self taught from that point.
'But I had no idea about seeking agent representation. I never thought I could sell my work because I thought I was going to be a teacher.'
Ed trained as a teacher in Exeter before taking up a post for four years at St Thomas the Apostle College in Peckham. 'They let me construct the art curriculum. It was a great time to structure myself.'
Structure is what an artist needs; a framework within which he can create. The school gave him a sabbatical to Bermuda where he had two successful exhibitions and realised for the first time that he could make a living from painting. In 2003, he left his teaching job and began painting full-time.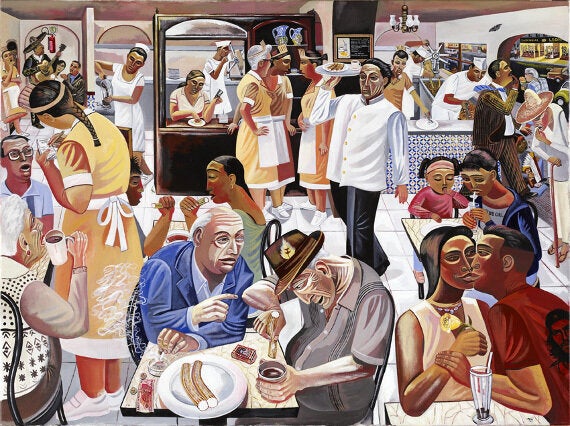 'My work is more a celebration of London. I try to find a harmony in it,' he says, before talking about the dangers of becoming obsessed with work, working too hard and of things 'getting out of proportion'. An artist has to keep his own company and that can be a business fraught with pitfalls.
When his mother died in 2010, Ed says he 'lost it'. Grieving will always get in the way of creation, but it can also transform it, lending the painter a different perspective as room is made for change.
And change came recently in the form of fatherhood and rebirth, his working week restructured as he works from Monday to Friday, nine hours a day, with weekends now sacred family time.
Ed paints over efforts he considers flat. The life of his street sketches flow into the finished paintings. 'But after a period of time, the drawings can fade, as can a dream,' he says, 'and then the painting has to be put aside.'
The creative moment can often pass for an artist, even when a painting is almost finished. It is at this point that canvases get slashed and thrown on the skip.
'My faith lies in art. I'm interested in street characters,' he says, 'and I recreate their physicality back in the studio. The paintings are objects which have a power of their own.'
"In a dark time, the eye begins to see" is written in bold upon the studio wall next to a large half-finished canvas of a crowd scene set outside Arsenal's Emirates Stadium, which serves as a reminder of his recent bereavement and of the task of the artist who is loyal to his muse. There is, after all, only work.
Related