Think again of two bands who once reared into the light in an era when talent lay upon the ground like grass. Musically speaking, when you think of London you think of them as bands who expressed the aspirations and attitudes of the young men of the nation's capital. They were The Kinks and The Sex Pistols. When Ray Davies sang lilting tales of urban existentialism, Lydon instead made incarnate the young Londoner's anger and dissatisfaction. One appeared angelic, one profane and between them over the space of two decades London found its voice, first in Waterloo Sunset and then in Anarchy in the UK. As two sides of the same coin, their passion bled through words mellifluous and staccato.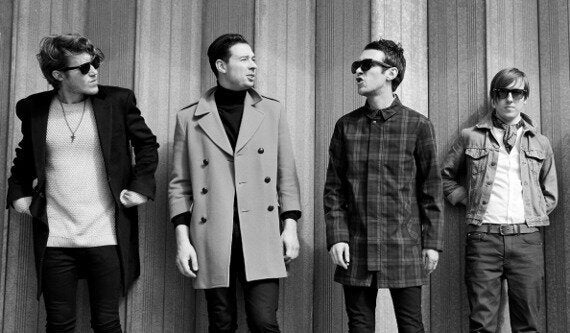 And yet today London is a city somewhat robbed of its musical crown, which begs the question, where have all the London bands gone? They're here, yes, but fighting doggedly to crack the MOR mantel that hangs like lead over everything. A band like iC1s, who sit calmly within the vanguard of the London scene and are rated by the likes of Carl Barat and Alan McGee, possess a lot of the old, natural swagger.
London is a crucible of ideas, a place where ardent eyes seek in the city's crevices the next big thing. "But it's a British music scene and we're all in it together," insists iC1s' lead singer Daniel Coburn. "London crowds tend to be the hardest to impress. If you get applause from a London crowd, you might be onto something. I blame the price of beer. It's £5 a pint here and people don't like risking their pint to clap."
The name iC1s trips off the tongue nicely. "It's a police term for 'white Caucasian' but we don't use it as that," he says.
They spring from the hinterland with music as second nature which is all well and good considering the drive needed to make a dent in the all too often impervious music industry hide. They're fans themselves of all that has gone before, and the natural thing for natural-born stage dwellers like these was to see what they could make of their collective talent. They've been together for three years which is a test passed, and their name, like UB40, provides an insight into their sly, socially-conscious take on the world.
The business of making music is this: instruments cost money, you need time to write, you must work, pay the rent (squats have long since vanished) and hone your attitude by standing outside the mainstream and decide, just like Jagger or Townshend once did, to express yourself through the attack of stage performance. In short, you have to make a scene.
But the problem is that music has become a society of politeness and the brash countenance of Sid Vicious is now a big no-no. "The music is the problem. Where is it?" asks Coburn. "You can only buy what's given to you. I guess no one's taking risks anymore on real bands but that's all about to change."
Change must come if music is to flourish and investment must come from the top. "We get told we sound 100% London, but I'm not sure that's completely true. Using influences from everywhere is what makes us great."
Think of the 'Kinks effect': the finest band to ever hail from the capital managed to set the bar so high that successive bands have been striving ever since to hit notes as high as theirs. But that hasn't stopped the likes of this outfit giving it a crack.
But with venues closing across the capital, the modern band is up against it, thinking hard about how to make music an ongoing concern. "Be who you are," says Coburn. "I'm a bit mod at times, sometimes I'm a bit punk. I can be tough, I can be weak. I can stand tall and other times I shrink. I don't think we will ever have a problem with being pigeonholed. But we won't change our sound for the sake of it. I'm sure it will just be a natural progression. I can't see us growing beards and playing the sitar anytime soon. We just need our songs on the radio and the rest will take care of itself."
It would seem the time is ripe for Londoners to shrug off the insouciance they've for too long worn, and if you can't scale the heights reached by Mr Davies, then you can at least get angry like Mr Lydon. "We don't make a living out of the band yet," says Coburn, "but we live for the band. So money or no money, nothing changes, the passion will always be there. That's the answer you get from someone with empty pockets. People don't like liars and see straight through them. You need to be real because the people who buy your records are."
Popular in the Community