The painted lady at reception is confused. Sweet perfume comes off her in waves as a brunette dressed as a rabbit looks at me over her shoulder.
"Steve. Steve Furst...also known as Lenny Beige."
Then her penny drops, so to speak.
"Go on through," she tells me through the milk white of her Rita Hayworth smile.
And there he is on stage, warming up, the nylon wig crouched upon his head, eyes searching the room beneath brows of the finest greasepaint. The jacket is velvet or something approximating it. If he stood next to an open fire he'd melt.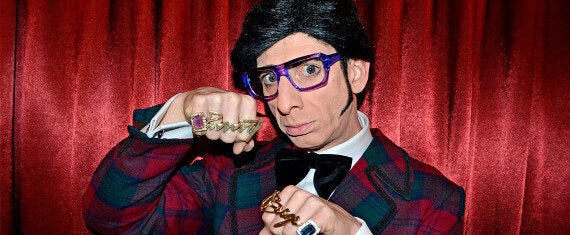 It is time to reacquaint ourselves with Steve Furst, a man who made his comedy bones back in the 1990s, doing his first stand-up at 23 and subsequently working with Vic Reeves and Bob Mortimer in Catterick and alongside Matt Lucas and David Walliams in Little Britain. He has also worked with Lenny Henry, Kasabian and Chris Evans amongst many others, and managed to stand (as his alter ego, Lenny Beige, pictured) against David Mellor and the late James Goldsmith at the 1997 general election in Putney (he didn't win).
Furst has always trod an interesting show business path, having recently played Mr Wormwood in Matilda the musical in Covent Garden, but the voice inside him ensured Lenny's resurrection. He can now be found every Thursday night performing as Lenny Beige at London's Playboy Club.
With the warm-up for the evening show over, Steve climbs down and we head for the rear of the club. Beringed fingers add a percussive surround sound to our conversation. A bunny walks past and smiles and we follow the sway of her glutes.
I mention what happened with Rita at reception. "If I come in here without the wig a lot of them have no idea who I am," he says, hands flying as he talks. "They're used to me arriving as Lenny. I usually get a parking space too."
Steve, as Lenny Beige, is a natural performer, but Steve is hidden from view, concealed beneath the make-up. Lenny seems more real. It occurs to me that Lenny would kill Steve if he could. I think of Frankenstein's monster and glance at his toupée.
"Doing stand-up was hard. I prefer wearing wigs, dressing up, putting on voices and making music. When we first put on Lenny at the Talk Of London, we had a magical weekly show. I was joined by Sacha Baron Cohen, Matt Lucas and David Walliams. It became very hip, very quickly."
But who is Lenny? "I had always wanted to run a little cabaret club, and that's when I started doing Lenny. The idea which lay behind him was of a consummate host, Mr Showbiz.
"I'd only been doing Lenny for a few months when I saw Anthony Newley perform at the Café Royal. I suddenly realised that he was Lenny! Newley had this mellifluous transatlantic voice, and there was bitterness there coupled with a love of showbiz.
"So I started rewriting Lenny's history, so he had a lot of money, but it was never from performing or being famous, but rather from running clubs on the East Anglian riviera and in places like Didcot." But there's also Lenny's look to explain. "Lenny has always been 1969, when the middle ground in music started to get funky and fashions started to get more relaxed."
Steve's career is of the classic 20th-century Jewish showbiz narrative, his creation - Lenny, the Jewish club owner - floating between tradition and modernity, minority and mass culture. With Steve and Lenny now almost having become one kitsch entity, where one leaves off and the other takes up is hard to discern.
"The older I've got the more believable Lenny has become," says Steve. "I'm bitter and angry, and so is Lenny. But I have to be realistic now. The cabaret scene has changed. The show between 1996 to 1999 was very excessive with a lot of Britpop craziness. Lenny was on TV a lot then, but I decided to stop and moved to Hastings for five years. I wanted to get back into acting, which I've managed."
It is mooted that Steve will appear in the West End musical version of Made In Dagenham next year which will star Gemma Arterton, but for now it's Lenny all the way. "For me, it's all about the variety, and as Lenny I can sing the songs I've always wanted to sing."
Next year marks the 20th anniversary of Steve performing Lenny, and he has plans for two big shows with the old team. "Half of my old band became Robbie Williams' band. So we'll get the band back together. We had a lot of freaky acts in the old days. We had Elephant Man Elvis, Spanky Botty Shakespeare... a lot of weird shit that people absolutely loved."
A bunny walks by. "I want to bring back the lunacy," says Steve finally, staring at her tail.
And who better than him to do just that...
Photograph of Steve as Lenny Beige courtesy of the Playboy Club, London