Engine scream splits the Peckham air as a steel bird lumbers out of a cloud, banking sharply west towards Heathrow. South London streets lie quiet and Jessica is lost in shadow in the corner of the pub garden. She looks at me, then down at her hands before she answers.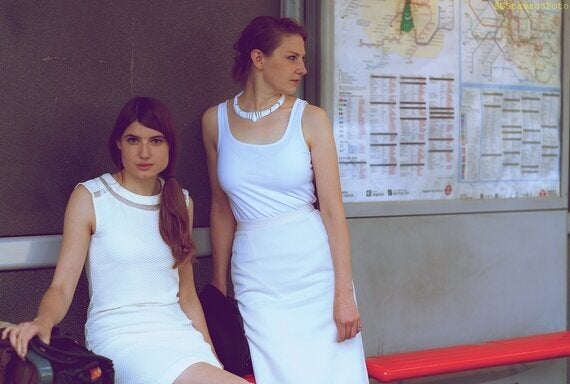 "We're not into image when playing live," she says. "For us it's just a case of picking the best musicians we could."
As one half of the folk-pop duo, Smoke Fairies, Jessica Davies (pictured right) is the more reticent of the two for whom still waters run deep. She watches with care while the other half, the restless Katherine Blamire (left), talks.
"We were pleased we got the Glastonbury slot," says Katherine of their recent solstice gig, "because it's a statement that we're here, on the map."
The two Winchester-born women have been playing together since they were 11 and, now that they've broken into their thirsty thirties, have begun to hit their stride in a fickle, venal world of music; but it's the knowledge of their own worth that affords the duo a modicum of spiritual comfort.
"Our music has always not gone with the flow of what's happening," Katherine tells me through a slow-burn gaze. "We're strange, and so we're difficult to market. Naturally, it has always been on the fringe. We've never felt accepted, in any sense, by this kind of industry. But it is inspiring to be able to do whatever you want."
With their new album, Smoke Fairies, out on Full Time Hobby Records soon after the release of Blood Speaks on V2, they are current stable mates of Erland & The Carnival, and tell me they "feel disconnected from the music industry". Yet they were the first UK group invited by Jack White to record at his Third Man Records studio in Nashville. Their reputation, therefore, precedes them.
"We started out as a folk band," says Jessica, her eyes far away on the pink summer moon, remembering. "We want to write the best tunes that we can. We share the duties. There are elements of delta blues, but we've also been described as making 'dream pop', but that doesn't really mean anything."
Therein lies the enduring problem of explaining music for the masses: the industry needs to pigeonhole. But with a band like Smoke Fairies, it's nigh on impossible to classify the writing and recording of two women as creatively eccentric and as singularly English as these two who have toured with the likes of Bryan Ferry, Richard Hawley and Laura Marling.
Then comes the slow burn again. "Music is our life," adds Katherine, "and a bit like a weird boyfriend, you can't just put it down. Every change Jessica and I have gone through in life, we've gone through together. I don't feel like I have regrets. But there's always a sacrifice when trying to be creative in an environment that doesn't really allow for creativity." She says she values her freedom above all else. "We come across as quite shy, but we do have a fierce furnace of confidence."
While Smoke Fairies are championed by BBC Radio 6 Music and XFm, a welcome development recently came when the government invested £550,000 of public money in the Music Export Growth Scheme; the band was allocated a slice of the cake which "makes it possible for us to take our full band to the US", says Jessica.
The band's full line-up includes Perry Neech (bass), Sherman Dormer (drums) and Neil Walsh (keys, viola and guitar) and the players take their influences from Americana like Crosby Stills & Nash and The Grateful Dead. "That stuff never leaves you," explains Katherine. The duo spent 2002 in New Orleans and realised just how high the benchmark in musical excellence is set. They've been champing at the bit for greater recognition ever since.
"We do have moments of doubt," says Jessica, "but life's too unpredictable and so I've mellowed. Because I've had to. We continue to release records to fans who like what we're doing."
"The goal is to be more chilled out," says Katherine, "but it's hard to because I'm ambitious. Basically, you just need lots of beer." And bloody-mindedness.
When Norman Mailer wrote that the Sixties ended "with television living like an inchworm on the aesthetic gut of the drug-deadened American belly", he foresaw the blighted western age in which we have come to live. It is an age, not of innocence, but rather one of decay. And defiance. Smoke Fairies fulfil the latter remit because, through hard graft, they've come to realise that it's the only recourse to action remaining for writers who write for the terminally unread.
Photograph by George Stavrou