"The magic of recording is that you don't quite know what you're going for until you're in the studio and working with the musicians and producers," says Pete Molinari. "That's a good thing. You have to let things unfold."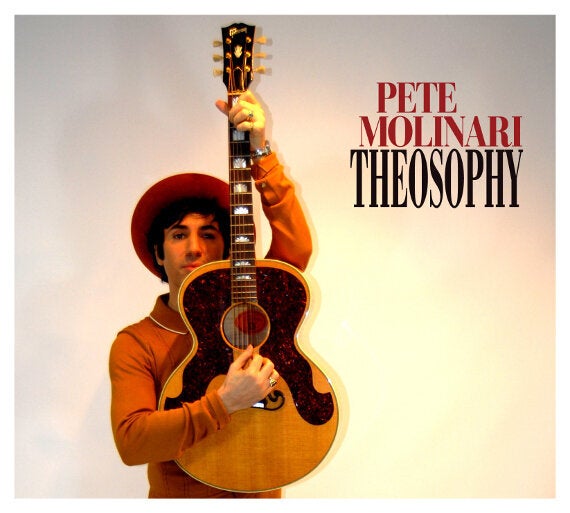 And this time round, as the follow-up to his last long-player, A Train Bound For Glory (2010), Molinari has served up Theosophy, a 13-track album which features The Black Keys' Dan Auerbach and Barrie Cadogan (Primal Scream, Little Barrie). Recorded at Humbug Studios on the Isle of Wight and mixed at Full Mongrel in Wales, one can hear the jangle of Rickenbackers and the swirl of Gibson Jumbos beside the voice of a writer doing his own thing and excelling at it.
With top-flight production and mixing from Andrew Weatherall and Boe Weaver, Tchad Blake and Liam Watson, the record is of Nashville and Altamont, of Monterey, Laurel Canyon and Greenwich Village and pays respect to the likes of Woody Guthrie, Hank Williams, Richie Havens and Dylan. The flinty, electro feel of the Weatherall touch updates the blues of The Rolling Stones and the melody of The Beatles to render a refreshed Molinari sound.
If it's the dour and more brooding sound you're after, look elsewhere, because there is something of the fleet-of-foot Renaissance man about Molinari today, something that spills over the sides of his identity as a musician. Perhaps it's his natural curiosity and erudition. He's the best of British - with an Egyptian father and Maltese mother - in that he's of our oft-ignored, artistic melting pot with a unique perspective on the cultures of both Britain and the US.
"Like Charlie Chaplin once said, I'm a citizen of the world," he says. "The musicians I've worked with in London, Nashville and the Isle of Wight are all class-A, and to work with someone like Andrew Weatherall will make it interesting for the listener, but it will also be interesting for me. I look at things from that artistic point of view. That's what makes for a great collaboration."
The record is a modern testament to what can still be achieved in a studio, as long as the best, educated personnel are present. It's not so much the old made new, but rather the new played correctly.
As something of a veteran of the music world, Molinari has learned that "music is not for the faint hearted. And if you want to go down that road less travelled, it's not for cop-outs. It's for people willing to go the whole hog.
"Being a solo artist, I can have my cake and eat it," he says of his ability to choose the players he works with. "I like to work with people because of the vibe they bring. Good energy is important. The playing can come round later. You're only going to come out with a great recording if you've got good songs and good players. Whether it's Abbey Road or Olympic Studios, it all comes down to the best musicians you can put together."
He talks of the ability to work quickly and efficiently. "Like this, in the course of a day, you've all of a sudden got two or three songs down. But you can't rush a good thing. But also, if you hang around on something for too long, you can mess up its energy."
This is true of other forms of writing; Molinari, who constantly writes poetry, also has a novella on the go. "I'm comfortable with a pen in my hand, and I'm as much a fan of Oscar Wilde as I am of Jimi Hendrix," he says by way of explaining his work ethic. "I like to have all my songs written down and prepared before I go into the studio. I'm the writer and the singer, so I've got to be prepared because everyone is working around me. When you record live, you have to get as much down on tape as you can. The key is preparation."
The new album has Molinari surrounded by a full band, when at times, in the past, he's been regarded as a singer more comfortable when alone at a mic. "I love music too much to ever stop. But it's not everything to me. My identity as a musician is because it's how I best express myself. I don't think I'm better than anyone else, just because I have a record out. Music is something I'm self-assured at, but there are other things in life at which I'm not so self-assured," he laughs. "But I discovered I could play, sing and write, so I chose it as a means of communication."
He sees the mainstream for what it is. "If you throw enough marketing money at something, and get it in front of people, it will become successful. But what of the substance of it? That's the crucial thing. It will only last if it has substance. Think of Billie Holliday, Robert Johnson, think of The Rolling Stones. They have lasted because of the substance of their music."
He tells me he's a man out of time, not comfortable in this modern era. "I still don't feel I've found my place in the world yet." Through music, therefore, he continues the search. "Musical magic appears like dew. I don't think that anything that is worthy is often quickly snatched up. Pick up an autobiography of one of the greats like Billie, Piaf, Patsy Cline, Johnny Cash or Roy Orbison, and you'll find that their stories don't begin on the day their records came out. The really interesting stuff leads up to that point."
Molinari, the lad from Chatham, Kent - who recently won praise from an impressed Bruce Springsteen - cites Billy Childish and Charles Bukowski as maverick spirits in tune with the musicians he has always admired. "Success? It's creatively doing what you want," he says finally, "but the greatest thing you can learn in any area of life is humility."
Photograph courtesy of Matt Ingham at Cherry Red Records