As The Beatles' 'Tomorrow Never Knows' fades out over the PA, the feedback groan of Barrie Cadogan's Gibson splits the air, a white umbilical guitar lead coiling obscenely into the amp. Five minutes into the gig and the band has put a grip on a crowd who twist with delight in the dark womb of the club.
Fast forward ninety minutes. The trio recline upstairs above The Blues Kitchen in Camden, and through the floor come the noises of midnight. Susurration of bacchanalia.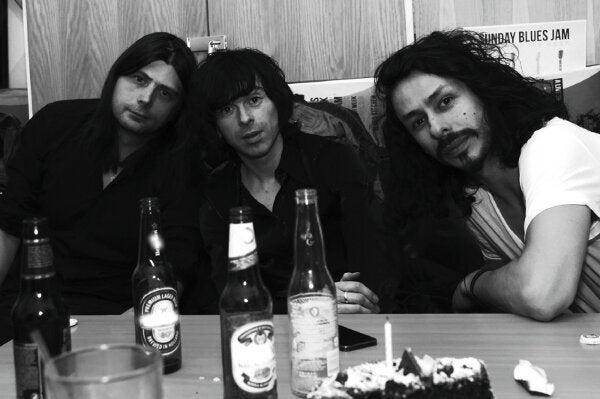 'Something was loose in the guitar,' says Barrie Cadogan of the guitar's growl. He's preternaturally calm after his stage exertions. The table is strewn with beer bottles and a half-eaten cake into which someone has driven a solitary candle. Bassist Lewis Wharton is reflective and exhausted, while drummer Virgil Howe can't stop smiling.
'But sometimes when shit happens,' continues Barrie, 'the crowd goes with it. It went in our favour tonight.'
A whirling blues dervish who plays licks at levels that force blood from your ears, Barrie Cadogan has been recruited in recent years by the likes of Paul Weller and Primal Scream to add muscle to their studio and live playing. His style is unique for its amplitude and precision fretwork, a modernistic take on blues purity which is coloured with more than just a dash of Bo Diddley and Hendrix.
But when did Weller first finger Barrie as a guitarist with whom he could work?
'He didn't finger me...' comes the deadpan reply.
'He's still waiting,' says Virgil (son of former Yes guitarist Steve Howe), the satyr's leer that was visible behind the blur of his sticks still present.
'There are still some dreams yet to be realised...' says Barrie. 'We were the backing band on Paul's 22 Dreams in 2008, but we met him years before when we made our first singles on Stark Reality Records.'
As one of the best live acts to be found anywhere, where do they see themselves in the rock hierarchy?
'They're all below us,' says Virgil.
'I don't think about it,' says Barrie. 'I don't want to be part of a scene. Scenes are generated by the media. It's false. People are into music, and that's it. We're concentrating on writing material for our next album this year, but I don't know how important that product is to the masses. But we still like a record with two sides.'
Juddering musical workouts like Surf Hell, Money In Paper and Tip It Over are held in place by Lewis Wharton's oak-like presence which provides a metronomic pivot around which Barrie and Virgil extemporise.
'No one takes any chances on anything anymore,' says Lewis of the music business. 'We've learned as a band to be self-sufficient.'
'Americans think we're a jam band,' says Barrie.
'The bedrock of American music is rhythm and blues,' adds Virgil. 'Americans will always like bands like us. If you get up there and sweat your bollocks off, they like it. They want some shazzam...some pizzazz...'
'...Like David Blaine,' says Barrie, regarding his beer. 'The toughest gigs are when you're supporting somebody, because people aren't there to see you. But you can never tell what an audience is going to do.'
'You can get pissed off on tour sometimes,' says Lewis, 'but an amazing gig can enliven you like a gig we did in Louisville, Kentucky last year which was almost rained off.'
The power trio spend a lot of time playing music to each other and talking about how they want their sound to develop, but is there a career endgame? 'No,' says Barrie, 'but it's one of the reasons we're still here. We've been around for 12 years.'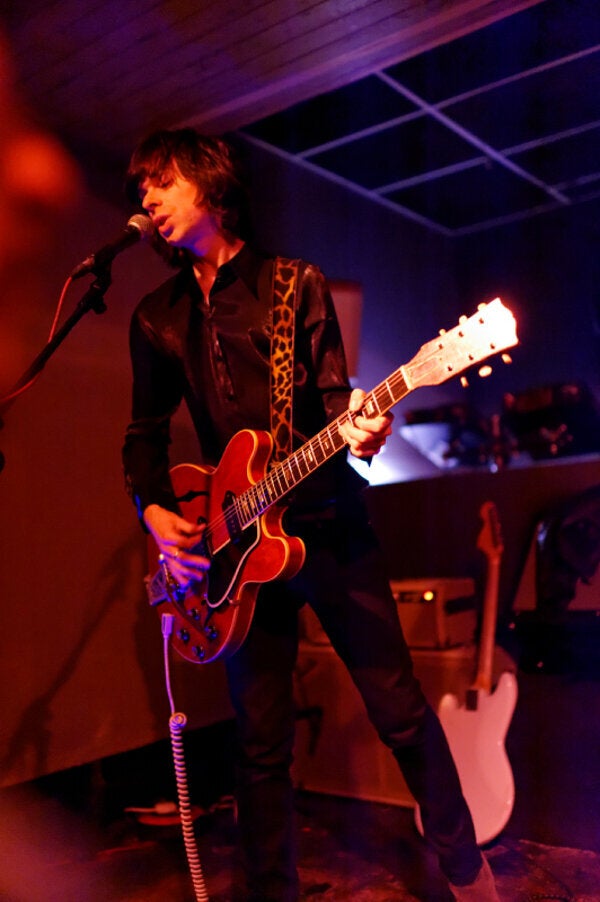 How does Barrie rate himself as a guitarist? 'I don't think about it. I'm never satisfied with my level of playing. But that's the beauty of playing an instrument, with the ultimate aim of being as individual as possible, while trying to say more with less. And I don't feel like I've got enough out of the guitar yet.'
Signed to Tummy Touch Records, the band is content to create away from the mainstream. 'The mainstream is pointless,' says Barrie. 'You may as well listen to a drill. People making the most interesting music are the ones not getting the exposure. The major labels ruin a lot of bands.'
'Major labels inevitably dictate terms soon into a band's career,' agrees Lewis, 'and this is when bands come unstuck.'
Barrie is clear-eyed when discussing the lines along which major labels are run. 'Employees of a large record label are more interested in renewing the contract on their own job, which they can do by being able to change a band when they first sign.'
So it's all about nickels and dimes and corporate blanding. But what is the best way for a band to get exposure?
'Get your kit off,' says Virgil.
'...it depends on the music you want to make,' says Barrie. 'A lot of modern records are really badly produced, so time and effort should be spent on getting the sound right.'
Barrie cites The Stone Roses, The Happy Mondays, Dinosaur Jr and Mud Honey as early influences, which led him to The Byrds and Jimi Hendrix, then to rhythm and blues and soul. 'You've got to do what you feel,' he says. 'At the moment, I've been listening to a lot of old psych stuff like the 13th Floor Elevators.'
'...I've been listening to a lot of Radio 3,' says Virgil through a leer.
Is the band fiscally astute? 'No way,' says Barrie. Virgil agrees: 'Every month is a nail-biting shitstorm of panic.'
But the currency to be cherished is not that which can be hoarded in a bank account and parlayed into greater riches by financial advisors with rat-trap minds and grey slip-on shoes.
Instead, Little Barrie are concerned with life's real success: to be able to follow your calling and get paid enough to buy a new set of strings, feed your babies and, as tonight proved, fix that loose connection in the guitar.
'Celebrity is irrelevant,' says Nottingham-born Barrie. 'I just want to do better work. And make better music.' And this time Virgil vigorously nods his assent.
© Jason Holmes 2013 / jantholmes@yahoo.co.uk / @JasonAHolmes
Photography by George Stavrou (@GStavrouFoto) (L-r: Lewis Wharton, Barrie Cadogan & Virgil Howe)
Follow the band on Twitter @LittleBarrie