A snowy Saturday night in New Cross found Jason Holmes enjoying a post-gig chat with Simon Bartholomew of the Brand New Heavies
He drops from the stage and heads for the bar against which I lean, the Amersham Arms perhaps one degree warmer than the gelid atmosphere of outside. The Super Soul Soldiers were the band for whom Simon Bartholomew was on guitar duty tonight, playing a set of reggae, hip hop and funk. "This gig kept me on my toes", he says, as we clink glasses.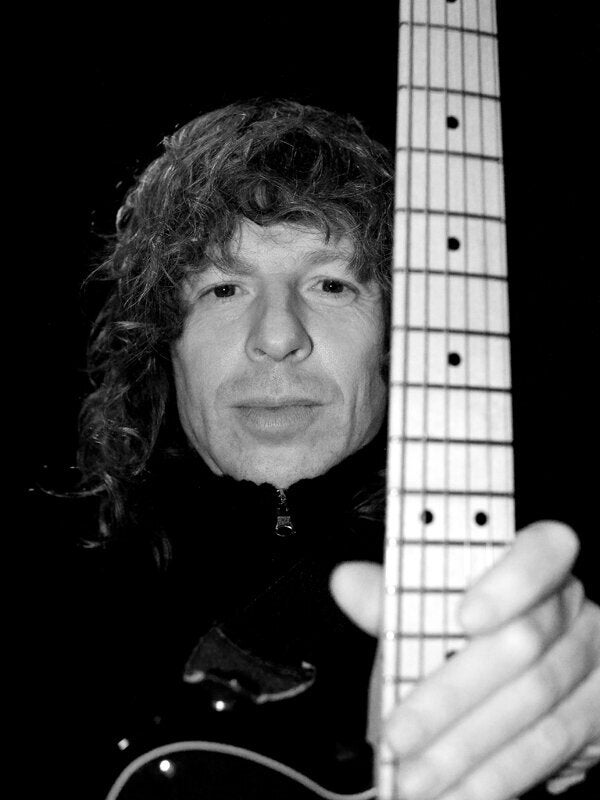 Looking younger than his 47 years, it is evident the happy life of the musician has worked its charm. "I was born in 1965. Original Sixties skin this is!" he says, grabbing his cheek, "I could sell it to a Mod!"
Ealing-born but now residing in New Cross with his girlfriend and two kids, it's been 20 years since he, Jan Kincaid, Andrew Levy and singer Jay Ella Ruth rode the London funk wave as the Brand New Heavies, a four-piece founded in 1985 which played an infectious blend of soul-funk that won them a cult following on the club scene. Vocalists like N'Dea Davenport and Carleen Anderson came and went, but Kincaid, Levy and Simon never parted.
"The Brand New Heavies never finished", says Simon. "We're recording an album right now. N'Dea is on a couple of tracks, but more importantly, I'm making my vocal debut," he says, raising an eyebrow. "Right now we're remixing. We're doing it independently. Jan [Kincaid] has also put a track together with Bluey of Incognito."
The early, heady days of the Nineties had been a time of the big record deal. "Then you used to tour to sell a record, but now you tour to make money, and the record is there to get you on the road", he tells me.
The success of the Heavies paved the way for other groups like Jamiroquai to do their thing, while putting the acid jazz genre firmly on the musical map. With singles like Dream Come True [1990], Stay This Way [1991] and Dream On Dreamer [1994], the band cemented its reputation. The Heavies played live music you could really dance to. "In a way it's good to see all these big record companies rendered powerless now, because once upon a time they controlled everything. Now anyone can put a record out and get a deal", he says, "...but only if they're good."
And Simon is very good. The funk chop of his playing is the most subtle yet identifiable of the band's sounds. When I tell him he is one of the best funk guitarists in Britain, he smiles. "Guitarists, such as James Brown's guitarist Jimmy Nolen, or any funk guitarist for that matter, should get wider recognition for their playing. Someone like Nile Rodgers is a fantastic player. There's a lot of skill in playing bad ass licks!
"I started playing when I was about 11, and my big love back then was rock'n'roll and guys like Eddie Cochran, Buddy Holly and Little Richard. It was my little hobby, my thing." But what of his current plans? "I began a solo album 18 years ago and have had it transferred across from old two-inch tapes to digital files. That's also being remixed and it'll be out soon. You know, I never got into music with success or fame uppermost in mind. I just love it. I love feelgood music, and that can be anything.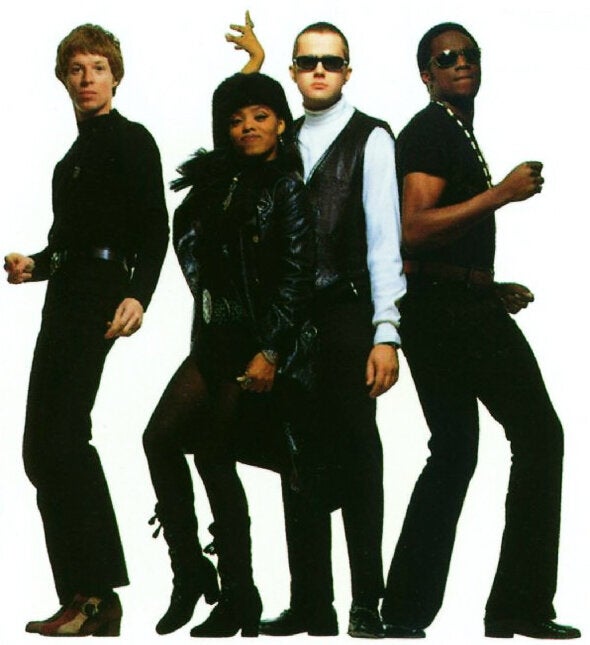 "Live music is still where it's at. The funk came from live performance, and things are healthy in London at the moment because more venues are geared to live acts."
As a busy family man, Simon's time is often not his own. "One of the things I want to do this year is play more. I want to explore the guitar and make some solo records. I'm a blues player, with a sprinkling of jazz." And the sound he's after? "I suppose the live studio sound of Led Zeppelin is something to aspire to."
We take it streetside for a smoke, and the icy wind cuts into us as I ask who he most admires. And, of course, he gives the name of the guitarist's guitarist. "Jimi Hendrix", he says. "When he was at the top of his game, it was never beneath him to go to a little club and have a jam with anyone who was there. There are people on the Electric Ladyland album that he'd just met in the bar! Music was everything to him, not star status. It was the very same with Miles Davis or Charlie Mingus."
But does he now feel like a distinguished gentleman of the scene? "Yes, a little bit. The Brand New Heavies went out of fashion for a while, but people have started coming up to me, and the other band members, to say thank you for all the music. Even people like Mike Tyson and Mary J. Blige said they like the band!"
Then he pauses. "You know", he says, "I play the guitar. For me, it's not a job. It's what I do."
Portrait photograph by George Stavrou (gsstavrou@hotmail.com); group shot courtesy of www.discogs.com