We're lost in the crowd in the neon-soaked hotel bar down the road from the Shepherd's Bush Empire, and Steve Cradock has flown in under the radar, perhaps his parka the only give away of who he is.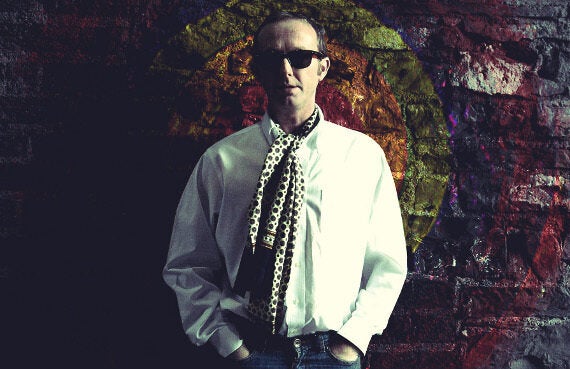 The first night of two Ocean Colour Scene gigs in London is an hour away, and Cradock's mood is relaxed. "I'm not from a musical family, not at all," he says, sitting down. "The output of bands like The Beat, UB40, The Jam and Elvis Costello all led me to my love of music."
Born in Solihull in 1969, Cradock's career has been sustained by an enthusiasm for music which is the main ingredient of all great British rock stories. Since his days as a founding member of Ocean Colour Scene in the early '90s, Cradock has left an indelible mark upon the guitar-playing tradition, having recorded and toured solidly with Paul Weller, contributing to landmark albums such as Wild Wood (1993), Stanley Road (1995) and 22 Dreams (2008). He has also written and recorded with Noel and Liam Gallagher, PP Arnold, Paul McCartney, Mani and Andy Crofts of The Moons.
Able to flit between styles, one moment windmilling like Pete Townshend (the familiar fetish of his hopes), the next wrapped devotedly around his acoustic like Julian Bream, his guitar speaks with a contrapuntal precision that is in perpetual demand owing to his economy of gesture borne of decades of live playing at the highest level.
"All of us as mates in Birmingham were into music, into the excitement of it all," he says. "We lived in flats together and started out together on the dole, and from there made it into bands. So there is a Brummiedom about the whole thing."
As a member of that illumined band of international players that includes John Mayall, Ronnie Wood and Steve Cropper, he's quick to name Aziz Ibrahim, ex-member of the Stone Roses, as the "best acoustic guitar player in the country". Which is saying something when considering Cradock's own achievements.
He remains unfazed by his own unique career. "I've always gone with the flow of what's been happening. I've been working with Paul [Weller] for 20 years now. To begin with it was nerve wracking, just because of who he was."
Identified by Weller as a musician perfectly suited to embellish his own vast back catalogue of songs, Cradock loaned himself out to play on every Weller long player since Wild Wood. "I didn't think I was a good guitar player when I began working with Paul. At the beginning it was a lot of hard work because his chord sequences were things I had to get my head around. He used a lot of soul and jazz chords, more than any other musician I had met up until that point."
The global touring has also been incessant, which is in keeping with Cradock's prodigious work ethic, but it's the ideal life of a musician and one that has seen him move into writing his own songs, to date having made three solo albums: The Kundalini Target (2008); Peace City West (2011) and Travel Wide, Travel Free (2013).
It's a growing body of work notable for its stress on melody and stripped-down arrangements. "I was just happy to be in the writing mode. I was getting off on writing my own words for the first time. My main aim is always to make a piece of art."
Perhaps best-known for his opening riff to The Riverboat Song, Cradock can burnish a song anew with guitar licks that burn themselves into the subconscious. Therein lies his value as a player, and with no management team behind him, his rise through the ranks is testament to a talent that has gilded the sound of UK popular music's upper echelons for the past 20 years.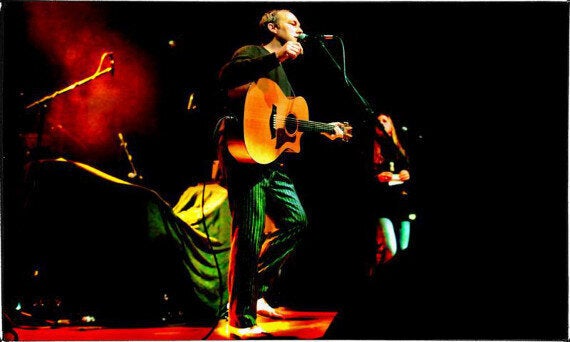 Later at the aftershow party at Proud Camden where he is DJing, he says: "The arse has gone out of the music business. People don't buy records anymore, and if they do they only buy singles." Does he worry about his audience? "I don't really think about the demographic. First of all, you try to inspire yourself, and hopefully other people will be turned on to your music."
But is there something he has yet to do? "I could do with selling more records," he laughs, "but I enjoy the process of making music. I've been on the road for three months, first with Paul, then my solo tour, and now with Ocean Colour Scene, so that's given me enough variance."
The life of a musician is ever changing, ever moving, the next work of art to be created the only one that counts, which bears out Jimi Hendrix's remark, that "If I'm free, it's because I'm always running".
"Every night you've got to raise the roof," says Cradock, "that's all you've got to do. You have to live in the moment. But you've got to be open-minded when it comes to music. You have to always say yes, rather than no."
For more information on Steve, click here
Popular in the Community