With perhaps the rarest and most beautiful of voices in the world of music, Carleen Anderson's ability to enchant remains undiminished. Jason Holmes met up with her to get to the root of things
Across the table in a Surrey coffee shop sits no ordinary singer. The smile is luminous, the eyes soft, her voice languorous. For Carleen Anderson, whose godfather was the late, great James Brown and whose band numbered her mother Vicki Anderson and stepfather Bobby Byrd among its legendary members, a life in the music business seemed inevitable, but she says that wasn't always the case.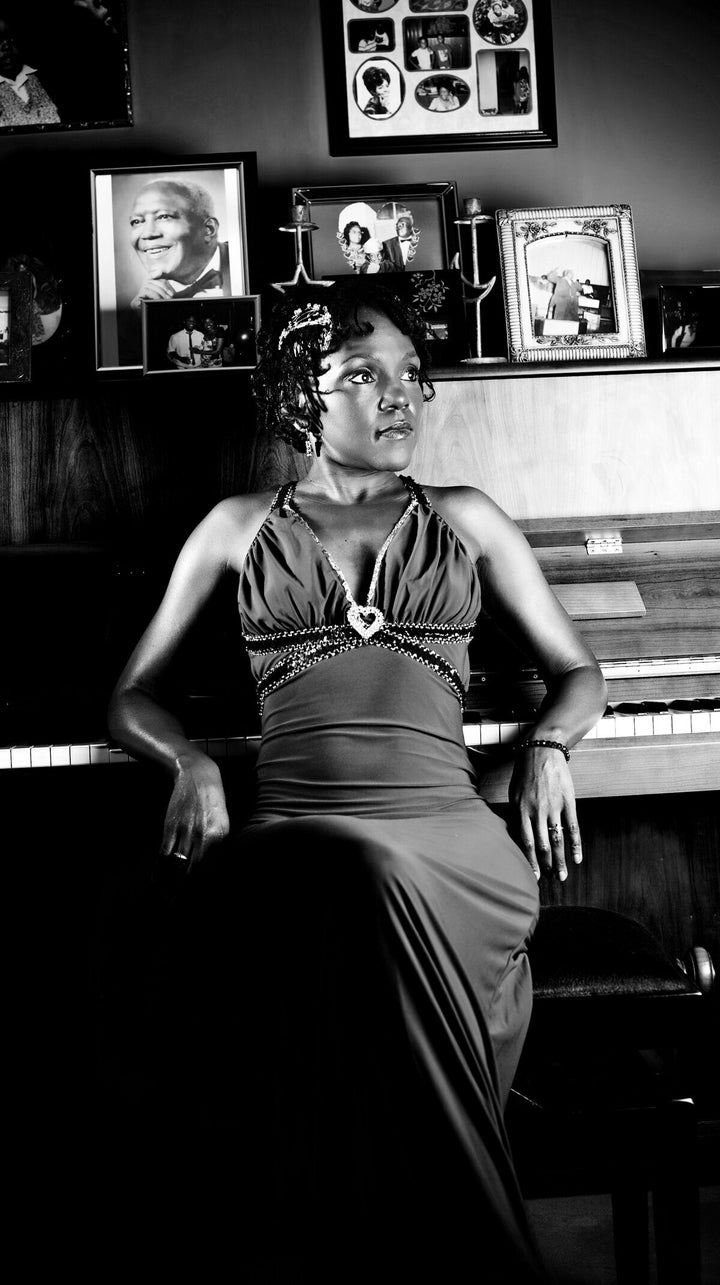 'I never had a huge drive to get into the business. Music has always served a different purpose for me, as a force for healing,' says Carleen, framed by the bunting of Cranleigh which has been her sanctuary for 20 years, far from the capital's madding crowd.
Born in Houston, Texas in 1957, Carleen was raised by her birth father's parents. 'I only saw my mother and stepfather periodically because they were on tour with James Brown most of the time. When I was a kid and they came to town, it was like the circus coming to town. But have you ever been to the circus? It looks great from the front, but behind the scenes it's a complete zoo. Anybody in the music business knows this is how it is.
'I was always musical, having sung in church from an early age, so I got a music scholarship to go to school, but I had no intention of being in the music industry at all,' she says with a shake of her head. 'My son was born in LA when I was 21 and I had to find a way of providing for him, so in order to supplement my scholarships, I worked in office environments. I was studying to be a music teacher, but after the arts cuts of the Reagan era, there were no jobs for me to teach.'
A July squall rattles the table umbrella forcing Carleen to hold onto her cloche hat. 'At that time, they didn't hire people in private schools who were...like me,' she says smiling. 'That's putting it nicely. I could get a job in a government school because nobody wanted those,' she says, the gentle smile giving way to laughter.
'I loved teaching children, I loved the way they looked when they first found out about music, you know, that brightness in their eyes.' Carleen is a mother first and a multi-talented musician second, which may explain the serenity she exudes as she speaks. 'My son Bobby and I moved to London in 1990. I came here because I wanted to move out of the US. This was before the Rodney King incident in LA which served to demonstrate that racial intolerance had worsened.
'Following my university days, after working as an office clerk for three years, Pops [Carleen's stepfather, Bobby Byrd] asked me to go on the road with him. This was when James Brown was still incarcerated and none of them [the James Brown band] were working. So I joined Pops and was performing with people who had trained under my godfather, the greatest of all taskmasters.
'I had met Marco Nelson and Femi Williams [The Young Disciples] when they were the promoters of Pops' UK shows in the early 1990s. They had suggested that Pops get a band together for a tour. All of my godfather's sidemen weren't really working at the time, so Marco and Femi brought them over and got the whole thing together with Maceo Parker, Fred Wesley, PeeWee Ellis, Lyn Collins, Marva Whitney, and me with Bobby Byrd and the JB All Stars,' says Carleen.
'Marco and Femi then offered me a job. I did some stuff in the studio for them, singing and playing the piano, and they liked it. They were working with Gilles Peterson and Norman Jay who had put the Talkin' Loud [record] label together at Phonogram Records. Incognito and Galliano were also on the roster.' The London music scene was abuzz at this time, rejuvenated after the fallowness of the late Eighties. Soul, funk and jazz were the dictating musical flavours of the day.
'If someone had said to me six months prior to coming to England that people here would ask me to write and sing songs and pay me for the pleasure, I would have laughed. I could barely get a function gig in America!'
Fame came in 1991 with the release of The Young Disciples' Road To Freedom LP [Talkin' Loud Records]. 'When The Young Disciples got on Top Of The Pops with Apparently Nothin', it brought a lot of attention to where I was living in London. But I needed stability for my son, so through various contacts I got to hear about Cranleigh School.
'My son wanted to come on the road with me but I told him no. Before, I had limited my touring to the school holidays so he could join me, but it became essential to give Bobby some calm, so he started boarding at Cranleigh School which is why I moved here.'
Carleen stayed firmly outside the perceived debauche of the London music scene, and raised her son in virtual seclusion in quiet Surrey. 'Society in England is more open with a lot of respect for the cultural heritage that I come from.' The London club scene also turned her head. 'In places like Dingwalls [in Camden] I saw women getting up and dancing for however long they liked, with or without a partner, and just moving to the music. In the US, when I was young, you had to wait to be asked to dance and you had to be discerning about with whom you danced.'
Carleen's recordings are contemporary soul gems which have seen her nominated for the Mercury Music Prize and a BRIT Award and Britain's musical elite have been quick to embrace her. In 1998, Paul Weller co-wrote and performed on her Blessed Burden album and again dueted with her in 2005 on a cover of Leon Ware's Wanna Be Where You Are.
She has also worked with the Brand New Heavies, Incognito, Bryan Ferry and Sir Paul McCartney and is blessed with a voice that can halt you in your tracks. Songs like Maybe I'm Amazed and Woman In Me [Blessed Burden] have the ability to still the listener, her voice a gospel roar or as pure as birdsong, soaring effortlessly into jazz and blues. It can leave the listener shaken, even startled by its openness.
But what of the future? 'I'll be touring with my trio at The Stables in Milton Keynes on 25 September and then we're off to Japan in October,' she says. 'We'll be playing songs from my back catalogue and some new pieces. It'll be the first time I can present my music in its most organic form. Played live, my music is more about presenting musical stories.
Carleen will also be guesting with the Julian Joseph Jazz Orchestra at the Newham Under The Stars festival on 23 August.
'I've been an independent artist since 2001 and a recurring resident at Ronnie Scott's since 2006. I decided to break from the LP/tour format of work to present music in a different way. I hate long tours to be honest. I'm not a fan of living out of a suitcase.'
Recently returned from some promotional work in Zurich, she says: 'When I first visited Zurich many years ago and was put up in a luxury hotel by my record company, I was at my most unhappiest, unable to present music in the way I wanted. I thought "This is how real unhappiness starts". People look at your level of success and don't want to know if you're unhappy or not.'
I tell her I find her at peace, contented. 'Chaka Khan once said to me "You are the kind who saves everything for the stage" and she was right, but I don't consciously keep myself reserved. I'm an all or nothing type of person so when I'm on the road it's full-on hard work.
'But I am a loner by choice. I have to check up on people too much to see if organisational things have been done. Whereas the likes of James Brown, or Paul Weller - my "big brother" as I call him even though he's a year younger than me - have people to help with the logistics of recording and touring.'
Is she God-fearing? 'I was raised a Christian, yes, but the spiritual element in my life comes from miracles, in the form of love, like my child being born, or the way my grandparents raised me. It's emotional rescue. Love is a miracle, and from that music is made, as is all art.
'The one piece of music I'm most proud of is probably a gospel song I wrote called Salvation Is Free [Soul Providence, 2005]. It's about how I feel when everything in life is going wrong; it's about finding peace within all that. Another piece of music that I like is my impromptu performance with James Brown a few years ago when he got me up to sing Sex Machine at the Royal Albert Hall. I took Pops' [Bobby Byrd's] role. That was a huge "wow" moment for me.'
Carleen leans back, relaxed. I tell her the Surrey hills have worked their charm on her. 'Nobody's going to come all the way out here to Cranleigh unless they know I'm home. It's too far away,' she says, stretching. 'I had to parachute in,' I joke, which provokes a belly laugh.
It suddenly occurs to me that I want to hear her sing, but I think better of it, content to watch her, but then she looks me straight in the eye. 'I've always been surprised by the career I've had, but enormous success was never something I wanted because I've seen what it does to people. In my life now I like things the way I like them. I need my creature comforts, you know?' she says, and not for the first time that afternoon, a soft smile lights up her face like a sun.