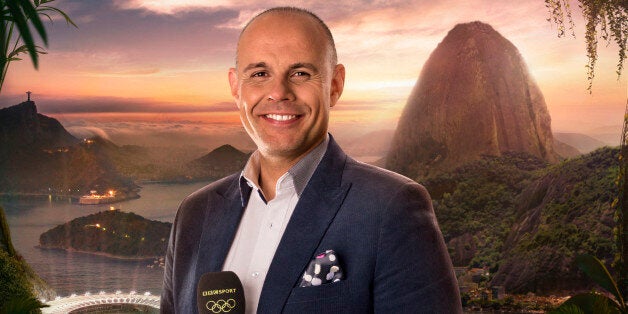 "A great night for Egyptian Handball!"
A phrase I never thought I would say on live television! But it happened last week on BBC One as Egypt recorded a win over Sweden in the handball competition. I know what you're thinking. You're posing this question aren't you: "Jason, when you first went into journalism, did you ever think you would utter those words?"
In all honesty, no! But even as a young lad growing up in Cardiff watching the BBC broadcast the Olympic Games, I dreamed that one day I would be trackside, maybe commentating - but surely never sitting in the studio as a main anchor. But like these athletes competing for their countries - I had a fire in my belly - a burning desire - an ambition to be on the broadcasting equivalent of the podium - the BBC TV studio!
The Olympic Games bring you these very special moments. My mission now is to get a photo opportunity with my new favourite sporting heroes, the Egypt handdball team! Let's face it, millions have us have never played handball let alone watched a match on live television - but it is wonderfully watchable sport - and that night the Egyptians lit up the Games!
Like so many of the Olympic sports, handball looks fabulous on TV. Water polo, canoeing and Greco-Roman wrestling are just some of my personal favourites this year. I'm sure you agree that Rio de Janeiro is putting on a stunning show. Sure, it has been a real frustration to see so many empty seats at the many fabulous new stadia - but some of the camera shots of this stunning city have confirmed its status in Olympic history as one of the great host cities. The Carioca (Rio locals) are extremely proud of what their city has achieved and I cannot think of a modern Games which has looked as good on the TV shots. Beach volleyball was born to be played on Copacabana!
I know many people who say they're not the biggest sports fans, but incredibly find themselves staying up to the early hours, compelled to watch us feature a weightlifter from Kazakhstan go head to head with a warrior from Turkey. And they go to work later in the day, tired, sleep-deprived fuelled on coffee and digestive biscuits asking;
"Did you stay up to see that weightlifter win the 92kg and cry on the podium." Goodness, good job there's no cutting back to studio, as I get a little bit emotional seeing these sportsmen and women seeing the culmination of four years of blood, sweat and tears waving to family and singing their national anthem.
When the BBC called me to say they wanted me to be the main anchor for the overnight TV coverage, I ran around the room - shirt off - waving it around as if I'd just smashed my PB and landed an Olympic gold. Some people on social media are teasing me, suggesting I have a gold - tan, that is! One or two have quite rudely told me on Twitter they've had to adjust the contrast in their TV screen due to my daily morning routine of running and swimming on Ipanema beach. Well, one has to adopt an Olympic spirit!
I've always been a huge fan of the Olympic Games. It's a fascination which dates back to 1984 - the LA Games. Forget the sport for just one moment as (1980s kids will get this) please allow me to go all retro on you - Daley Thompson's Decathlon remains my favourite computer game of all time (closely followed by Tracksuit Manager for the C64.) Daley was our Olympic hero and we all returned to junior school after that summer recreating the decathlon - sticks for javelin - frisbees for discus.
Fast forward 32 years - and here I am sitting in the BBC Copacabana studio - purpose built for the Games - surrounded by sand, sea, sun and those iconic Olympic Rings. I am having the time of my life.
London 2012 was special as it was a home games but more importantly, my first Olympics with the BBC.
It was unforgettable - for a couple of reasons.
First, the amount of blisters I got covering about 15 sports as a reporter in my new Church's brogues (note to budding reporters - go for trainers when running around a park - and not fancy shoes - no one on TV sees your feet anyway!)
Second, London 2012 presented the opportunity to work with BBC Sport - the most dedicated, creative, driven production team I have ever worked with - the best in the business of broadcasting. Television presenters, naturally, get all the credit for holding this show together, taking the viewer from one sport to the next - but I couldn't do it without editors, producers, technicians, cameras, sound, floor managers and a phenomenal production team making sure we have everything from lunch to make up to scripts!
I've had many people on Twitter saying "I feel sorry for you in that studio all alone at 4am!"
My response: I'm sitting in a TV studio on Copacabana beach, watching sport, representing the greatest broadcasting organization in the world - I'm fine.
I could do with a bit more drama in the handball, mind you!
Jason Mohammad is part of the BBC's Rio 2016 team. The BBC is bringing extensive coverage of the 2016 Summer Olympics live from Rio, across TV, radio and on the BBC Sport website