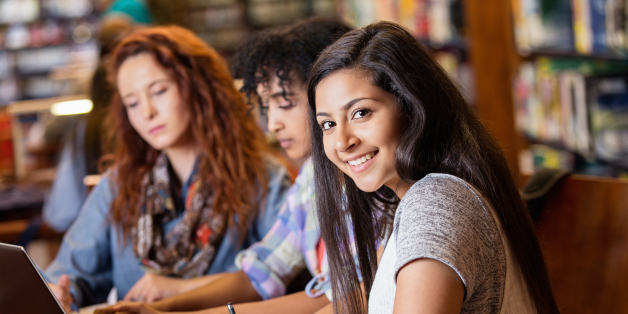 asiseeit via Getty Images
The Children and Social Work Bill becomes law today providing real positive change for all children and young people, particularly the most vulnerable in our society.
Millions of children will benefit from statutory relationships and sex education, something Barnardo's has fought long and hard for. Age appropriate lessons will be taught in all schools in England in 2019, boosting our fight to prevent child abuse and sexual exploitation.
Teaching children the risks and dangers online and offline will give them the skills and knowledge to help them stay safe. And we are not alone - parents, professionals and children also want this vital education.
Our national polling demonstrated that the vast majority of parents think relationships and sex education would help keep their children safer. Children and young people overwhelmingly agreed too, with three quarters of 11-15 year olds saying all children would be safer if they had age-appropriate classes on the subject. Organisations working with children and young people also say that change in this area is needed urgently.
Thousands of people joined our campaign and wrote to their local MP expressing how relationships and sex education is crucial in protecting children from exploitation, grooming and abuse.
For those in or leaving care, this new law provides commitments to improve mental health support by providing advisors up to 25 and publishing available services where they live. If implemented effectively, these steps can change the lives of this group of children and young people.
Barnardo's has fought for these changes for many years and we're delighted to finally see them in the statute book and have our efforts recognised by Edward Timpson the Minister of State for Vulnerable Children.
But we're not stopping there. With a General Election fast approaching, we will be working hard to ensure the Government keeps its promises and does more to help our most disadvantaged children lead better lives.
Barnardo's strives to improve the lives of care leavers, children with mental health issues, those at risk of FGM, sexual abuse and exploitation and trafficking, so we're also calling on the next Government to provide:
A Mental Health Green paper in England to provide further funding for children with mental health issues and money set aside specifically for care leavers.
Continued commitment to end FGM in the UK in a generation in line with international agreements.
Independent advocates for all trafficked children and young people and increased early identification and support for UK victims of trafficking
The Government must put children and young people at the centre of its thinking, so they can lead positive lives regardless of their beginnings.
Act now and we can ensure all children and young people thrive in the future, which will benefit society as a whole.