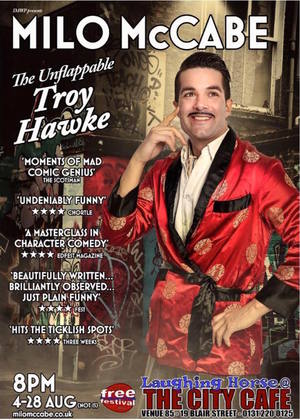 At this time of year, hundreds of middle-class drama students descend upon Edinburgh to showcase their "talent" in poorly crafted one-act plays and under-rehearsed sketch shows.
And, if you're visiting the world's biggest arts festival, there's always a danger you'll be bamboozled by fat marketing budgets and slick sales patter into gracing these artistic abortions with your presence. To help you avoid that pain, here's my recommendations for ten character acts you should go and see instead.
Milo McCabe: The Unflappable Troy Hawke
There's a good reason this show's first on my list. It's ace. Go see it. Sheltered aristocrat Troy Hawke is a matinee idol born in the wrong era. Home-schooled by his elderly mother for most of his life, he's recently emerged, blinking, into a dystopian present with the naïveté of a newborn fawn. McCabe brings the character to life so skillfully, you'll sincerely feel for the hapless Hawke as you're regaled with the farcical adventures of this modern-day Errol Flynn. "Unflappable" may be the most apt adjective for him too. McCabe deals with every heckle and distraction with a quick wit, in character, and yet remains entirely accessible, in a show that bravely incorporates heaps of audience interaction. (Something character acts usually keep to a minimum, for fear of having their carefully crafted show de-railed by unpredictable or uncooperative audiences.) It's almost immoral that you don't have to pay to get in.
City Café. 8pm. 4-28 August (not 15th). FREE Entry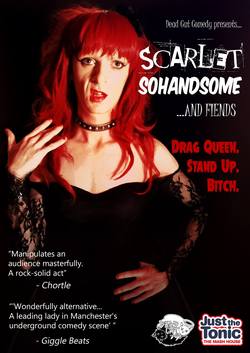 Red Redmond: Scarlet SoHandsome and Fiends
Manchester-based standup, musician and comedy impresario Redmond debuts his drag creation, Scarlet SoHandsome, at the Fringe this year. The devilishly dark Scarlet punches through any audience ambivalence with shameless bravado, taking aim at many sacred cows of the right-wing and the establishment. You can expect an assured and accomplished performance from Redmond in the title role. And I know I'll be popping along at least once to see what havoc SoHandsome and her guests will wreak.
The Mash House. 9pm. 4-28 August (not Tuesdays or 15th). £5
Spencer Jones presents The Herbert in Eggy Bagel
The Herbert takes silliness to a whole new level. While he's got elements of many different comedy styles within the performance, I'm loathe to point them out for fear of misleading you. The Herbert cannot be described. Only experienced. This is physical comedy like you've never seen before. And see it you should. You might even be able to see it for free if you turn up and it isn't sold out. But as Spencer Jones has been showered with awards and enviable acclaim, there's a good chance this show will be full for every performance. So best buy tickets in advance.
Heroes @ The Hive. 8.50pm. 5-28 August (not 15th). £6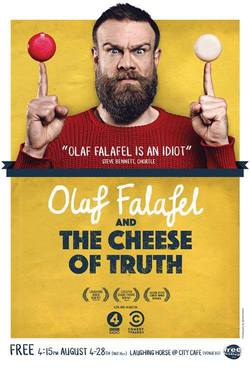 Olaf Falafel and The Cheese of Truth
Faux-Scandiwegian gentle giant Olaf Falafel is a lovable idiot. His disarming amiability is perfect packaging for the cavalcade of absurdist humour "Olaf" is going to throw at you. If you've not had the pleasure of seeing his award-winning comedy in person, you may well have come across his hugely popular videos online. If you don't follow him on Twitter already then you definitely should. And, no, I have no idea why it's called The Cheese of Truth. Go see the show and find out.
City Café. 4.15pm. 5-28 August (not 16th). FREE Entry
LJ Da Funk: Anti-Fascist Counter-Terrorist Comedy Orgy
Current holder of the Leicester Square Theatre New Comedian Award, LJ Da Funk is the brash, gravel-throated comedy creation of Londoner Zak Splijt. One critic likened the profane Da Funk to a white Mr. T. Others have questioned whether the character's offensive assertions are ironic or unacceptable. (Luckily, the man behind the mask is middle class enough for the cultural intelligentsia to give him a pass. They'd be baying for blood if he were working class and northern.) Splijt himself describes the show as "unreviewable" and has banned critics from the room. If the lack of reviews dampens public enthusiasm to attend, he may come to regret that. Retrospectively.
Moriarty's. 9pm. 4-28 August (not Tuesdays). FREE Entry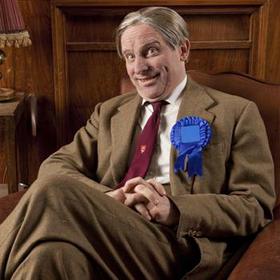 Dave Lemkin: The Village Hall
Formerly a barrister, couples counsellor, masseur, Shakespearean actor... Lemkin has had almost as many careers as he has characters in this show. The Village Hall invites the audience to play the role of residents in the fictional village of Lower Swell, while Lemkin takes to the stage in the guise of five different characters. The highlight being a former Tory Cabinet Minister, The Rt. Hon. Dickie Daventry. Lemkin's got a long list of TV and theatre credits to his name, so you should be in safe hands for the hour.
Ciao Roma. 7.05pm. 6-27 August. FREE Entry
Johnny Sorrow: Bob Blackman's Tray
Sorrow is a former winner of the increasingly prestigious Malcolm Hardee Award for comic originality. He's considered a showbiz legend on the Midlands alternative comedy scene, and an influential innovator by younger acts in the region. In a previous incarnation, this show was titled The Bob Blackman Appreciation Society. As before, you can expect silly jokes, characters and a whole heap of insanity.
The Newsroom. 6.15pm. 14-27 August (not 21st). FREE Entry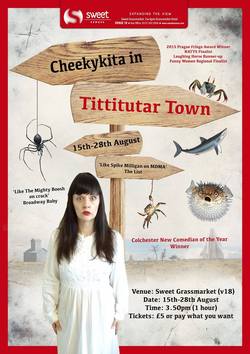 Cheekykita: Tittitular Town
Cheekykita's award-winning weirdness has been likened to Spike Milligan and The Mighty Boosh. The Fringe has no shortage of absurdist physical clowning, but few have received the plaudits that have been bestowed upon this oddball character. Expect sublime surrealness. As with The Herbert, you might even be able to see it for free if you turn up and it isn't sold out. But, as she's only doing a two-week run, best book ASAP to secure your seat.
Sweet Grassmarket. 3.50pm. 15-28 August. £5
Colin Hoult: Anna Mann - A Sketch Show for Depressives
Colin Hoult returns to the Fringe as the delightful Ms. Anna Mann in a show to put down your black dog, at last or at least chuck him a bone. Star of BBC's Murder in Successville and Being Human, you'll have also caught him in Gervais-directed comedies Derek and Life's Too Short.
Pleasance Courtyard. 7pm. 5-28 August (not 17th). £10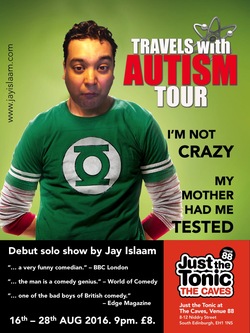 Jay Islaam: Travels with Autism
Award-winning character comic Jay Islaam was recently commissioned to create his own comedy sketch show for BBC radio, and is widely regarded as one of the most politically incorrect performers on the circuit, to the point he's been banned from more than 100 British comedy venues. A previous attempt to bring a show full of comedy characters to the Fringe was unceremoniously kicked out of its venue a week before launch. Ironically, this censorship was orchestrated by a Scottish national arts quango that had sponsored the location. It's not yet known whether, this time around, Islaam will be incorporating character pieces into his show, but the likelihood is quite strong given his reputation.
Just The Tonic at The Caves. 9pm. 16-29 August. £8
This article originally appeared on Jay Islaam's website.