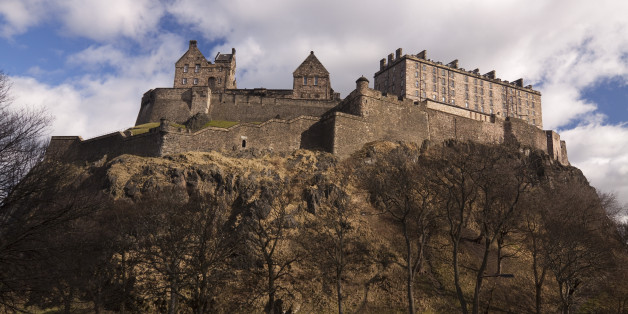 Klaas Lingbeek van Kranen via Getty Images
In less than a fortnight, I head to the Edinburgh Fringe with my first solo show. Actually, it's my second attempt at a solo show. I was due to make my proper debut at the festival in 2014. But was brutally denied the opportunity when the sponsors at my venue got wind of potential controversy, panicked, and banned my show. A heart breaking, financially bruising and personally humiliating experience. So I'm treading more carefully this time around, and will only be doing a two-week run in 2016.
While up in the Scottish capital, I'm hoping to see at least two comedy shows a day. It is, after all, the world's biggest arts festival, featuring the best of British and international talent - many of them free entry. So here's ten shows I'm recommending (in alphabetical order) if you're visiting Edinburgh this month.
Tom Binns: Summertime Special
Described by several critics as the best character comedian in the country, Binns recently played multiple roles in BBC One show Hospital People. His critically acclaimed "Club Sets", featuring a mixture of ventriloquism, mentalism and music, scored him the Best Act trophy at the Midlands Comedy Awards for 2015. The most expensive ticket in this list, but well worth shelling out for it.
Assembly George Square Studios. 1pm. 4-29 August. £11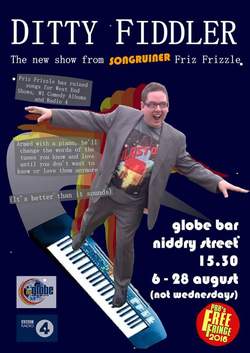 Friz Frizzle: Ditty Fiddler
He's been away from the scene for a couple of years, and the comedy circuit has been poorer for it. Comedy pianist Friz Frizzle takes the tunes you know and love, and messes around with them until you don't want to know or love them anymore.
As the world's leading #SongRuiner, Friz will ensure you never look at your favourite pop tunes and ballads in the same way again. And all for FREE.
(Be sure to donate at the end of the show, though. Don't be that guy!)
Globe Bar. 3.30pm. 6-28 August (not Wednesdays). FREE Entry
Masai Graham: 101 Clean Jokes / 101 Naughty Jokes
A fixture on the annual "Best Joke of the Fringe" lists, and winner of the UK Pun Championship earlier this year, it's a good bet that many of the one-liners and visual gags you've laughed at on Facebook were ripped off from Masai's Twitter feed. He's running four shows at the Fringe this year, with the highlight being two half hours showcasing the hundreds of puns, one-liners and wordplay witticisms he deflty delivers in a style uniquely his own.
Dropkick Murphys. 1.15pm and 2pm. 4-28 August. FREE Entry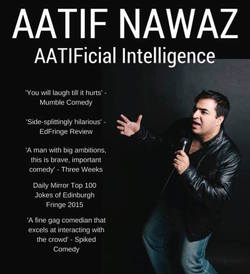 Aatif Nawaz: Aatificial Intelligence
The follow-up to his very popular "Muslims Do It 5 Times A Day" show from last year, Aatificial Intelligence is Nawaz's difficult second album. This time around he's tackling irresponsible journalism and our clickbait culture. A former actor, and popular television presenter, Aatif has likeability, onstage passion and enthusiasm by the bucket-load. And his intelligent observations will have you choking with laughter.
The Newsroom. 8.45pm. 4-28 August. FREE Entry
Lauren Pattison: Reet Petite
If you haven't guessed already from the show title, Pattison is a tiny Geordie. She's also tipped for big things in the comedy world. Charming, self-deprecating, crude but clever, baby-faced Lauren's supported Katherine Ryan on tour and got critics predicting her to breakout onto the national scene. While this show is labeled "work in progress" you can be confident it will be of a higher standard than many of the supposedly-finalised hours of comedy you're likely to come across at the Edinburgh Fringe.
The Counting House. 7.15pm. 3-29 August (not 15th). £5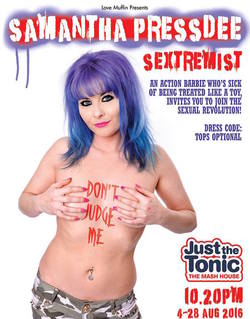 Samantha Pressdee: Sextremist
Described as a "Topless TED Talk", this is a bittersweet tale of Pressdee's adventures in love, politics, showbiz and more - all while battling with bipolar. Yes, she does perform the show topless, advocating for the de-sexualisation of the female body. And she succeeds to an extent, because the content is captivating enough that within minutes you've forgotten she's naked. Pressdee's performance goes from bold and raunchy to philosophical and vulnerable, in a truly unique show that will keep you guessing all the way through. #FreeTheNipple
The Mash House. 10.20pm. 4-28 August (not 15th). £8
Christian Reilly: Rock'n'LOL
A former winner of the Edinburgh Comedy Award - probably the most prestigious comedy award in existence - yet Reilly has somehow managed to stay under the radar. Widely admired within the comedy fraternity and headlining shows across the UK, his slick pop music parodies are always one of my highlights of the festival. If you only go and see one show in Edinburgh... be sure to drop a tenner in the bucket and he'll give you a CD.
Liquid Room Annexe. 5.20pm. 6-28 Aug. FREE entry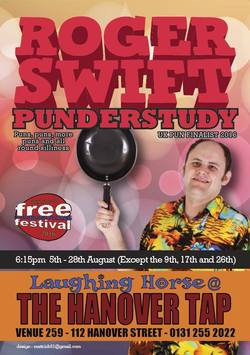 Roger Swift: Punderstudy
A late-addition to the Fringe schedule, Punderstudy is the debut solo hour by Telford-based prop-comedy punmeister Roger Swift, who's performed shorter sets at Edinburgh in the past and is now graduating to the full-length format.
Swift deservedly picked up the Best Alternative Act gong at last year's Midlands Comedy Awards for his high-energy, quick-fire joke slinging performances. Expect an hour of zany, animated and unpredictable laughs.
The Hanover Tap. 6.15pm. 5-28 August (not 9, 17, 26). FREE Entry
Donal Vaughan: Stuck In A Rut
Multi-award-winning Irish newcomer Vaughan is the polar opposite of today's fashionable skinny-jeans-and-Tshirt comics. For a start he's naturally funny. He's also highly intelligent, occasionally crude, habitually fearless, and always entertaining. The critical acclaim he's accumulated is well deserved. And the addition of science-focused comedy has made his repertoire even more intriguing.
Finnegan's Wake. 6.15pm. 4-27 Aug (not Sundays). FREE Entry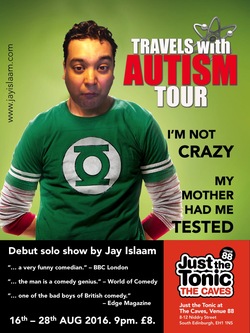 Jay Islaam: Travels with Autism
You'll forgive me, I hope, for giving my own debut show a small plug too. I won't try and sell you with a whole load of blurb. I'll just leave my poster here and would be very grateful if you decide to pop along to see it.
If you do come, then I hope I'll repay your faith in me with an enlightening and entertaining hour of humorous Autism-related facts and stories. And even if you don't laugh, you will learn a lot about the Autism Spectrum Disorder (ASD).
Just The Tonic at The Caves. 9pm. 16-29 August. £8
This article originally appeared on Jay Islaam's website.