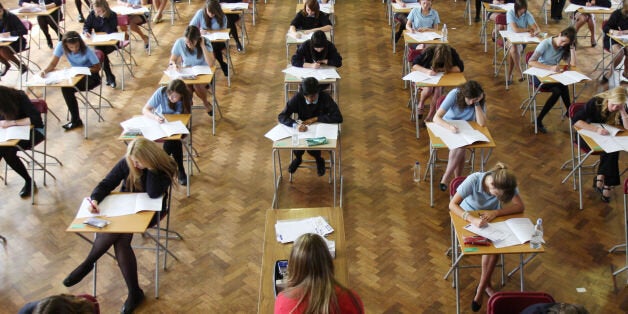 GCSEs undeniably play a massive role in shaping your next goal. They are stepping stones to your next achievement. But they do not verify the person you are, nor confirm your intelligence.
As a GCSE student this year, I felt as if I was in the same boat as thousands of students across the country - a boat that felt like it was sinking at some point during exam season. I was fed up, tired, bored and couldn't wait to finish the long months that swallowed up my time.
My thoughts throughout the exam period weren't always positive. Like many students, I would always doubt myself on whether or not I'd done well enough in a certain exam, or if I'd been revising enough for a specific topic.
When sitting at my bedside table revising trigonometry, or studying the obtainment of metals, I would often be close to giving up, thinking to myself, "why do I need to know this?". I can guarantee that I'll never need to use the knowledge of how the Birling family exploited Eva Smith in An Inspector Calls.
But looking back at my results, it was worth it. I worked so hard to put myself in a position that made me feel proud. Seeing my mum close to tears with pride because I did myself justice made me feel like all my hard work had paid off - despite not getting the most perfect grades.
To those who feel disappointed in themselves - it's not the end of the world. The door is still open to success, and you have the power to strive in whatever you aim to do. Besides, you won't be sitting in stuffy exam halls for multiple hours a day for a living, so if exams aren't for you, keep your head up.
I've read stories from my friends who didn't try, and many of them have learned from this mistake. Of course, receiving poor results might not be ideal, but it correlates to the amount of effort you put into your GCSEs.
However, there is no need to feel completely disheartened. Any blow should only push you to improve and make you more hungry for success. What GCSEs define as intelligence doesn't always necessarily define your future success as a young adult or even in later life.
Now GCSEs are done, it's time to focus on the next task, invest your time into something that will benefit your future, anyone is capable of achieving - and your GCSE results won't stop you from doing that.
We hear about countless celebrities that did not succeed on results day but still managed to make an outstanding living for themselves. Robbie Williams, Jeremy Clarkson, Richard Branson, Steven Spielberg, and even Joey Essex. Whether your aims are to become a multi-millionaire or a reality TV star, your GCSEs won't stop that from happening.
Let your results motivate you. If you didn't do as well as you hoped, make sure you better yourself, put the hard work in next time and you'll realise how far you've come. Don't let your grades be imperative to your success. After all, failure isn't fatal, but the failure to change might be.