Much has changed since the dawn of social media, especially for us in the art world.
Instagram has revolutionised the ways artists display their work and art dealers find new talent. You can curate your Instagram page to perfection - like a gallery, giving artists an unlimited space to showcase their work.
I've been in this business for 12 years and artists have never been as accessible as they are now.
It really is extraordinary to think that I can find the next big thing just by picking up my phone and opening an app.
More often than not, I'll come across some really interesting artists who wouldn't have come onto my radar without social media. Artists who live in countries I will probably never visit; artists who don't have the money to put on an exhibition or travel to London. It's fantastic that they have this leverage and if you do things correctly, it can change your life.
In 2014 I discovered Mike Dargas on Instagram. He was a tattoo artist, painter and sketcher and his following was pretty small, but his page was full of incredible artwork.
There was one particular image that drew me to his page, a hyperrealist painting of a girl with honey dripping down her face. It was exquisite, and Dargas's use of hashtags on the image is probably the main reason I found him.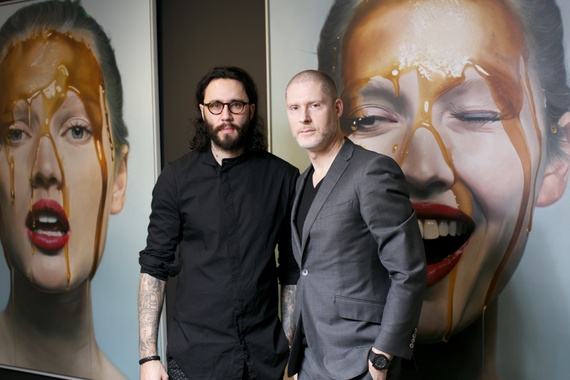 With more than 100 million daily users on Instagram, it can be pretty tough to stand out. So, I wanted to share some advice/tips for artists who use Instagram as a gateway to the art world, because there's definitely an art to getting your work noticed, even though this brilliant platform seems easy to use.
Share your artwork in its true form, without filters or any other digital alterations. When I see a piece of work on Instagram that looks impressive, I would hope to be blown away by it in real life. There have been occasions where I've seen a piece of work online that looks completely different in the flesh - which as you can imagine, can be pretty disappointing.
Hashtags really do work. They push your content out to people who aren't following you but who are interested in the subject of your post. Use your hashtags wisely and try to only use ones that relate to your work, as the quality of interaction with your images will be better.
Mystery and audience interpretation in artwork is always great. But, if your work has a gripping story behind it, then tell us - it adds a sense of depth and emotion, and can help an audience connect to your work on a more personal level.
Follow art dealers, galleries and other influencers who you want to notice you. Engage with them online and make yourself known - you have nothing to lose by messaging them or liking/commenting on their pictures. Obviously, try to do this in a none invasive way to avoid pestering people.
Trends and tastes are constantly changing in the art world. My advice would be to always do you. Your personal style is important, so don't try and create something that doesn't inspire you.
An artist's style of work usually reflects their personality and influences, and this shouldn't be altered to fit a trend. If your work isn't getting noticed right now, that's ok. Keep honing your craft, sharing your art and developing as an artist. The right people will pick up on your talents soon enough.