There are very few landmarks in parenthood that stick out as much as your child's first date, well last week I was to play chaperone at Bobby and Freddy's very first double date!
Nicola very kindly purchased five tickets so I could take the kids to the O2 to watch One Direction kick off their latest world tour.
So who you going to take boys? Freddy has a thing for our friend's Gary and Kate's little girl Neve so there was no hesitation from him that it was her he would like to ask. We were on a day out to Southend at the time and Fred was too shy to ask so the adults put it to her gently and to Fred's delight she said yes!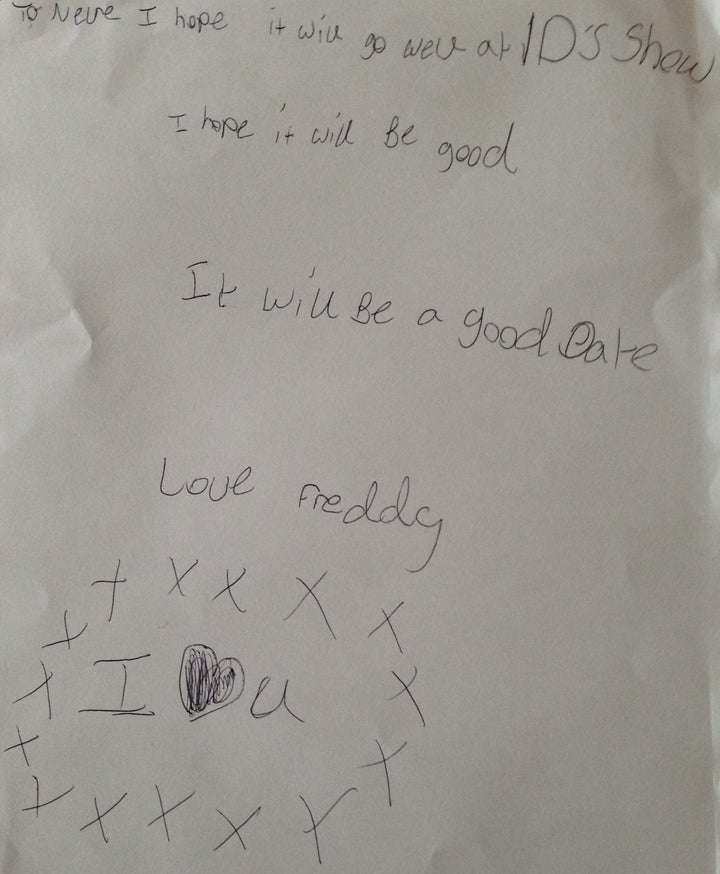 Bobby wasn't so clear on whom he would take 'different girls for different reasons' was his alarmingly adult observation on his dilemma. "Angel gives me the most banter at school but she's just, like, my best girl mate, Gracie is like my family but I know Harriet fancies me and she's crazy so she'll be fun". Apparently Harriet confirmed Bobby's suspicions by screaming out loud when asked by Bobby, which was probably as much for Harry Styles as it was for her date.
When discussing the options available to him I did ask whether he would choose a date for their looks or their personality? I was pleased when he charmingly stated 'personality'; I think with little Harriet he would get a fair amount of both!
In the ensuing days it was interesting to see Bobby sweat over whether Harriet liked One Direction or not; asking me to check she was still coming and of course questioning what he would wear on the evening. Where did this self consciousness come from?!
The boys were due a new pair of trainers each so I treated them to the 'must have' trainers of the moment, some 'Nike Blazers' and we popped into H&M who had some lovely shirts and skinny jeans, finishing off with a new beanie each from Topman. I guess if you're going to see a boy band, you need to dress like a boy band! I got sucked into this too, denim shirt, grey beanie - I haven't worn a beanie for years!
Harriet arrived looking like a princess in her pink dress and accessories. Bob, even though being the older of my two, isn't quite as interested in girls yet as his younger brother - which is why he scrambled to sit in the front so he didn't have to sit next to her!
We picked Fred's date Neve up who he definitely didn't mind sitting next to and made our way into town. In fact it suited Freddy perfectly to be sandwiched in the back between two girls, your loss Bob!
I had to feed the guys first and I was starting to panic slightly when every restaurant in the O2 had a 10 metre cue outside except for Wasabi, typically known for sushi, surely they wouldn't be interested in that!?
How things have changed since my day. I had a bunch of 9 year olds eating raw fish for dinner, how adventurous of them! I don't think they grasped the concept of the conveyor belt, they were grabbing dishes left right and centre not realising it was adding up to an impressive total!
The excitement grew when I announced it was nearly time to get to our seats for the One Direction lads to do their thing. As we found our way I had to consider did the boys want me to stand with them or was I cramping their style?! I immediately felt like a spare part but remembered I was simply the chaperone and the night wasn't about me.
It was a pleasure to observe Fred's attentiveness to his guest - he didn't leave her side the whole night. While he wasn't likely to jump around to 'One Way Or Another' like her he still stood when she stood and sat while she sat: it was caring, it was considerate and it was cute.
Bob played it especially cool. He'd had a few late nights over the half term and only after a few songs in he decided to sit on his dad's lap and give me an almighty cuddle. Harriet wasn't worried, she was punching the air and jumping around like every other girl, and worrying mum, in the arena.
The concert was great, I was proud of all the dads that had taken one for the team: taking their teenage daughters out for an experience that wouldn't have meant anything to them but would have made all of the girl's teenage dreams in one. I personally love the song 'Little Things' so my highlight was singing the few beautiful words I knew without a hint of embarrassment.
Poor Harriet, on the way home she protested to Bobby that she had asked him 'Are we boyfriend and girlfriend' on so many occasions without response. Bob just said 'It's awkward if I say yes and it's awkward if I say no' - a little cryptic and non-committal but at least he knew what he was on about!
The best of the night was yet to come, nearing home it was relatively quiet in the back, I turned round to see the kids nodding off to sleep and as I lowered my gaze I realised Fred and Neve were falling asleep holding hands. I'm sure moments earlier he had responded to her question, 'what do you like about me?' with the classic, 'I love your eyes'. Is it possible to fall even more in love with your children when you realise what special men they are going to make?