Are you ready for all hell to break loose? Good, me neither...
Summer holidays are fast approaching for all parents but depending on your point of view for some of us the nightmare or joy has all ready begun. I personally feel I'm down the middle on this one, alright, I love having a little bit of freedom outside the school routine to be a bit more flexible with the whats, wheres and who-withs but I also know that it means those golden seven hours a day that enable me to go to work or clean the house are no longer available to me.
How do I cope with this disappearance of a parent's best friend i.e. school? Well, I make sure I'm jolly well prepared. I research and I plan and I book and I bring others in on these arrangements so that they too can reclaim that time to regain control. Yes, I have a contingency so that the kids make it to years five and three respectively and so that my hair, remarkably given the workload, remains mousy blond without any hints of grey, because I'm worth it.
I don't want to appear to be advising, I'm no expert, but yet I find this sharing of ideas between parents fairly useful in order to summarise my intentions and make it as good a summer holiday for the lads as I can.
Firstly, I always sit the boys down and start a list with them of all the things they would like to do...
1 Football Course - They love football, why wouldn't they partake in some of the excellent courses available? Kids almost certainly improve after a week of specialised coaching.
I went on a residential one once, best week I ever had as a kid.
2 Parkour Sessions - Nowhere near where we live sadly, but a rare treat if we can get there. A fast growing but relatively little known sport, it's only a matter of time before your child is doing it.
3 Alton Towers - Everyone's favourite place, but a day doesn't fill 6 weeks last time I checked? How I dread the summer holiday queues though! At least it's a guaranteed enjoyable and knackering trip which results in two sleeping children in the back of your car.
Go See Do have some good deals on this http://goseedo.com/Product/Attraction/alton-towers
... And that's as far as the kids get, so then I extend the question, and hope to inspire excitement and not moaning and groaning, to Twitter but as a very judgemental lady fiercely, yet hastily accused me of via a tweet: "It's very stereotypical to only see as far as football, there are other sports and activities available". Well she nearly got a piece of my mind let me tell you. Of course there's more to be achieved with their summer holiday than the relentless chasing and falling over a football, she didn't let me finish...
4 Golf Lessons - I dream of playing my sons at golf, see my blog last week. Most courses have a pro that does junior academy courses, usually six kids at a time so the cost is rarely over £6 per child.
5 Fruit Picking - One of these activities they find strangely alluring, good family fun and it's how I made my spending money when I finished secondary school. We'll go to Tiptree, where the best jam comes from!
6 Cookery Lessons - I'm just giving them the tools, what they do with them is their choice!
I remember they went to one a few months ago and came home with a pie of some description and a key lime cheesecake for dessert, each! I haven't had an 'afters' as good since, really an opportunity for heavy amounts of praise here.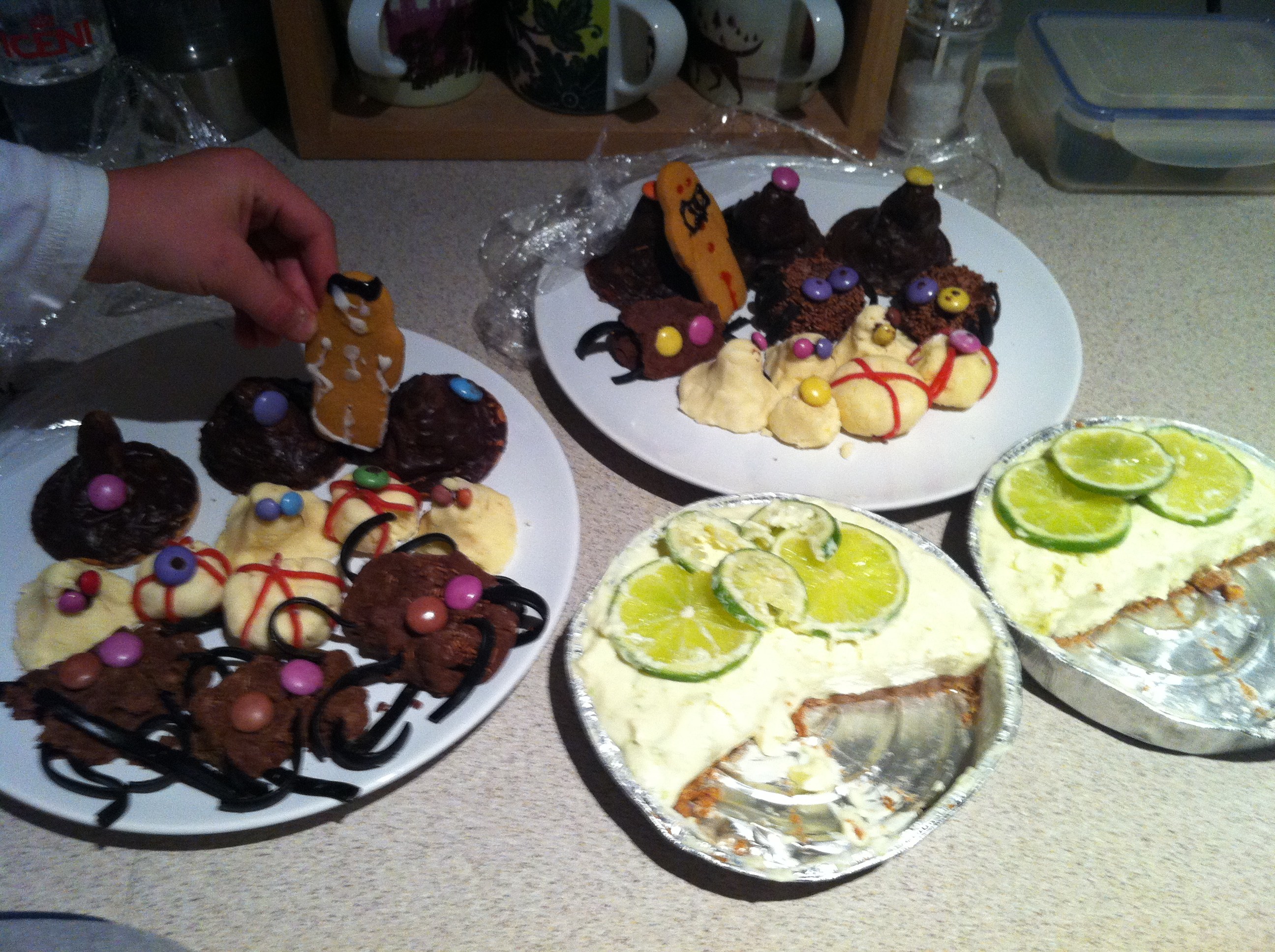 Here's the boys masterpieces, my mouth is just watering looking at the picture again!
7 Music Workshop - Is there any excuse not to encourage our kids towards learning an instrument? In the place near us in Sawbridgeworth cool lessons are available on drums, electric guitar and keyboards plus group sessions work out a lot cheaper than individual lessons.
8 Boxing/Karate/Kickboxing - Seeing as Fred seems to have a mouth on him, I think it's only fair I prepare him for the time when he learns his lesson the hard way! Thankfully it wasn't today, when he was chased by a visiting traveller; I believe Fred was taking a photo of him on his friends phone which I have now taught him is an Infringement of his civil liberties.
9 Outward Bound centers - Canoeing, Abseiling, Rope Sliding, all of the activities little munchkins like to get involved in and Dads like to, well, get involved in too. If we have one here in Harlow, I'm sure your nearest town does too!
10 Junior Boot Camps - Likely to be slightly more fun than the gruelling Stanley-4-Fitness adult bootcamp I regularly attend. With 3 hours of 'exercise-disguised-as-fun' this kids version is guaranteed to send them home knackered! Genius.
11 Snowboarding - Fair enough, I wasn't taken as a kid either but why don't we introduce it to our kids so they will be much more likely to do this kind of thing when they are old enough to decide? What would you rather: your daughter going to Magaluf or to the mountains of Austria? Exactly.
12 Swimming (of course) - My little angle here is to urge you to find out when the local pool has a big inflatable in. The best days of my childhood were spent trying not to slide off one of these bad boys while some spotty teenager pool assistant was hosing me down with cold water.
Right, well there's my list but don't forget to throw in a few sleepovers. If you have two or more like me if you can co-ordinate these sleepovers so that your eldest is out on a sleepover while your youngest entertains their friend or friends - then you're a legend, an organisational genius - what I'm trying to say is it's better when you don't cross groups (vaguely similar to when the Ghostbusters were encouraged not to cross ectoplasm from their proton packs).
Anyway, all the best with your lot and as one of my old PE teachers liked to ram down our throat to the point of boredom: "If you fail to prepare, prepare to fail".
Jeffro x