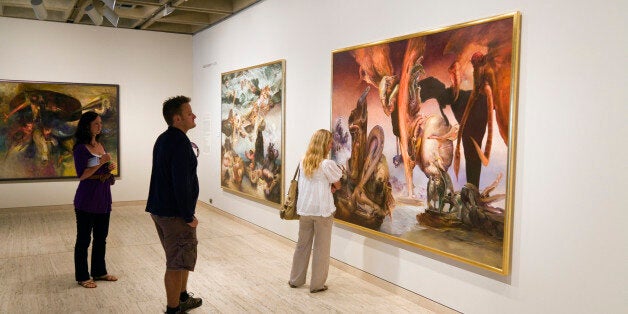 We are a nation of house-buyers, with Brits desperate to put their money in bricks and mortar.
But, with mortgages harder than ever to get, and when even a decent sum of cash is often not being enough for a deposit, investing in property remains out of reach for hundreds of thousands of us.
But, if you have some collateral, that doesn't mean you shouldn't invest. And I may have a solution for you - dealing in modern art and vintage late twentieth-century furniture.
You may think this is the reserve of the posh and rich. But, as a one-time working-class lad from East London, I can tell you it absolutely is not.
Starting off as a clerk at Sotheby's at the age of 17, I left at 24 to start my own business, and now own a large gallery called Decoratum in London's trendy Marylebone.
I live in the prettiest square in a very fashionable part of North London, and count Kate Moss, George Michael and Jude Law among my neighbours.
Now I'm going to let you in on the secret of how you can do the same....
*YOU WILL NEED SOME MONEY
I'm not going to kid you - it's tricky for somebody without a decent sum of money to get on the art-dealing ladder.
But it's the same as buying a house. So, if you have £20,000 or more for a deposit, but can't or don't want to invest in property, read on...
Anyone can do very well buying and selling modern art and modern/vintage furniture if given good advice.
It's vital you get to know the main players, and one way is to regularly visit dealers.
I don't know any major dealer who wouldn't be delighted to give advice to a potential customer. Their advice is invaluable in getting onto the first rung of the dealing ladder. However, stick to galleries with a reputation...
If you want to get into dealing, go to as many exhibitions and auctions as you can and take in the atmosphere.
The best are at Sotheby's Christie's, Bonhams and Phillips, and their main glitzy evening sales are held a couple of times a year. You will see some pieces sell for £100 million or more and you'll be hooked.
*DON'T RUSH INTO ANYTHING
Very few people buy on the first night of exhibitions. In my experience, serious punters have often already been. So ask for a preview of the exhibition, instead.
*BUY FROM BIG NAME GALLERIES
If it's serious investment you want, buy from galleries that have been around years - such as Gimpel Fils, or Marlborough Fine Art - who used to look after Freud, and now look after Anthony Gormley, and other huge names.
They are run by serious academics, which museums latch onto quickly, and promote their artists - unlike high-street galleries, where the artists on sale are the celebrity equivalent of Z-listers.
Check out art from other countries, not just England. Chinese art is going to get bigger and bigger. Also, art from the Middle East is a good buy.
*REMEMBER THE RISK OF 'CONTEMPORARY' ART
While you can make a fortune dealing modern art, you can lose it in an instant if you don't buy at the right price.
Remember, the word 'contemporary' is made up of two words...
Con: Art dealers will hype something - but if there's too much hype... keep away.
Temporary: Today's flavour of the month is very quickly tomorrow's garbage.
*AVOID POP-UP GALLERIES/EXHIBITIONS
The stuff may look nice on the wall, and be cheaper than wallpaper, but it very rarely goes up in value unless by a big name.
Better to have a poor painting by a well-known artist than a great painting by someone you never heard of. But make sure you like it...
Buying purely as an investment rarely turns into an investment. If you buy something that you 95% love, and 5% for investment, then more often than not you will be onto a winner.
*DO NOT BUY AT AUCTION THINKING YOU ARE CUTTING OUT THE MIDDLEMAN
Don't be fooled into thinking you will buy art cheaper at auction than you will from a dealer. It's a fallacy.
Dealers love auctions. We are very careful what we buy and need good stock in our galleries. But when we get bored with a great painting that hasn't sold in ages, off to the auction it goes!
*IF YOU MUST BUY AT AUCTION, GET AN INDEPENDENT EXPERT
If you do see something that interests you at auction, don't be afraid to ask a dealer to buy for you. People get carried away at auction and it's their job not to let you overpay. Yes, they charge 5%, but their advice and knowledge pales this into insignificance.
*AND REMEMBER THE ADDED COSTS
It's easy to forget that you have to pay a so-called 'hammer premium' (like a service charge) on top to the auctioneer of around 20%. I have seen people forget... and get badly stung.
TO GIVE YOU A FLAVOUR OF THE POSSIBILITIES - HERE ARE MY FIVE BEST BUYS
1) A decanter I bought 40 years ago in a very expensive shop in the Burlington Arcade for £60 and sold at auction £460. I know this doesn't seem a lot but shows it's often more profitable to go to expensive shops where goods are already restored rather than buying something cheap and having to do the restorations yourself.
2) A 17th Century walnut "kneehole" desk that I bought 20 years ago for £60,000 from the most expensive shop in New Bond Street and sold at a London auction house for £310,000, including the 'hammer premium'. It shows all my best bargains are purchased from the most expensive dealers.
3) A painting by American artist Roy Lichtenstein that I paid £28,000 for from a dealer 15 years ago and sold two years later for £180,000.
4) A painting by David Hockney that I paid £90,000 for eight years ago and sold after four years for £550,000.
5) Last year I bought a 1998 Damien Hirst 'spin painting' with butterflies for £22,000, and sold it at auction in the same year for £53,000.
*Jeff Salmon is a dealer on Channel 4's Four Rooms. You can see some of his current art collection at Decoratum.