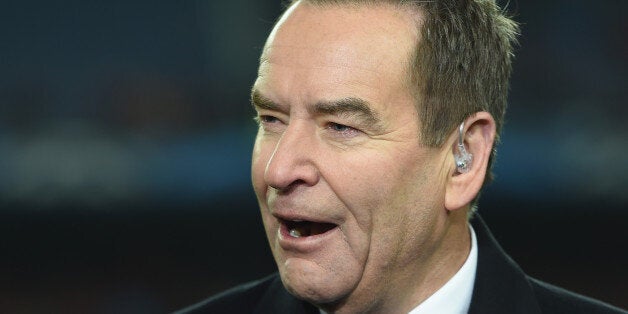 Just two days to go... Maybe you've heard about the 10 marathons I'm walking in 10 days to raise funds for Prostate Cancer UK? Well, Monday is D Day. Shower, shave and then walk 26 miles at the start of my Men United March. Well, who'd get out of bed for anything less?
Why am I doing it? Everybody must know somebody who suffers from prostate cancer. I've got friends and colleagues who do. Take my Sky Sports colleagues, Bill Arthur and Eddie Hemmings, big rugby league men who I have known longer than I care to remember. They are both great guys; but both have suffered from prostate cancer.
You see prostate cancer isn't discerning. It doesn't just hit the bad guys; it hits the good guys as well, like Bill and like Eddie. One man in eight in the UK is affected by prostate cancer, so it was inevitable that I would know people that were affected by it.
Hearing about Bill and Eddie did shock me, because despite the statistics you never really think that it would hit someone you know. You never really think it will hit your dad or your brother, your son, your best friends, but it does. It affects so, so many people. And when somebody really close to you does get it, it just brings it home to you how real this is.
I deal in statistics, but the ones we are dealing with are shocking. One man dies every hour from this disease, that's six in the course of my Soccer Saturday show every week.
I was recently sitting in the stand at Victoria Park, home of my beloved Hartlepool United. The stand takes 1,000 people. That means 125 of those 1,000 people are likely to get prostate cancer at some point during their lives. And if you look at 125 empty seats it's a staggering, haunting figure really. So we need to do everything we can do to beat prostate cancer.
That brings me to the challenge at hand, my Men United March, which takes me from Victoria Park all the way to Wembley from March 21-30.
I've run marathons and climbed Kilimanjaro. There were also some nice fundraising opportunities to go and walk on the Great Wall of China or maybe go to Peru, but they sounded too much like jollies to me. I wanted to do something where people could see I was feeling the pain on behalf of a fantastic cause.
Within the next 10 years Prostate Cancer UK believes it will find the answers to make this disease something men and their loved ones no longer fear. I've met the scientists who pledge to do this and I've seen how dedicated they are. But to do this we need vital funds - and I need everyone to support me and all the men affected by prostate cancer by visiting menunitedmarch.org and pledging their support.
People can also come and join me on the route and loads have signed up to date, which is great. These are people that have actually been affected by this terrible disease so I will have some inspirational allies, all who will be raising money to make a real difference.
I'm lucky to have built up a fantastic rapport with clubs up and down the country over the years thanks to the show, and at the last count we will be visiting 32 from the Premier League all the way to Non-League, and ending up at Wembley, a place Hartlepool have never been. When we reached the play-offs in May, 2005, it was when the stadium was being renovated. We played Sheffield Wednesday, and we lost 4-2....
I've also invited a few friends to join me along the way. Guys like Chris Kamara, Matt Le Tissier, Paul Merson and Matt Murray who I work with every week on Soccer Saturday, but legends in their own right. Peter Swann, chairman of Scunthorpe United, whose club proudly have the Prostate Cancer UK logo on their shirts this season, is just one of some high profile club dignitaries who will be joining me on the route and Bill and Eddie will also be there too. Word has even spread to Sir Ian Botham, who suggested I don't wash my feet for 10 days. I'm not sure Mrs Stelling will appreciate that!
The preparation is going okay. I remembered when I climbed Mount Kilimanjaro, people said, "What kind of preparation are you doing?" and I said, "Well there aren't any mountains in Hampshire where I live, so preparation is pretty limited." On this occasion, I've been going on regular walks with the dogs. That's three or four miles at a time. I've done some training walks as well, and topped 20 miles last week. I'd like to think I'm relatively fit, at least for my age, so fingers crossed. I think it's the repetition that's the problem. Everybody can walk 26 miles one day. But can you do it on a second day, third day, fourth day....? Well, come Monday, we'll find out.