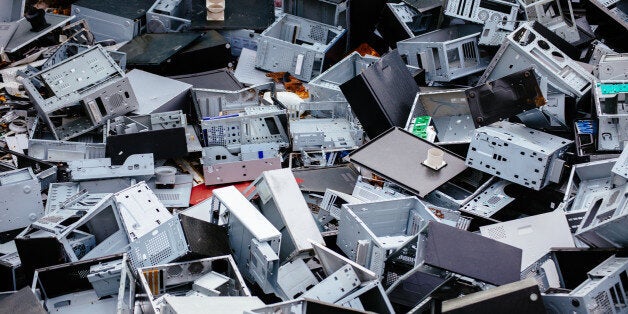 I'm kind of running and ducking as I write this.
It feels wrong to be advocating recycling less. And especially during Recycle Week, when I feel like I should really be championing recycling and encouraging everyone to recycle as much as they can. And don't get me wrong. I am a big supporter of recycling, and an advocate of recycling. But only if we've explored all the other options in the 'Waste Hierarchy' first.
A Waste Hierarchy sounds like a phenomenally dull thing and the kind of phrase that should only ever be uttered at waste conferences (I am assured there are such things), but actually it's pretty neat, and it makes perfect sense.
The Waste Hierarchy is something we were taught as kids (even those of us who went to school in the '80's). And I can guarantee you know it - hands up if you remember Bob the Builder and his gang of uber-efficient talking machines shouting "Reduce, Re-use, Recycle"? Well, that's it. That's the Waste Hierarchy. Only now it's got bigger.
The 3R's have been expanded to 5 (or even 6 or 7 depending on who you ask):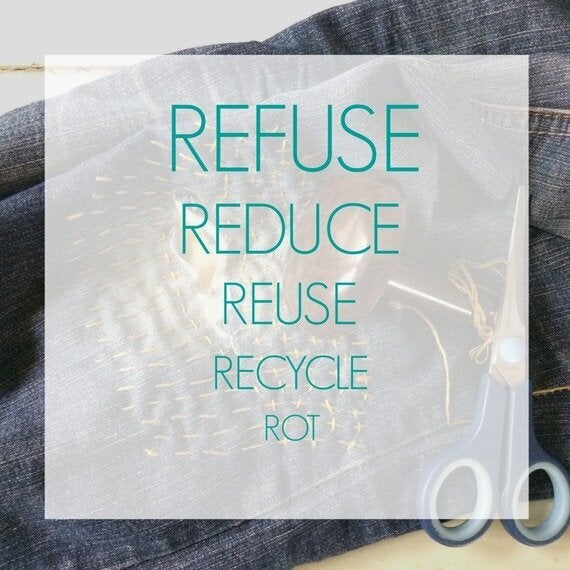 And whether you subscribe to the 3, 5, 6 or 7 R's you can see that Recycle actually comes towards the end, or even at the end, of the hierarchy.
Meaning that yes, we should all recycle, but we should all be doing all of those other things (Refusing, Reducing, and Re-using) first. Before we even think about recycling.
For a long time (I'm looking at you 1990's) all that sustainability was was pretty much recycling. If you were doing your recycling, you were a bona fide eco-hero.
But now the message is slowly filtering down that maybe there is more to living lightly than sorting our rubbish into different bins.
I wrote about this during the Summer when the latest episode of Hugh's War on Waste hit our TV screens, and Hugh Fearnley-Whittingstall declared 'war' on our takeaway coffee cups, which is turns out aren't recyclable. Whilst applauding him for getting the mainstream broadcasters to even think about showcasing waste on primetime, I wanted to make the point that what we should all be aiming for is not recyclable cups, but for us all to be using re-usable cups (or even drinking less takeout coffee...).
Recycling is not a cure all for the sheer excess of our consumption.
It takes energy (i.e. fossil fuels) to transport, sort, and clean our items for recycling. And not wanting to seem like some kind of English language pedant, more often than not, items are 'downcycled' rather than 'recycled'. I think most think that recycling a plastic water bottle means that more plastic water bottles can be made from that same plastic. They can't. I'll be totally honest and say that the details of the physics loses me a little, but basically food grade plastic cannot be melted down and used again to make food grade plastic. It is usually shredded up and used in things like park benches, or even fleeces. Which sounds great, and has to better than using 'virgin plastic' to make these things. But then I read articles like this one here about a report from Patagonia which show that their fleece jackets made from recycled plastic are actually shedding thousands of tiny micro-particles of plastic into our water systems each time we wash them. Suddenly recycling plastic bottles into clothes doesn't seem like such a brilliant idea after all 🙁
Man, this whole sustainability thing can be really tricky sometimes.
What I'm trying to say is, Yes recycle the things you can recycle. Sort out your rubbish and put your kerbside recycling out. You can even go one step further and save up the recyclables that your local council don't collect at the kerbside and take them down to your local recycling centre next time you visit. And always have recycling at the back of your mind when you are out shopping - pasta in a recyclable cardboard packet is a far better choice than pasta in a non recyclable plastic bag.
BUT instead of seeing recycling as 'job done' and feeling like we've done our bit to save the planet, I think we should all be looking a little bit deeper than that.
We should be looking to Refuse, Reduce and Re-use before we Recycle.
Refusing to buy the things we don't need - being more thoughtful and deliberate about the things we buy.
Reducing our demand for things - do we really need to upgrade our phones just because Apple/Samsung/insert other name here have released a new version?
Re-using the things we already have. I would include Repair in this category as well, so it's also about fixing and cherishing the things we already have.
So this Recycle Week, yes make sure you are recycling all the things that you can (check out the guides on the official Recycle Week site) but see that as the start point of a more sustainable life, not the end.
Sign up to the newsletter for inspiration and simple practical tips on how to live more sustainably everyday.