As an avid free-from blogger, I love to share information on the best places to eat if you're gluten and dairy free. I've already blogged my Gluten and Dairy Free Guide to Birmingham but decided to turn my attention to the capital. It is here that the free-from scene is really thriving and businesses are starting to listen to what those of us with coeliacs disease,allergies, or intolerances really want.
Because, although the gluten-free scene has no doubt exploded; knowledge and awareness has not. In fact, a recent survey by FATC showed that when using a gluten-free menu, 59% of customers still felt restaurants had poor awareness of cross-contamination. In other words, many restaurants are quick to offer a gluten free menu but less to quick to offer reassurance and the confidence we need to eat out. However, in response to this- there are many restauranteurs completely committed to the free-from trade- so committed that they've gone exclusively free-from; offering their customers everything from gluten free onion rings to sugar-free cheesecake! Read on to find the restaurants that make living with a restricted diet, just that bit easier...
La Polenteria (Nearest Tube: Piccadilly Circus, Leicester Sq.)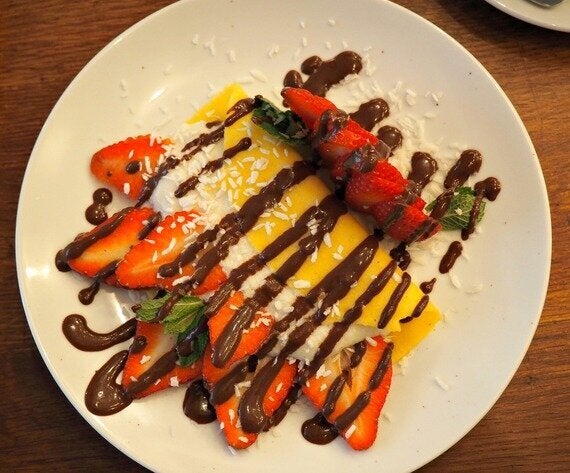 Tucked away behind the bustling streets of Piccadilly Circus is La Polenteria: London's only completely gluten-free Italian restaurant. Originally beginning as a Polenta themed restaurant, owners realised the potential this Italian superfood had for the free-from market. They are fully Coeliac UK certified and don't allow any gluten into their kitchen; offering plenty of dairy free options to boot. All foods are based around polenta or gluten free ravioli made from a mixture of gluten free flours. Yet, the restaurant insists it is not only for free-frommers as it's emphasis on natural, wholesome Italian cooking means it's suitable for everyone. They offer the ultimate free-from desert:the gluten free vegan crepes- sweetened with natural agave and Macadamia nuts, rather than sugar.
Romeo's Sugar Free Bakery (Nearest Tube: Highgate and Islington)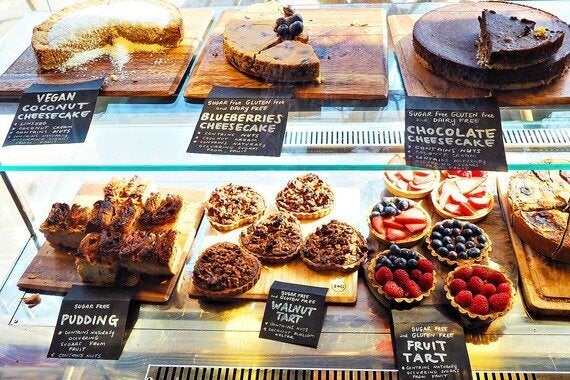 Romeo's started out as a traditional local bakery; until the owner noticed a growing need for healthy deserts- free from sugar, gluten and other allergens. The bakery has quickly become a hotspot for the health-conscious folk on the hunt for a desert fix; queues were out the door on our visit. If you are craving Pancakes or even a free from full English, there's no better place to spend a Sunday afternoon than curled up with a good book and one of Romeo's inventive creations. Interestingly, Romeo is always on the hunt for ways to develop the free-from market and is currently working on a low carb bread to replace the many high-carb gluten free brands on the high street.
Niche (Nearest Tube: Angel)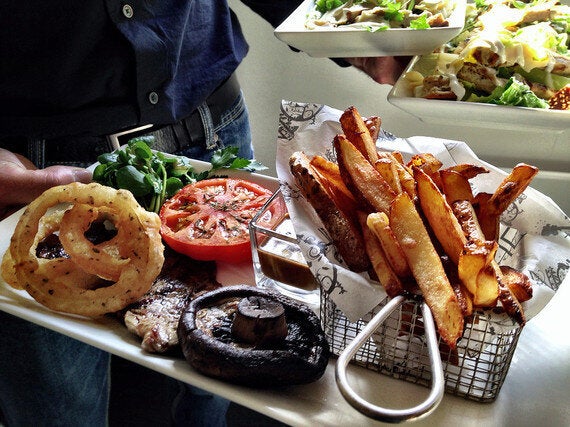 Photo credit: Matthew Burlem.
Located minutes from Angel tube, Niche is a completely gluten free restaurant (with lots of dairy options) offering traditional British food made from scratch-without the allergens. Think smoked salmon and gluten-free bread; plenty of burger choices and everything from cheesecake to Tiramisu. In other words- the foods you desperately want to eat but couldn't find since ditching the gluten.The atmosphere is bustling and the decor is modern with contemporary art. What's more, the waiters are extremely knowledgeable about all things free-from. If you are looking for a trendy hotspot with plenty of safe foods, then this is the best choice for you. What's more, keep your eyes peeled: Niche's owners have big plans to expand the restaurant to more sites across London and offer free-from ready meals .
It's fantastic to see these restaurants lead the way and offer those of us with allergies and intolerances, a safe environment and what's more- a place to feel normal and escape the rolled eyes, the constant need to repeat ourselves and the uncertainty that often comes with eating out free from. The success of these places show that the 'free from' market is only going to keep growing and growing.
If you have any more recommendations for free from restaurants I'd love to hear them! Otherwise you can checkout my other gluten free articles here.