Today marks a new series in my gluten free blogging: 'Gluten Free Travels'. I'll be focusing on tips for traveling with a dietary restriction (I'm gluten and dairy free) and suggesting the best places to stay for a happy and healthy holiday. First up, is a trip to Jesmond.
The base for our trip to Jesmond- a suburb not far from the centre of Newcastle- was The Rosebery Hotel in Jesmond. I had been looking for a hotel that was gluten-free friendly hotel and also catered for dogs and was actually a really nice place to stay and unwind. After much google searching; I came across The Rosebery and I can honestly say it was one of the nicest and certainly the most accommodating place I'd ever stayed in. It was my first proper trip (outside London which has amazing gluten free restaurants!) since being gluten free so I wasn't sure how easy it would be to find places to eat- but this hotel (and Jesmond in general) were really accommodating.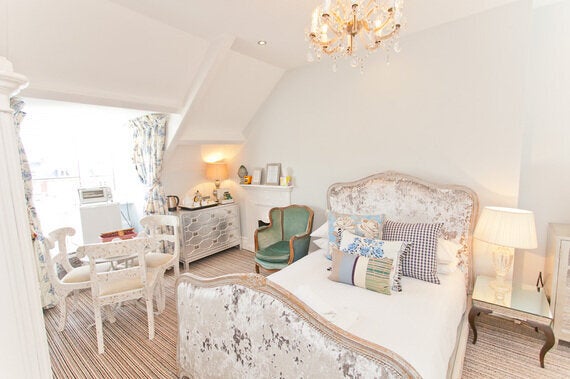 The hotel is known for its quirky vintage style and almost all of the furniture is upcycled; each piece has a story (including our beautiful bath that was over a hundred years old.). You would think that with such attention to design, they'd be anti-pets but the owners love for dogs shone through: they even provided little beds and snacks for my two toy poodles- I know there's lots of dog-friendly hotels but this just goes the extra mile and such a welcome change from places where there are so many restrictions for bringing a dog.
We stayed in a family room- the biggest in the house because the double room we had been planning to stay in was being used by a guest who needed ground floor accommodation. This worked out perfectly for us because it gave us plenty of space for the dogs and all our bits. It also had the world's most amazing bath with again all upcycled furniture.
Was it Gluten Free Friendly?
The B&B says it's happy to accomodate dietary requirements - from vegan to gluten free. The best bit for me as a visitor with multiple dietary restrictions, is that the room had a little area in the corner with a small dining table; a fridge; a grill and a toaster. This was just perfect for us as it meant we could start the day with a safe free-from breakfast and bring food back to the room. As any free- frommer knows, we almost pack a suitcase full of extra food but I didn't need to as I was greeted by this little hamper on arrival.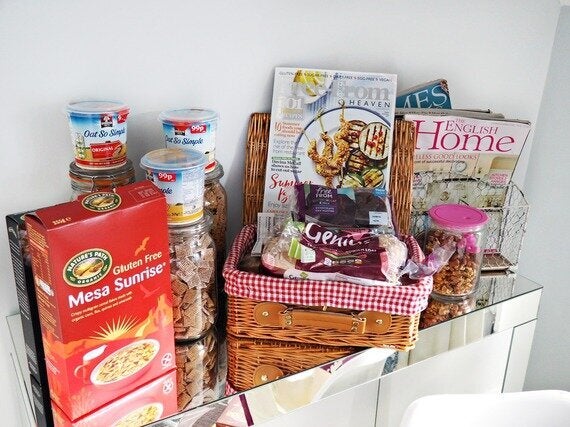 It contained everything from cereal to gluten free bread and even a copy of Free-From Heaven to flick through. What's more, in our fridge was fresh juice, almond milk, soya yoghurt and fruit. This was such a thoughtful touch and the favourite part of my stay was sitting on the little dining table with my breakfast feast. Breakfast can be such a tricky thing to navigate when on holiday.
The hotel is perfectly located near the main part of Jesmond- in walking distance to the beautiful Jesmond Dene and plenty of shops and restaurants. If you're after a gluten-free burger, checkout Newcastle chain Fat Hippo or if a fresh juice is more your thing, Clean and Press- a cold pressed juice bar- is only a short walk away. If you do bring along your fluffy friend, then Tynemouth beach is only a hop on the metro or a 15 min drive away.