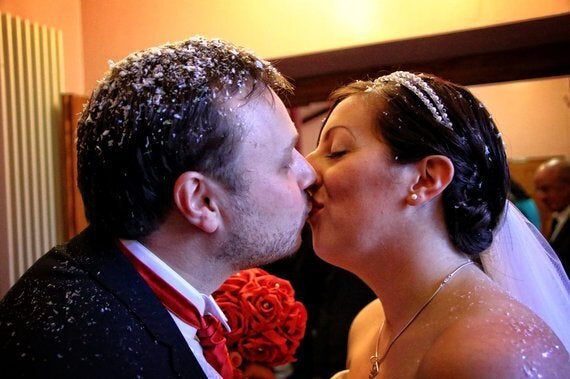 Is it a sign of the consumer society we live in that when you get married some people want to see the size of your ring; ask if it's white gold or platinum; enquire what carat the gold is or enquire about the purity of the diamond?
If you ask me those questions I cannot give you an answer because I don't have an engagement ring to flash before your eyes and nor do I need one because as I will try to explain, I don't need one to know that I am loved.
Some people ask did he get down on one knee? Where did he ask you? What did he say?
If you ask me those questions I can give you an answer, but in reality there wasn't a 'moment' to describe ... Now if you ask me, why did you get married? Or what was it that made you decide that he was the one .. I would tell you this story.
My husband and I both had previous marriages. We were both adamant that neither of us would tie the knot for a second time having been through the trauma and upset of divorce. Months into the relationship we felt less sure and thought that perhaps one day we might again take the plunge. Not for us the ceremony, dress, reception for family and friends. We had done all that and all we needed was our love for each other. What we didn't realise was that there was an event of cataclysmic proportions waiting on the horizon which would not only alter the course of our lives forever but would make us revisit how we felt about marriage and our commitment to each other.
Let me take you back to December 2014 ... Rob (my now husband) and I were happily preparing for a family Christmas. On 23rd December we happily went to the hospital for my 20 week scan. There had been nothing to suggest anything untoward was about to happen as we dropped my two children at school that morning. We chatted amiably as we waited and confidently walked into the room. I hopped onto the bed, excited to know that in a few minutes I would be able to see our baby. The sonographer put the cold jelly onto my stomach and after spending some time rolling the machine over my bump a tension in the room was obvious. Why was she not pointing out limbs, head and heartbeat to us? I can tell you why - our baby was dead!
I cannot begin to express through words what we felt but devastation and shock do not even come close. In our confused state we were informed that I would have to deliver our baby by a normal labour process. What should we do? It was nearly Christmas Day? My other two children, then aged 2 and 4 years, were so looking forward to the special day when Santa would arrive for our first Christmas in our new home. We were scared that there was the chance of me going into labour on what was an important day for them and this was our first Christmas together with my husband after fleeing from an abusive relationship. It was paramount to me that they had a family Christmas in their new home.
We took the difficult decision to wait until the Christmas festivities were nearly over. In a funny sort of way, it meant that our son was still with us.
Christmas morning was everything we had hoped it would be for the children, but there, lurking like a spectre at the feast was the knowledge that once they went to bed we would have to begin the slow, heartbreaking journey to terminate our much wanted and loved son. That evening we made our way to the hospital so that I could take the tablets which would start the termination process. I asked for the staff to check for a heartbeat (just in case) only to have my request declined. I couldn't believe our baby had died - I was so certain he was still alive! The wait began. It was two long and agonising days before I went into labour. Luckily I was heavily drugged so everything felt 'blurry' and unreal. My poor husband was not and I believe he went through the real suffering here - watching me in pain and knowing that in the end there could be no happy outcome.
Let me return to why we decided to get married. There was a moment during the long, painful night when Rob got tired. He got a pillow and leant beside me on his knees. I turned over and thought he was proposing and screamed out, "Yes". However, he wasn't proposing, I was just imagining something nice in the middle of such misery. Our beautiful boy Harrison was born in the early hours of 28 December 2014 - cold and lifeless, but so loved and so missed.
Over the next weeks we spoke about how we should live life to the full and also how we shouldn't take anything for granted. Sadly, three short weeks after we lost Harrison Rob's father collapsed and died. The realisation that life is ridiculously short and unpredictable was intense.
I don't remember the actual moment when we made the decision to marry but it was because of what we learnt from the loss of two such important people from our lives that we suddenly felt that it was important to us and important that we didn't waste time waiting.
We got married in November 2015. The planning process was short, money was tight our wedding rings (although you would never know) are made out of stainless steel!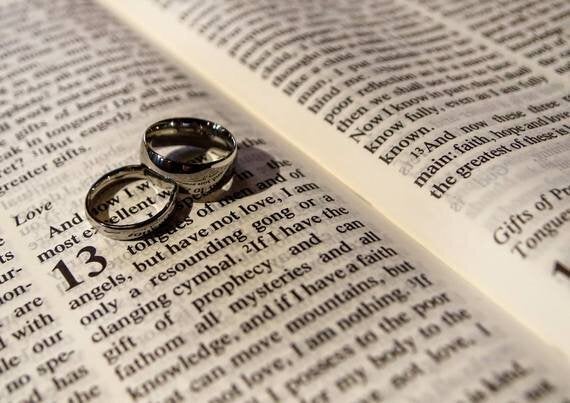 Photo of our £2 rings courtesy of our photographer Chris Evers.
My message to you all is that our marriage is more important than the rings that symbolise it. For us it was more important that we made the vows and became a unit because at the end of the day that is what really matters.
Our carat gold is our love, our diamonds are our trust, commitment and all our children.