Last night two students from the Edinburgh College of Art walked away with top awards at Graduate Fashion Week's prestigious Gala Awards.
The night was hosted by designer Henry Holland and TV Presenter Zara Martin at the venue in Earls Court Exhibition Centre, which has seen 4 days of shows from the country's top fashion graduates. The George Gold Award, the top award of the event which also carries a £20,000 prize fund to help the winner kick start their blossoming career, went to Edinburgh College of Art student Lauren Smith for her collection 'Anthology'. Her bold collection, which featured giant paperclips adorning voluminous shapes in fresh colours, was inspired by the concept of an artist's sketchbook. The young designer explains her design process as such.
"I find beauty in the unfinished sketches and written thoughts of artists and wanted to use my collection as though it were my personal sketchbook. Using the fabric as a blank canvas, I filled each garment with my own sketches and drawings that showcase my developing creative processes."
One of the Judges from the evening, Rouland Mouret, added a personal note on judging the winner saying "her collection was emotional, and meeting her in person she reflected herself in her work." See the moment Lauren won here.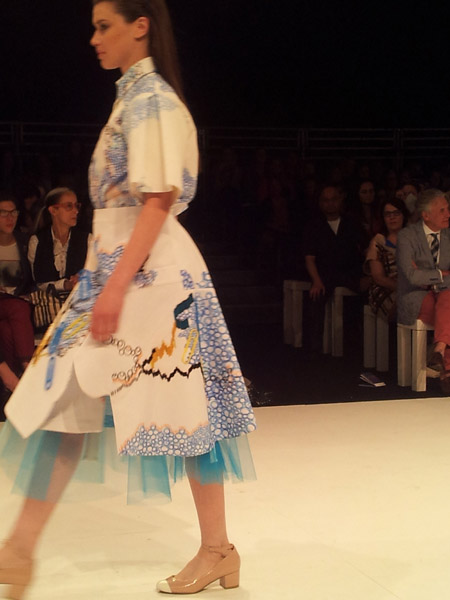 Photographs by Jennifer Morris
But that wasn't the end for Edinburgh College of Art's winning streak as Shauni Douglas and Olivia Creber scooped the Menswear Award, presented by David Gandy. The collection 'When the Gentleman Rider Met the Urban Cowboy' by Shauni featured accessories by Olivia. The collection "pays homage to the 'gangs', the gentleman's clubs and brotherhoods built out of beliefs, memory and social class". The considered cut of the collection fused heritage and street wear with lovely proportioned results. The accessories, which consisted of mouthpiece 'beards', were expertly crafted with a stunning and eye-catching outcome.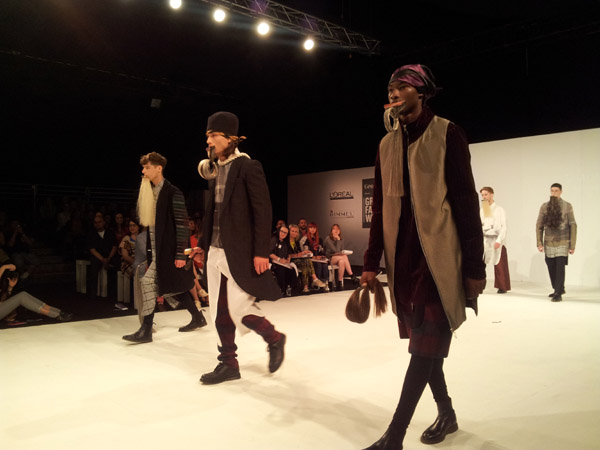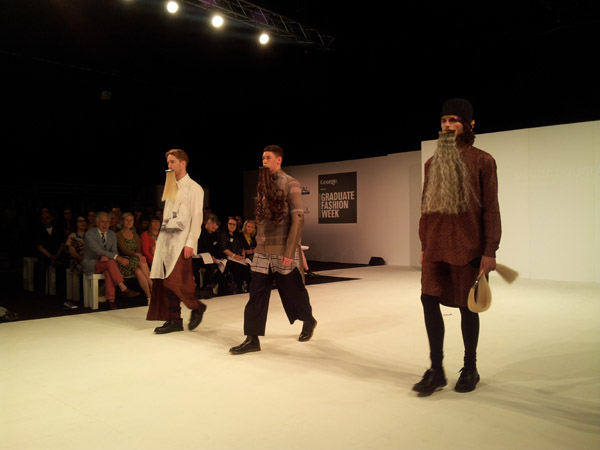 Photographs by Jennifer Morris
I was lucky enough to attend the Edinburgh College of Art catwalk show on Sunday where 17 graduating students showed off a culmination of three years of very hard-work. As an alumnus of the college it is an event I look forward to every year. Programme Director of Fashion, Malcolm Burkinshaw, has cultivated the department into one of the leading colleges for fashion in the UK. Perhaps I am biased in thinking that this University produces some of the most interesting collections and beautifully presented portfolios, but then the results from last night's awards would suggest I'm not. The show was filled with an impressive range of techniques and aesthetics, showcasing the original talent of the students. While Lauren, Shauni and Olivia had stood out amongst the group there are a couple of other collections I would like to mention that were personal favourites.
Isabella Lyginou dazzled with her impeccable collection 'Golden Dawn' featuring large polished studs and gold structured spikes on sleeves and expertly cut garment with clean finished lines.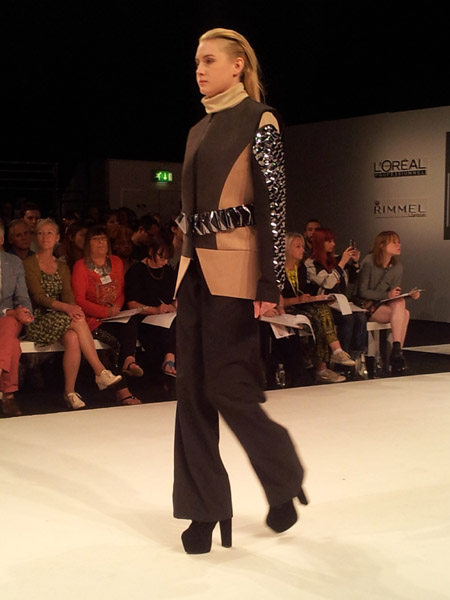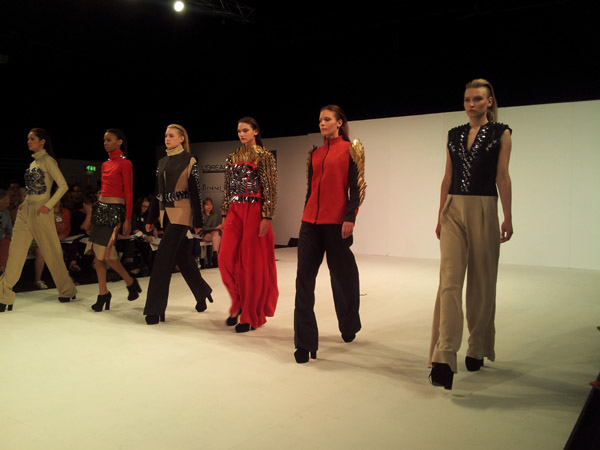 Photographs by Jennifer Morris
Morwenna Darwell's collection 'Blue Rhapsody' combined materials she describes as "tacky" to develop exciting fabric manipulations and surfaces. I nearly fell of my bench peering at these pieces to work out how they had been made.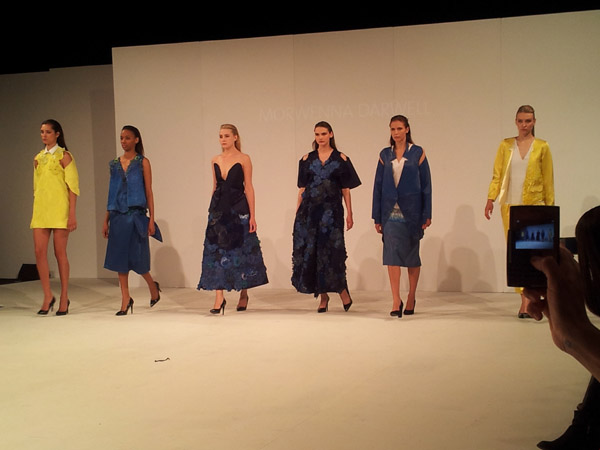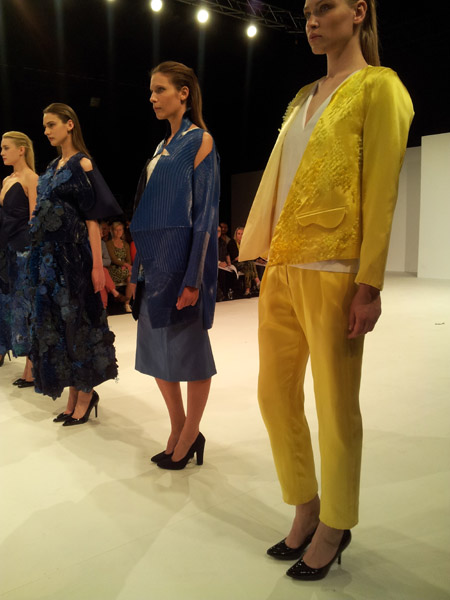 Photographs by Jennifer Morris
Other winners of the night included Hannah Williams of UCA Epsom who received the Womenswear Award, Kirandeep Bassan of Northampton who won the Zandra Rhodes Textile Award and Theo Saunders from Nottingham Trent who won the Knitwear Award.
Graduate Fashion Week continues to nurture bright young talent, I am proud to have been a part of it back in 2007 and it continues to grow every year as a fantastic platform to launch the amazing talent coming out of our design schools.