I am an up and coming Welsh comic based in London, Finalist: So You Think You're Funny 2013, Semi Finalist: Amused Moose Laugh Off 2013. I have appeared on BBC Radio Wales on a panel show where I was Jo Brand's teammate and have performed at the Edinburgh Fringe Festival. This year I will be going up to the Festival again with my own show: Love in the Time of Collier. I gig several times a week in and around London and sometimes further afield e.g. Manchester, Preston, Cardiff.
Ten days ago, I went home to Wales for a quiet weekend away with my family; little did I know that our remote cottage was soon to become media shitstorm HQ. On the Friday night I received the email (see pic) on my phone. I was stunned and showed it to my family who were convinced it was a joke. I was blown away, not only because I was cancelled from a bill on the basis of my gender alone, but also because they didn't even feel it necessary to hide the fact. On any day of the year, it would have been an absurd email to send, but on the eve of International Women's Day, it was preposterously ironic.
Competition for spots is tough anyway. As comics we are always looking for gigs, and to find that I was being rejected purely because of my gender - that was a massive wake up call. It made me wonder how often promoters say 'Sorry, there's nothing at the moment' when what they really mean is there are already 'too many women' on the bill.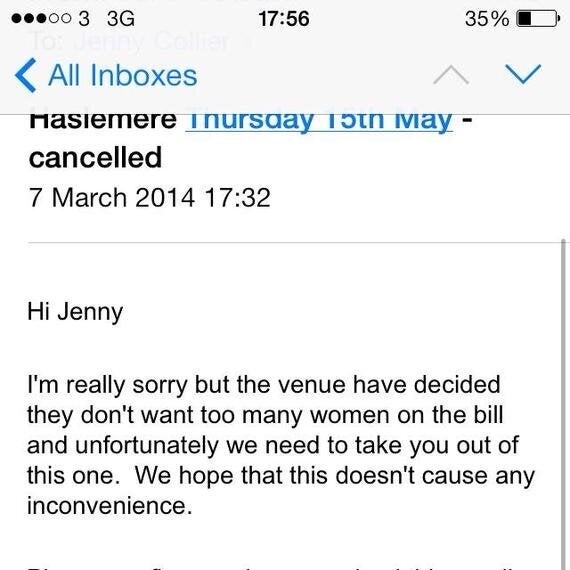 I posted a screen shot of the message onto Facebook and Twitter expecting a few of my friends to comment and sympathize but nothing prepared me for the reaction it actually got. Within an hour it had been retweeted over a thousand times and for the rest of the night and following day my screen never stopped flashing with notificatii. The comments coming in showed me that LOTS of people were outraged on my behalf and also, A LOT of comics had experienced similar treatment.Amongst the respondents were quite a few well-known names e.g. Jason Manford, Gina Yashere, Frankie Boyle and Sarah Millican. It also got picked up overseas and it got mentions from Sarah Silverman, Pete Holmes, and Lizz Winstead. The support was incredible. Over the weekend I was contacted by Buzzfeed, Huff Post (hi), the Mirror and the Independent, but as I was at a family gathering to celebrate the birth of my niece, I didn't have a chance to reply. By the time I got back to London, articles had been published all over the place. Lots of my friends got in touch to say they'd seen my big grinning cancelled face in the paper!
I cropped the name and email address from the email as I wanted it to be anonymous but I didn't know there was only one comedy club in Haslemere (nor that the story would go viral). As a result, the promoter and venue were identified by those prepared to do the research. However I don't think this is about one individual case. It points to a much wider problem, that women are still being rejected by bookers regardless of talent. I'm glad that this incident has really got people talking (and not just because I get my mug in the paper). We still hear people ask 'Are women funny?' as if this is somehow a valid debate. It's not a question ever applied to male comedians. Female stand-up comedy does not constitute a sub genre. We are not a novelty act. Book us because we're funny and don't dismiss us before we've even opened our mouths.