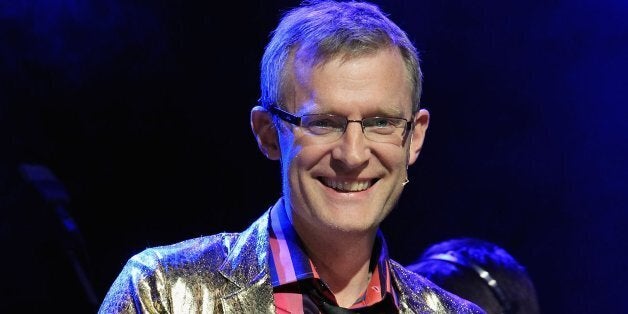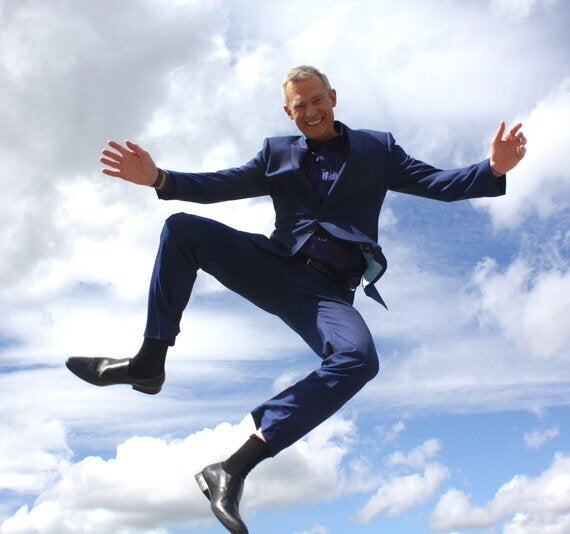 I thought I would write a list of reasons for saying yes to Strictly, but it got quite difficult quite quickly . . .
Physical activity? As someone once said, most journalists get plenty of exercise from jumping to conclusions.
Being in the spotlight? We have seven small LED bulbs above my desk in the studio at Radio 2. They flicker in a way that sends most of the DJs into a trance-like state. Having done some research into low-energy bulbs for use at home, I recognise our studio lamps as the cheapest sort, the six-pounders. So spotlights are not a big part of my existence; I live a life of cut-price bulbs.
Make-up? Forget it. They have to chain me down to paint my face for Eggheads.
Anton du Beke? Nah. Love the guy, but I don't feel I need an up-close squint at his rumba.
Ah, music. Well, there's the thing. I want to surround myself with music and move like a loon until I drop. When I was on Newsnight I constantly wanted to play records ― but Paxman disapproved, and I never got the chance until Radio 2.
Now, as life goes on, I realise how deeply I love music. Just adore the stuff. I started with punk but then got into everything. When I was a teenager I played drums in a very silly band called the Flared Generation. I have been to see Elvis Costello play live 17 times ― but recently went on BBC Radio 3 to choose my 10 favourite classical tracks and blundered into a symphony by Mussorgsky. Last year I bought an old-style record player because a listener bequeathed me her entire Beatles collection: yes, what treasure, all the old Lennon-McCartney LPs. So if I switch on the turntable it's the Beatles I play, as I have no other vinyl. Best gigs? Arcade Fire, Taylor Swift, the Stones. Nick Mulvey (just last month). Best pop band in the history of the world: Squeeze, with The Jam a tight second. Indie bands? Joy Division, Crass, Theatre of Hate. Worst group ever: Sigue Sigue Sputnik. Idol: anyone called Elvis. Best moment in the history of rock: that "1-2-3-4" count from Springsteen in Born to Run. Best love song: Operator by Jim Croce. Best easy listening: Whitney, Sinatra. And the gent who sang Watching the Girls ― eek, have I even got the title right? Can't recall the name either. Andy?
You get the point. My affections are widely spread. I love songs and I love symphonies. I admire anyone who can hold a note. The last note I held was a shopping list.
But that's my problem. Lots of enthusiasm. No expertise. Sorry if you expected otherwise. My brother got the talent. The only thing I was ever really good at was the high jump.
But I truly, madly, deeply want to learn to dance.
Desperately! Because I feel that would be a way of getting profoundly into the music, of letting it hold me. And also because every time I move my body, people start calling ambulances. I remember dancing at a wedding and an American came up to me and said: STOP THAT RIGHT NOW, OKAY? I am not sure he even knew what he was objecting to. He just had a sense, watching me on the dance floor, that the world was about to end and he was never going to see his mother again.
As Yeats wrote: "The centre cannot hold." That describes my dancing to a tee. At this point, nothing holds; and I would like it to. I want to put my dad-dancing days behind me and move like Jagger.
Part of the reason is Martha and Anna. My daughters are now 11 and eight. They are in that beautiful zone, the one that exists just before you realise your dad is a total nob. The brief period after you work out who your parents are and decide you quite like them. I love my girls to bits and I want to show them that life is about taking chances. Life, Bruno would say with his arms spread wide, is about the dance!
The contestant I knew best on the show was John Sergeant. When I was a BBC political correspondent at Westminster in the nineties, Sargie (as we called him) was the big boss. Oh, he was so serious. He would keep appearing outside Number Ten and saying, "This is now a CRISIS and someone may have to RESIGN."
Then I turn on Strictly and he is being the so-called dancing pig, causing laughter and inconvenience; bringing the house down with his comic timing and general pizazz. I seem to remember he had to hold a press conference when he himself resigned, and Jeremy Paxman was in the crowd of reporters asking Sargie about the crisis. I know that will have been an absolute career high for John ― and I am not sure I can better it. So I will just let the music embrace me, and do my best.
One of the most moving moments of my life was actually a dance. In South Africa, where I was BBC correspondent for several years, President Nelson Mandela was handing over to his successor Thabo Mbeki. There was a post-election party in a vast field in Pretoria and lots of South Africans turned up to celebrate and see Mandela out. I happened to be standing next to a crowd of old ladies, whom I thought might well have been maids. They were black and they were poor. But they were full of joy and excitement.
Then the music started from the stage. Without even needing to discuss it, these 16 grannies formed a grid in front of me ― the best four-by-four I've ever seen ― and moved in a way that was so completely funky I was embarrassed even to be watching. Forward two steps, back three, sideways . . . crouching forwards, leaning back, elbows in, feet twisting . . .
I put down my tape recorder and tried to. Lanky and undignified, I did my best. Soon the spectators around us were clapping and cheering. What was this buttoned-up Englishman with the sunburn doing, trying to mix it with professionals?
David Byrne, the great lead singer of the Talking Heads, said that during any world tour "there is only 25 seconds where the band plays in time, really in time ― but what a 25 seconds that is."
I knew the truth of that when, just for an instant in Pretoria, with Nelson Mandela on the stage a hundred yards away and African music fizzing in the air around us, I was in time with those grannies. It may only have been twenty-five seconds, but as Byrne said: "What a twenty-five seconds that is."
I said yes to Strictly because I hope that maybe there'll be a moment where everything fits into place, and finally I understand the music and it understands me.
And what a 25 seconds that will be.
Related