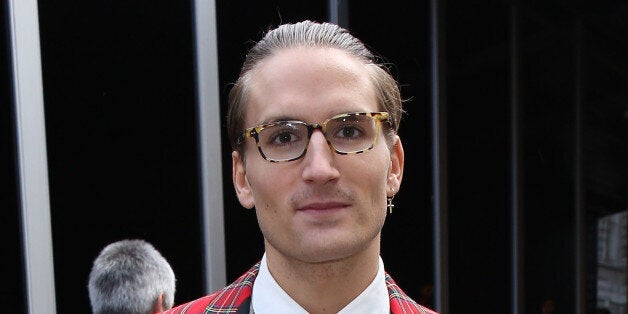 Perhaps what gives this slick-haired, glasses wearer, funky t-shirt loving character, a likeable edge, is his Mr. Nice Guy nature, determination and ability to always keep his cool throughout the dramas and tears of reality TV show, Made in Chelsea, making him a great man date to have a drink with.
Slamming the critics who think the star is just a pretty face from another reality show, Ollie said: "My clothing brand is my passion, and therefore I try not to let anything hinder it. Made and Chelsea has given me a great platform, but I had the brand before I started the show, and therefore it has always been my number 1 in terms of priorities"
Since the Londoner's brand Serge DeNimes was founded in 2011, Proudlock created a design-led collection full of urban apparel and original designs, stimulated by urban culture today. "I have always said my inspiration is my immediate surroundings, the chaotic, culturally diverse and volatile urban atmosphere. In terms of music I would say hip hop, and when it comes to inspiration from films, things like Lords of Dogtown."
Not afraid to mix high street fashion with editorial designers, Ollie revealed which designers he looks up to. "I love what Christopher Bailey has done with Burberry and I also love Paul Smith but I cant really pinpoint a specific designer as they all have differing qualities to admire. I love to change up my looks with different style designers including Ralph Lauren, Acne, Diesel, and Sandro. My staple outfit I can always rely on is my Nike Air Force 1s, Diesel jeans, Serge DeNimes tee, and my Hunter Gather orange bomber."
In previous times, the 25 year old was most recognisable from his topknot hair do and his skeletal frame, but for the past year, the designer spilt his energy between his clothing label and his fitness. "Since doing the six pack challenge, I have tried to keep up with my fitness-with a busy schedule it is hard but I try and fit it in where you can and fit the fight regime that suits you and your body type. Make sure you are eating right as well. For the challenge I was trying to build body mass, so I had to increase my intake off calories and protein, but this will vary for person to person."
"In 5 years I would like my brand to have grown further, especially to have my own stand alone store. I also want to have expanded into other fashion areas such as denim."
•What's on your iPod? Mainly hip-hop and reggae.
•What would you say is your best physical feature? I have been told I have nice eyes.
•What do you look for in a girl? Someone who is laid back, creative and fun.
•Worst fashion trend? Chinos, I really don't like them.
•Favorite hair product: I use Matrix Texture crème, my hair is quite long at the moment and it's great for long hair as it gives the hair hold, but yet the product lets hair move as well.
Related