We have a baby and a toddler (nine months old and two years old) so telling friends "we're going away for the weekend, staying in a hotel", usually results in them commenting, "oh nice, that'll be interesting." And what they mean by "interesting" is a pain in the arse.
Staying in a hotel with kids, especially very small ones, can be tricky. Sharing a bedroom means you either have to go to bed with them at 7.30pm (never gonna happen) or sit in the dark, in silence, using the light of your mobile to read a book until they've fallen asleep. Even then you have to chat in hushed tones, not daring to turn on the lights or TV up. Creeping around like a burglar is not the relaxing night away you envisioned.
So when Urban Villa - a luxury, boutique suite-hotel in London - invited us to stay for the weekend, we jumped at the chance. It was billed as a spacious and luxurious self-catering suite with stylish hotel facilities, bar and reception. I instantly though it sounded like the perfect way to travel with kids.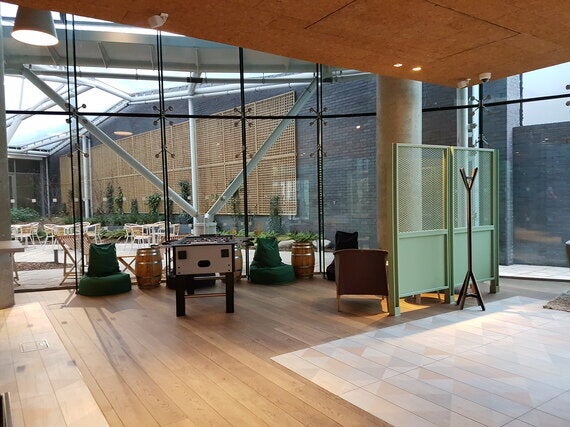 The description on their website: "Manhattan style with British Modern luxury" was perfectly adapt. From the outside Urban Villa looked chic and sleek, oozing London coolness, from the inside it was laid back and cosy. Guests were mingling around the hotel bar area as we arrived, drinking coffee, reading newspapers or bent busily over laptops. A foosball game (table football) was nestled in one corner, surrounded by scattered beanbags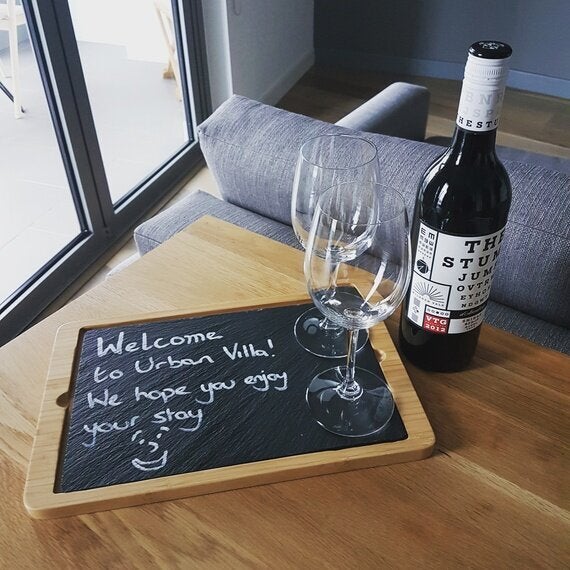 We were staying in a Master Villa on the 10th floor, it included a large bedroom (they kindly put a travel cot in for our baby), a bathroom with bath and shower, full kitchen and huge sofa (which converted into another double bed).
The wow moment came from the wrap-around-glass balcony which connected the lounge right around the front of the suite to the bedroom. A perfect terrace offering a bird's eye view over the roof tops of west London. Simply stunning in the sunshine (as we found out the following morning) and also after dark.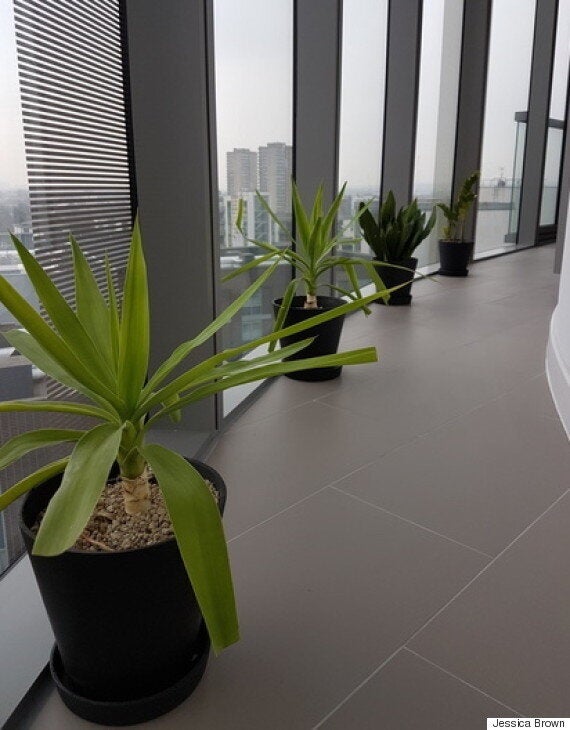 The king size bed was easily big enough for my husband, daughter and I to share. The bedroom had all the high-tech perks you'd expect in a hotel - flat screen TV, digital radio, moveable lamps, USB ports, even blackout roller blinds - all parents will smile wide about that one! The bed linen was super soft Egyptian cotton.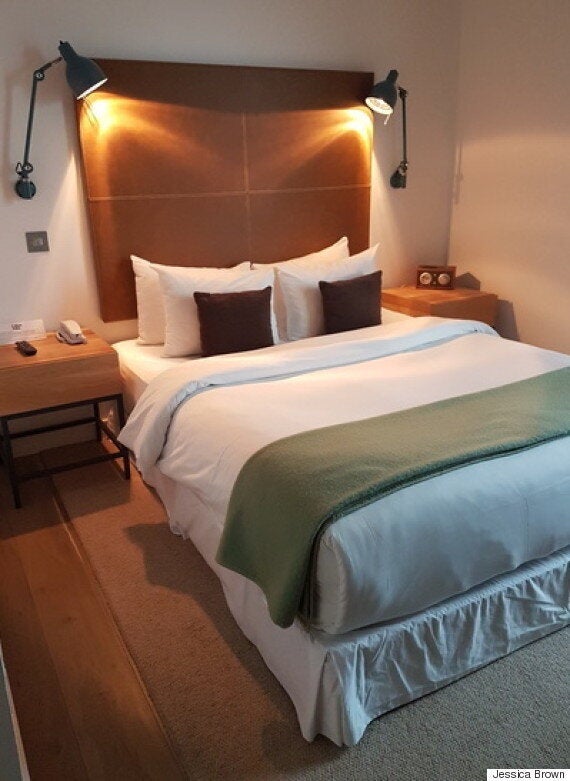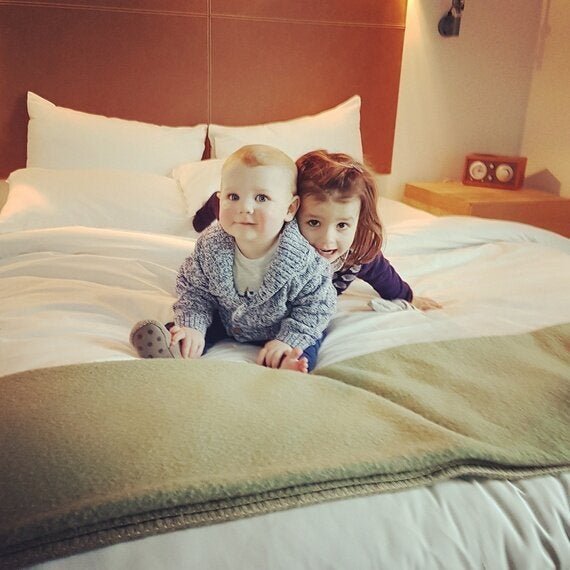 There's everything you need in the kitchen to cater for all family members, big and small. An oven, microwave, fridge, freezer, dish washer, kettle, toaster and all the essentials like cutlery, crockery, glasses, utensils, salt & pepper, egg cups. We particularly loved the Nespresso coffee machine with complimentary pods. My daughter was impressed with the espresso cups, scurrying off with all six moments after finding them to have an imaginary tea party. Oh, to be two-years-old again.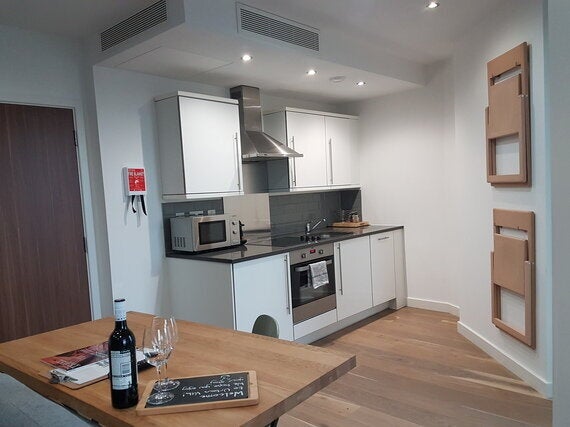 The helpful (and very lovely) reception staff told us about local takeaway restaurants which can deliver straight to your suite. You'll also find a Sainsbury's Local just two-minutes walk from the front door. If you're super organised you can pre-order online and have groceries delivered to your suite before checking-in.
The living room has a 48 inch TV hanging opposite the sofa. It wasn't long before we transformed the sofa into a double bed and all clambered on to watch a film - albeit it a kid's movie, but hey, we were all lying down, so I still class that as winning.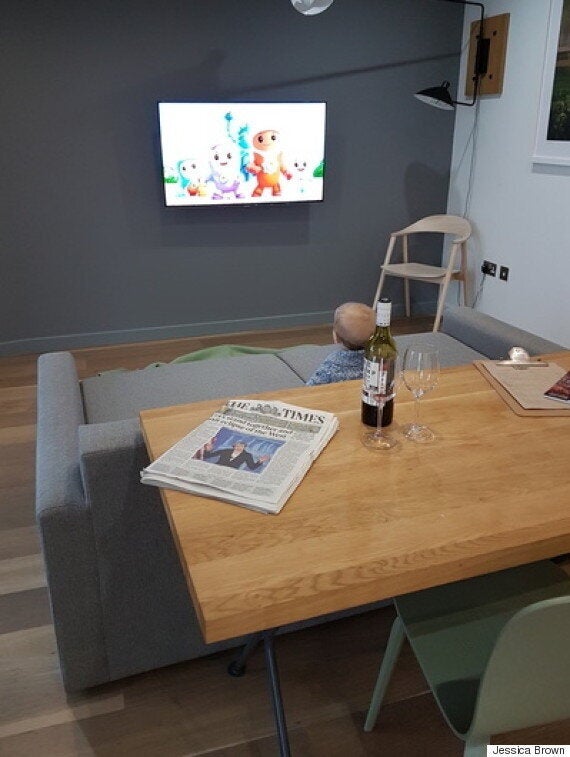 The bathroom was sleek and modern with a heated towel rail, rain shower, deep bath and a selection of luxury bath products.
All the other little essentials were included, an iron and ironing board, hairdryer, spare bedding and plenty of storage, which is key when travelling with kids. You can hide stuff away and forget about it until you need it.
The hotel bar - Sour Diesel Lounge - is open until 2am for residents. Known for it's custom-mixed cocktails, speciality spirits, craft beer and posh wine it also comes with a 24-hour room service option.
We were told to pop downstairs for breakfast and help ourselves to croissants, fruit, tea and coffee. You'll find butter, jam and milk in the fridge opposite (Smeg - of course!) and free newspapers.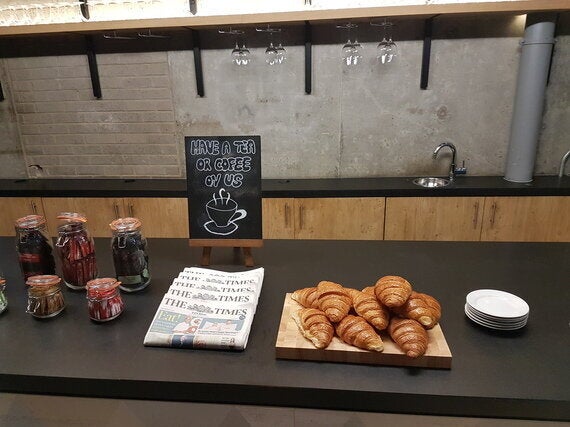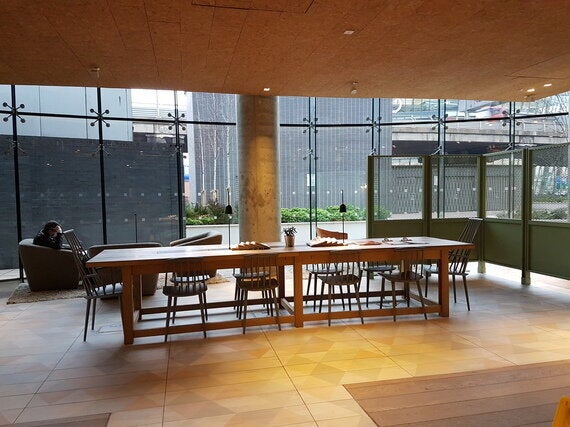 They have a gym, so take your kit if you fancy a work out
You can hire bikes from reception for free
Kew Gardens is minutes away, which is lovely for a day out with children
Richmond Park is a 15 minute drive.
We came home feeling refreshed, recharged and happy. You can't always say that after a night, squashed in a hotel room, creeping around like a tip-toeing intruder.
If you enjoyed reading this, please come and check out my blog Jessica Loves.
This post has been published on The Huffington Post's blogging platform. The views and opinions expressed in this blog are those of the author and should not be taken as those of The Huffington Post. The Huffington Post does not allow bloggers to acquire products, access or accommodation for review in the site's name.