I witnessed over 200 protesters claim victory as they gathered under the tunnels in Waterloo, London, where the Vault was forced to cancel the first showing of Brett Bailey's controversial Exhibit B performance which has been compared to the 19th Century, when black people were displayed in zoos to amuse European audiences.
The piece was due to run from the 23rd of September up until the 27th, but in a statement handed to protesters by the Vaults, an independent venue which had been hired by the Barbican, said:
"This evening's performance has been cancelled. Further subsequent performances up to and including Saturday 27 have also been cancelled".
Sara Myers who said Exhibit B is "racism masquerading as art", started a petition to boycott the piece that has reached over 22,000 signatures.
When I first heard about the exhibit, I wanted to know more about it and after being offered a guess pass I thought, why not? I wanted to see it for myself, I wanted to really understand why it was so terrible.
According to the Barbican, "Exhibit B critiques the 'human zoos' and ethnographic displays that showed Africans as objects of scientific curiosity through the 19th and early 20th centuries." They said the images "confront colonial atrocities committed in Africa, European notions of racial supremacy and the plight of immigrants today."
At the corner of Leake Street Road I could already hear the loud chants and drums of protesters at the entrance of the Vault, just over 100m away. Petition starter Sara Myers rallied her supporters that took to the entrance of the Vault with chants that echoed down the tunnels, "Barbican, Barbican shame on you, no more human zoo". As I got closer I noticed security as well as Police who were monitoring and trying to keep calm.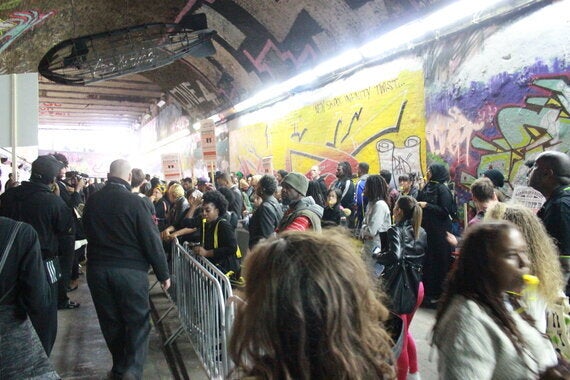 IMAGE COURTESY OF LONDON 360
With loud booing towards any member of the public that was entering, I was expecting mine to be the worst since I was the only black person to view the show for the first slot at 6.30 pm. I couldn't quite predict what was to happen next.
The boos heckled towards me as I went inside and after came a most uncomfortable feeling. I'm not sure if the feeling came from the eerie atmosphere in this underground-like dungeon or the smell of something gone off. A group of about a dozen of us stood waiting for the first viewing and after about 5 minutes of waiting, their seemed to be sudden commotion outside and all of us inside were rushed into a room, deeper into the building for safety.
The barriers outside that were holding protesters were breached and I briefly got to see some of them that had reached the entrance door before I was hurried along. With the Barbican workers believing the safety of those inside was compromised, they led us into a kind of "waiting area". We could all still hear the pounding voices of the protesters outside.
The audience and staff that surrounded me seemed quite fearful with one lady saying, "This is worrying" and another stating, "I don't know why this is happening, it was greatly received in Edinburgh".
An assistant for the night ran in asking for any "Strong Men" to help at the front doors and of course at this point all of us present couldn't imagine what was happening outside. With the protesting only getting more and more spurred up, the Barbican decided to cancel the show. A spokesperson for the Barbican said:
"Due to the extreme nature of the protest outside the Vaults, regrettably we have cancelled this evening's performance of Exhibit B as we could not guarantee the safety of performers, audiences and staff.

"We respect people's right to protest but are disappointed that this was not done in a peaceful way as had been previously promised by campaigners."
As I started to walk back to where the protesters had gathered I heard police sirens and saw police vans turning into Leake Road, where the Vault was situated. The crowd cheered as a sign was brought out stating the cancellation and protesters began to retreat.
British Transport Police and additional Metropolitan Police units were called to calm protesters to aid in calming the crowd that to be honest were already retreating away from the entrance.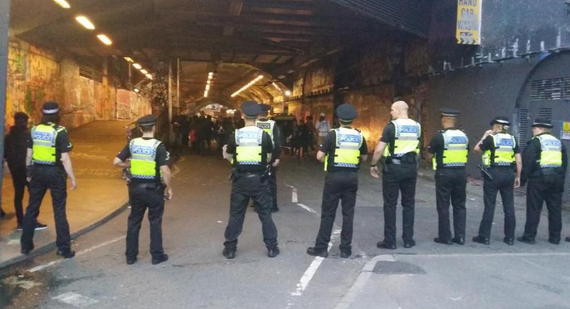 IMAGE COURTESY OF LONDON 360
A man that seemed quite angry walking away from the protesters came up to me and said:
"If he was black it would be okay" and pointing towards the crowd of protesters he said, "they are the f*****g racists". I beg to differ and believe a black person would not put on a show similar to this as they would have a completely different perspective to the artist Brett Bailey.
With a cancelled show, I doubt I will be able to see it for myself and confirm my own judgments on how Brett Bailey could have portrayed this message differently. What I do want to see is the black community unified in society as they were at the protests yesterday, supporting each other.
We want to see more of the triumphs through the slavery period and that can happen by people of African-origin telling their own narrative. We need to stop throwing so much abuse at others and throw support to each other if we want to see a change.