As the London Olympics close no one is doubting they have been a huge success. Team GB have finished an unprecedented third in the medals table, fantastic crowds have turned up to watch, huge television viewing figures have been attracted and people young and old have been inspired to somehow get involved.
Now we look to the future, to the legacy, the promise that these games would inspire more people to take up sport, the very pledge on which the Games were won in 2005.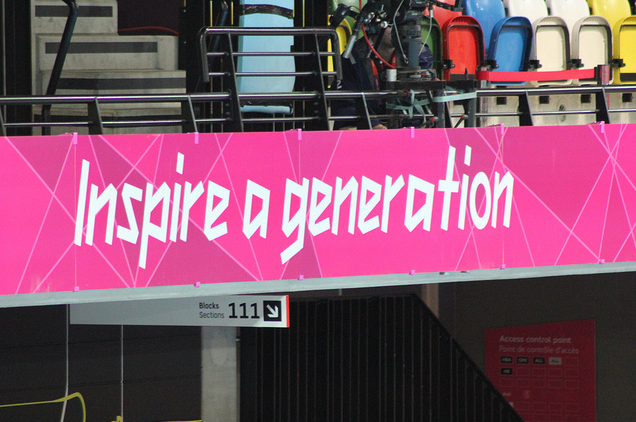 Over the last week, 'legacy' has become the bandwagon that everyone has wanted to jump on without really considering what legacy is and what was promised. Talking on the BBC on Saturday evening (11th August), presenter John Inverdale asked his studio guests, "is this legacy?" when talking about the sudden increase in interest in playing sport. Excitedly, his guests and others talk of hoping legacy is what we are seeing. Now we have hosted a successful Olympic Games it seems all we need to do is hope that a generation will now be inspired.
There is a term for this and it isn't legacy. It is 'Wimbledon Effect.'
It is that effect we see every summer during the Wimbledon fortnight and, sometimes, for as long as two weeks after where 'inspired' people take to the nation's tennis courts before gradually they return to previous interests or jump on the next fad that grabs their fancy.
The challenge hasn't changed since before the Golden sixteen days we have just enjoyed, since London won the Games in 2005. The challenge is to avoid relying on hoping and have in place strong, sensible, integrated planning; it is in putting in place a dedicated strategy for the development of sport in the UK for the first time ever.
Governments past and present have promised such strategy and talked such strategy but delivered only a seemingly endless stream of initiatives. Current Minister for Sport Hugh Robertson even promised he had such a strategy but was not able to produce it when asked.
The focus of the legacy debate these last seven days has been on two specific areas; the continued funding of elite sport and the quality of school sport. A cynic might suggest that debate was deliberately framed to ensure popular support for yesterday's announcements from Prime Minister David Cameron that elite funding will be maintained and that competitive team sports would become compulsory in all primary schools. Both are announcements that it is difficult not to support and yet both are, yet again, populist initiatives plugging gaps where no fully functioning strategy for the development of sport exists.
The funding news is fantastic but maintaining a healthy peak to any pyramid is folly when the strategy to build and support what sits beneath is not in place.
The news that competitive sport will become compulsory in primary schools is also welcome but in isolation does not address many other gaps in sporting provision in primary schools. For example, training in PE for primary school teachers is woefully inadequate and it is those teachers who will be in the front line of delivering the Prime Minister's new initiative.
The benefits of a healthy sporting nation - where more and more take part in physical activity - cannot be underestimated, not only to the 'pipeline' of elite sport. It has value in healthy people making fewer demands on an already stressed health service, in keeping crime down and fighting anti-social behaviour as well as in understanding the ethics of hard work, of being part of a team and of having a well organised life.
In short, done well this is not money spent, it is money invested. But simply having competitive sport in primary school is not doing it well; it is doing something but not the right thing. For every person like me who is eternally thankful for being good at sport and for the advantages it has given me in life there are two or more who missed out because they weren't as good, they were the twelfth player in football, the ones who walked around at the back in cross country. How do we involve them?
The most vital lesson for sport and for a life of healthy physical activity we can teach in our primary schools is not competitive sport; it is the skills that enable the participation in sport. These skills (collectively termed 'physical literacy') are best learned during the primary ages of 8 to 11.
This is not to say competitive sport doesn't have a place, it just shouldn't have the place in this age group. Not if we want a broad base and healthy pipeline for our well-funded pyramid, not if we want to develop a healthy, sporting nation that continues to participate well into middle or old-age. It is not a populist policy aimed at votes in the next election, it is doing the right thing for the long-term health and sporting success of our nation, laying foundations that will remain even if/when the funding reduces. Moreover, it is not expensive to do.
Physical literacy in primary schools is one important but overlooked element of creating and delivering an integrated strategy for the development of sport in the UK. There are others which service the sports development continuum providing a pathway through foundation to participation to performance and to excellence and which provide well thought out support structures at and between all stages (such as providing primary teachers with the training they need in PE). It provides entry and exit routes at and between all levels. It recognises that while the talented few aspire to and pursue excellence the vast majority will never move on from and be happy with participation. All is planned, nothing is accidental and use of the word 'hope' is eradicated.
We must move away from debate by sound-bite and delivery by initiative and start thinking more of what the long term vision is and what the strategy is to get us there; the fully integrated, strategy for the development of sport in the UK which recognises and fully services the sports development continuum.
It is the difference between there being a genuine Olympic Legacy or yet another Wimbledon Effect.
© Jim Cowan, Cowan Global Limited, August 2012