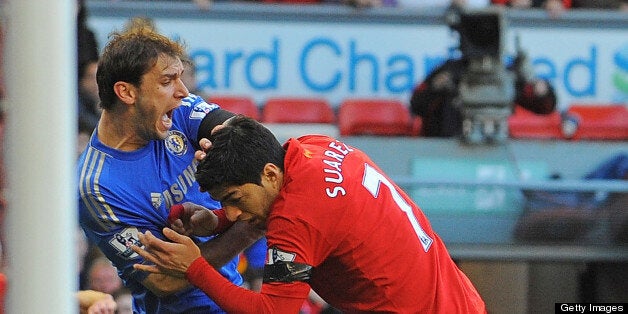 I wasn't very well on Sunday. I spent the entire afternoon on the sofa, feeling extremely sorry for myself and with barely enough energy to change television channels. Look, I'm a man, I can't handle being sick.
Two football matches in one afternoon made for perfect drifting in and out of consciousness viewing, my dozing punctuated by the odd goal here and there in the Spurs vs Manchester City match. I slept through the entire first half of Liverpool vs Chelsea and wasn't exactly agog with excitement until it happened. If I need to explain what 'it' is right now, then this probably isn't the blog post for you.
Inevitably, when writing about a football player I will be excused of hating a certain team, or bias of the highest order (this has happened after both of my appearances on Fighting Talk). Let me nail my colours to the wall right now: I don't particularly care about Liverpool or Chelsea. They're both infinitely better than the team that I have wasted 34 years of my life supporting, so we can certainly put that down to jealousy. Chelsea are loaded and Liverpool won everything in my youth. See, I can be honest about that.
Thing is, when Luis Suarez decided to bite Branislav Ivanovic, he wasn't exactly on my list of favourite footballers. Even before his impression of a petulant toddler that hasn't been allowed a biscuit, he was already a deplorable human being. Shall we look at the evidence?
He has already bitten one opponent whilst at Ajax. With the events of yesterday this is enough for him to be classed as a 'biter' to any health officials or law enforcement officers.
Whilst at Ajax he got suspended for fighting with Albert Luque during a halftime interval. Which would be bad enough, but Luque PLAYED FOR THE SAME TEAM AS HIM. His crime was to try and take a free kick that the Uruguayan had his eye on.
In the 2010 World Cup quarter final he gets deliberately sent off by handballing a goalbound shot. When Asamoah Gyan misses the subsequent penalty, he celebrates the miss.
Of course, he then comes to the UK and racially abuses Patrice Evra. After serving a suspension, he then refuses to shake Evra's hand the next time they clash. Because obviously he was the one that was wronged. Outside of the UK media, he keeps complaining about his suspension for racism - presumably because he thinks nobody here speaks another language and wouldn't find out. Hang on, he may have a point about the language thing.
I support Leicester City. A few years ago, one of our best players was centre back Wayne Brown. He turned up to training one day and told a few of his colleagues that he planned to vote for the BNP in the forthcoming elections, among other things. He was fired. Not transfer listed, not fined, not forced to fake an apology, but FIRED.
Liverpool won't fire Suarez. They've already fined him, which I'm sure won't be a problem to a highly paid footballer. Twitter is already buzzing with Liverpool fans defending his actions, ruining it for the majority of Reds fans who would love their club to get rid of someone who keeps besmirching their name.
As Liverpool won't do anything, and the FA will be as impotent as usual - I reckon a ten game ban, then reduced to five on appeal, then reduced to two on further appeal, then just removed completely, the FA to pay compensation and to send underlings to lick the dirt from Suarez's car - I would like to suggest the following punishments.
1: Suarez forced to wear a Hannibal Lecter style facemask. Even better, to be kept permanently in a glass cage and to be wheeled onto the pitch each time he plays by Jamie Carragher.
2: Suarez to agree that Ivanovic can have one punch in revenge, except he doesn't get told when it is. This punishment works double, as Ivanovic is a beast of a man and it's the fear of being punched that does the REAL damage to Surarez's delicate intellect.
3: Suarez forced to grow a mustache to make his mouth look even more like that of Freddie Mercury. Seriously, check them both out side by side. It's uncanny.
4: Suarez forced to only listen to One Direction through his oversized Beats by Dre headphones. I don't have any evidence that he has any of those, but he is a professional footballer so he's probably got as many pairs of those as he does snoods.
5: Suarez made to be the official timekeeper at every Manchester United home game, right next to Sir Alex Ferguson.
6: Suarez made to sign for QPR, making him the fifth highest paid player in their squad. Just like their other players, there is no requirement for him to, you know, actually TRY during games.
7: Suarez to meet Mike Tyson, who apparently now follows him on Twitter due to them being kindred spirits. Tyson not told to do anything, but Suarez to be basted with BBQ sauce and placed downwind from the former heavyweight champion.
These may all seem like flights of fancy, but we're all aware that they're infinitely more likely than the FA or Liverpool doing anything effective whatsoever. I await their decisions with baited breath. Suarez's breath smells of fake apologies and the arm of a massive Serbian gentleman.