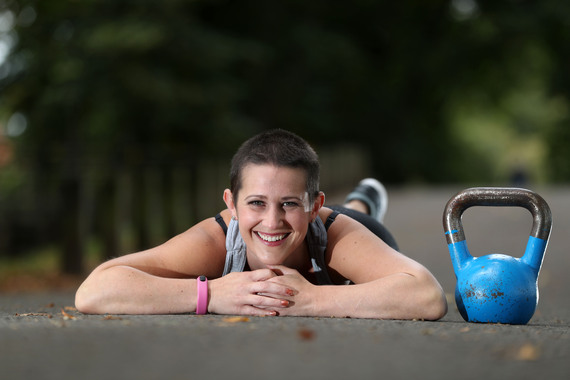 Being diagnosed as one of just eight in a million people to suffer from a rare life-threatening condition certainly changes your perspective on life. For me, it made me a much stronger person and gave me a new-found love of sport, which I can thank for still being here today.
We are constantly told how important sport is - why your body needs to stay physically active, how it depends on it, but for me, this really was the case.
I have always been active and at times, it's proved a lifeline. As a teenager, I battled with bouts of depression for years and seriously contemplated taking my own life on a number of occasions. Simple things like going out for a run and finding a buddy to come along with me helped to take me out of a dark place and gave me the courage to keep going.
Then, two years ago, I was struck down with granulomatosis with polyangiitis (GPA), a rare auto-immune disease which attacks my own blood vessels and kills them off. It's a serious condition that can prove fatal due to tissue damage and organ failure if left untreated. I was left extremely weak and needing chemotherapy.
For the last two years, I've been battling against the odds to fight the disease with sport and the doctors have told me that if it wasn't for my fitness and health levels, I would not be here today. As cliché as it sounds, sport actually saved my life.
At my lowest point, I didn't want to face the world, but a friend inspired me to get active again and this really helped. My experience, and knowing first-hand how important fitness is both for your mental and physical well-being, motivated me to set up my own fitness classes to help other women get active. Running the sessions actually played a huge role in my recovery, allowing me to focus my energy on helping women of all shapes and sizes to get active for the right reasons in a welcoming and friendly environment.
Everyone has their issues with their weight but I feel like we put too much pressure on how we look and on trying to look a certain way. Too many women's attitude to sport unfortunately solely revolves around how it can alter their physical appearance when it should really be about enjoying the health benefits, fun and friendships that exercise brings.
Sport shouldn't be about looking like Instagram models, it should be about being real, and having a realistic goal about your body. My aim is to inspire women not to want to look like other people but instead to want to be better, heathier and happier versions of themselves.
After everything I've been through, I'm really passionate about encouraging more women across the country to try their hand at sport and to realise that's there's so much more to keeping fit than getting a 'bikini body'. As well as the health benefits, it's as much to do with the community that comes with sport.
If you've got a problem, you've always got someone you can talk to and who can relate to you. I love seeing all the girls that come to my class - the way that they give all their energy, encourage each other and laugh together makes me smile every morning. They tell me I inspire them, but they are the reason I get out of bed. They motivate me to want to be better.
If I can inspire even just one other woman to try get out and get active, I'll be happy. After all, sport saved my life, and it might just save yours too.
Jin is sharing her story as part of Sport Wales' 'Our Squad' campaign which has been launched to inspire and empower women and girls across Wales to give sport and a more active lifestyle a go.
For information on how to get involved and be a part of 'Our Squad' visit www.oursquad.cymru.
Be a part of Our Squad now using #OurSquad on:
Twitter: @oursquadcymru Facebook: www.facebook.com/oursquadcymru
Instagram: @oursquadcymru Snapchat: oursquadcymru