We know that learning a new language is not easy for anyone. It is even more difficult if that language is not spoken outside of the home. This is the case of hundreds of thousands of children across the world whose parents currently live in a foreign country and speak a minority language.
Because they grow up with a dominant language that they speak at school and with their friends, or hear on the telly/radio, the children are, as one would expect, clearly fluent and more comfortable with communicating in that language than in the parents' language.
However, whether the parents speak, or don't speak, the minority language at home with their little ones, they naturally would like them to be able to speak that language to hold a conversation with them or to communicate with their family during a holiday in their parents' native country. Even watching them speak to the family abroad on Skype is a secret pleasure all parents absolutely aim for.
To achieve just that, many families decide to join either a Saturday playgroup or a language school, where their little ones can have fun with other bilingual children whilst learning their parents' language, otherwise known as heritage language.
The problem is that sometimes when some children attend those Saturday playgroups or language schools with their parents, they struggle to communicate simply because they can't remember some words. They end up feeling shy and sometimes even refuse to speak the language with anyone at all.
When this situation occurs, the parents obviously get frustrated because their children are not speaking their language to the standard they would like them to. Some parents even feel quite powerless and can't see how their children will ever be able to speak their language.
A SOLUTION: BILINGUAL BOOKS.
Bilingual families have always existed, but no proper relevance has been given to the fact that raising bilingual children can be an asset both to the child and to the country. It is recent since the British government, for instance, has started encouraging a proper learning of another language in primary schools.
However, as encouraging and helpful governments can be, schools will never be able to provide multilingual families with the extra efforts and extra time needed to get their children to learn a minority language. This is up to the parents only.
What is needed is for the parents to take the time and make the extra efforts to help their little ones by encouraging them to speak their heritage language and be proud of it. Giving the children some bilingual children's books to read is actually a great start to overcome the problem.
When the stories are specifically written to help parents with both the literacy and the cultural development of their children, there is suddenly a way to deal with the language learning difficulty.
We should more often recognise the essential bond between the children and the parents in a multilingual family, and encourage parents to read together with their little ones, at least twice during the weekend.
We know that children always copy their parents in everything they say and do. Therefore, having their parents enjoying the reading of books together with them, in the heritage language, will inevitably make them copy the behaviour and get them to have a lot of fun reading too.
Reading and speaking in the heritage language should not be seen as a punishment. It should be seen as a treat. A natural gift from the parent to the child. A special moment the child will treasure forever.
It certainly is a slow process. However, if the parents are patient enough and consistent in reading books in, as well as with speaking, the heritage language with their children, they will soon see them enjoy reading books in that language and eventually even find themselves holding a proper conversation with them in that language.
This, however, won't work with any classic book that has simply been translated and published as a "bilingual book".
A "proper" bilingual book is a book that has been written by an author with bilingual children in mind. It is a high quality colourful fun-learning book with stories that stimulate the children to engage with their own imagination and have an enjoyable reading experience, both with their parents, teacher or educator, and on their own. The stories also promote moral values such as teamwork, friendship, respect, sharing, learning from other cultures and show to the children that being bilingual is a great asset that will be useful in their future lives.
What makes the difference between "normal" books and bilingual books is that bilingual books will change both the way the children read books and the way they learn languages forever. They are a way to recognise and value the family's languages and encourage children to read and speak their heritage language and be proud of it.
Only with bilingual books can the parents take turns in reading the same story to their children using their own language and, therefore, participating actively to their child's literacy development. Both parents get an opportunity to improve their own language skills as well.
Only with bilingual books can the repetitive structure of the books help the children to memorise the story, learn new vocabulary and practice pronunciation in the heritage language. As they read with their parents, the children learn phrases, words, idioms and sounds in the heritage language.
For instance, whether at home, at the playgroup or at school, Portuguese-studying children whose first language is English will improve their Portuguese quicker with bilingual books. The same is true for Portuguese-speaking children who will learn new English words and phrases in no time with bilingual books.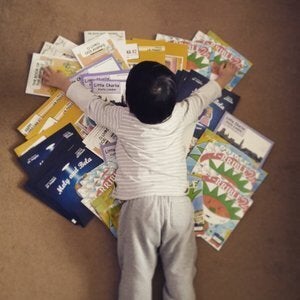 Alike the preparation of a nice meal for the family, each story is the result of a delicious mix between easy words and more challenging words, a pinch of imagination, a zest of learning, a lovely story and some great fun.
A bilingual book is something quite unique: Whilst reading a normal book is mostly something solitary, reading a bilingual book is something we can share and enjoy together in family or with friends. It also makes reading a necessary fun-learning activity to all bilingual children and their families.