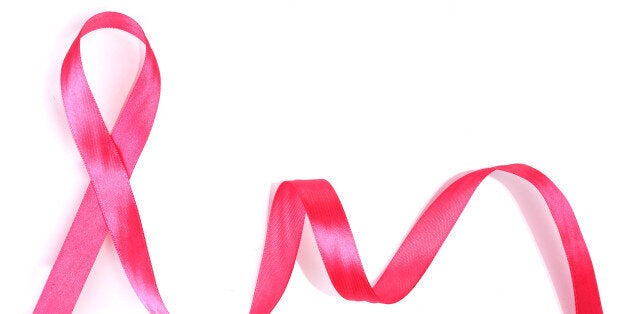 Last year, aged 41 and the mother to two beautiful young boys, I was told the words that, at the time, brought my world crashing down: 'you've got breast cancer'.
Now 19 months on, I can't believe how much my life has changed, but not necessarily in the way I thought it would when I was given the diagnosis.
October marks the start of National Breast Cancer Awareness Month and I'm sharing my story as part of The Estée Lauder Companies UK & Ireland Breast Cancer Awareness Campaign, to encourage others to 'Take Action Together to Defeat Breast Cancer'.
At the time of my diagnosis, I felt an overwhelming sense of fear and desperation, which is something I thought I'd feel for the rest of my life. I was an active mother who loved playing with my two boys, from long walks to mucking around on Brighton beach; I enjoyed and treasured these special every day moments.
After finding out that I had breast cancer, I was temporarily robbed of these joyous times that were part of my everyday life, as the cancer treatment was tough and by the end it left me feeling constantly weak, tired and with no energy. I lost faith in my body as I became someone I didn't recognise, I'd lost Jo and believed the cancer had stripped me of my abilities forever. My family and the medical staff were an incredible source of support during treatment, but I still felt destroyed and so far removed from the strong woman I've always been.
As if by chance, I stumbled across the charity Cancer United, and its gym specific for cancer patients called CU Fitter. Joining the gym and being introduced to my personal trainer Dwayne Clevett was a complete turning point for me in rediscovering myself. Dwayne is trained in all cancers so I knew he understood the surgery and treatment I had been through. I knew I could trust his exercise advice. When I started I was very weak, unable to accomplish much and even the simplest of exercises left me feeling exhausted. I did lots of seated exercises increasing my upper body strength and flexibility.
But after taking training very slowly, at my own pace, my energy levels started to increase, my confidence grew and I had a new focus. I was going to the gym everyday, and it felt amazing, I was sweating out all the toxins and releasing endorphins, which boosted my mood and gave me a new lease of life. The results were truly phenomenal and in just three months, I had joined a mainstream gym and was feeling fitter and stronger than I ever had.
Every person's experience of breast cancer is different. For me, a lifestyle overhaul including changing my diet, oncology acupuncture, oncology massage and most importantly the rebuilding of my strength through exercise were what worked to make me feel positive again. Over my year of treatment I learnt so much and pulled together my own 'wellbeing package' that really worked for me.
I'm one of the lucky ones, now in remission and rebuilding my life after cancer, and I am so grateful every day to my amazing team of loyal supporters, affectionately named 'Team Bayles', who were so crucial to my recovery from breast cancer.
The last year has been filled with the biggest challenges of my life and so many worries, for me and my family. I had to look my biggest fear straight in the eye and decide how to deal with it. But I truly am able to take so many positives from this experience as since being 'released into the wild', as my oncologist puts it, I was inspired to retrain as a personal trainer for cancer patients with CU Fitter, to give back and support others like I was supported. I have never felt so strong, happy and positive and this is having a ripple effect with all my family and friends too. I wouldn't change this experience even given the chance.
The Estée Lauder Companies UK & Ireland Breast Cancer Awareness (BCA) Campaign aims to inspire others to share their stories to Take Action Together to Defeat Breast Cancer. Visit BCAcampaign.com for more information. #BCAstrength
Donate to Breast Cancer Research.
Related