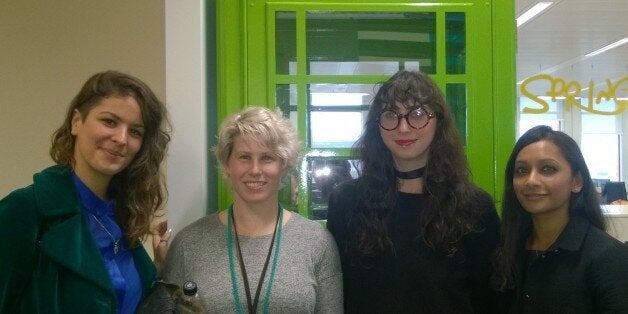 It seems impossible to believe, but recent studies have suggested that we live in a world where we check our smartphones a staggering 221 times a day.
We're using technology for everything from controlling our energy usage, to arranging casual hook-ups. In a time where we're bombarded with tweets, likes and shares, how do we cut through, and essentially, what does it mean to be human in the digital age?
It's a question that was posed by Mindshare UK to the media world last week, inviting them along to a Huddle event to debate and demonstrate how we evoke human emotion in the face of technology, exploring how the power of digital affects our lives, work and relationships. What's the future of content, and how do we tell the human story? How do you speak to consumers who are in tech overload mode on a daily basis?
It's something that we consider at The Huffington Post UK daily - when digesting news, how do our journalists tell the whole story. When there's a thousand news sources to choose from, how do we shout above the noise, differentiating ourselves from the pack. Most importantly, how do we speak to our audience in a way that allows them to formulate opinion, and ignite debate.
In order to wrap our heads around this, we recently ran some research on our readers, identifying key traits that allowed us to categorise them as 'Thrivers' - mindful individuals who have emerged post recession with an entirely new attitude to the world around them.
Thrivers are categorised by their determination to achieve, and the importance they place on the balance between their professional and personal lives. They have a clear understanding of the world around them and their part in it, with a vested interest in current affairs, technology, personal wellbeing and self-improvement. They want the facts, but also the other side of the story - how these facts impact humans, and who are the people affected by the news around them.
In essence, our readers use technology to thrive and uncover the truth; to build the bigger picture.
To bring this to life, The Huffington Post UK's Executive Editor Poorna Bell sat down at The Huddle with three prominent and inspiring thrivers, to ask them what makes them Thrive, and debate if we can work alongside technology to empower and change.
First up was Lliana Bird, Radio X broadcaster and activist. Lliana - alongside friend Dawn Porter - has been at the coalface of the migrant crisis, travelling to refugee camps across Europe and giving hands on help to those who need it most.
Poorna began by asking Lliana what inspired her to make this step.
"It started by accident", explained Lliana, "a friend of mine wanted to raise a thousand pounds to help. I made my donation online, and thought that's where it would end."
Lliana became far more involved, realising her profile could be instrumental in raising awareness. She began to campaign, and travelled to Calais where she came face to face with the human cost of conflict.
"There are so many stories. We met one man, alone in a refugee camp. He'd fled Afghanistan because he'd been recruited by the British and American armies as a crane operator. When we pulled out of the war, his life was placed in danger, along with those of his wife and child. He became a target, and was shot. He managed to escape, but was arrested in Greece and spent nine months in jail. His wife and child were granted asylum in Britain, but he was left alone, making his way to Calais on foot."
An ally of Britain in a time of war and conflict, now exiled and existing on the edge of society - his story is just one of millions that are waiting to be told.
"It changed everything, in so many ways. It's an amazing platform. The impact of the piece was huge, and donations wise we saw a huge surge. We've been overwhelmed with people coming forward to offer help. The shock of the piece impacted on this."
By telling these stories on a blog platform, the positive effects were clear. But what happens when the digital world isn't quite so kind?
It's a concept that Poorna explored with Caroline Criado-Perez, the second of our Thrivers. You'll probably know Caroline as the "women on banknotes campaigner" - a tireless voice for women's rights and representation, she's taken on everyone from The Bank Of England, to vitriolic twitter trolls.
When Caroline began her campaign for female representation on the reverse of British banknotes (traditionally important historical figures reside here - the only female was about to be replaced by Winston Churchill), the response to a change.org petition was overwhelming. With over 35,000 signatures, she was able to successfully alter the decision.
"The internet enables this collective action, and that's incredible" she told Poorna.
However, once the announcement from the Bank Of England was released, Caroline also experienced the ugly side of our digital world. She was subjected to intense trolling, which included rape and death threats, which resulted in her address being posted online.
"It was awful. I came offline for a month because I couldn't take it anymore. Ultimately, I felt like they were trying to shut me up, and I made the decision I wasn't going to let that happen."
The third panelist was the enigmatic Mary Benson, a Thriver in all aspects of the word. Mary is one of Britain's most talented young fashion designers, emerging from a background not usually associated with the fashion world.
"I was one of five children, and my mum and dad had absolutely no money" she told Poorna, "I couldn't get enough income from my own job to help support my parents, so when I was 14 I started selling stuff I'd made to my friends at school, just tote bags, things like that.
I went to the local market and would spend a couple of pounds on cheap fabric and glitter, and draw pokemon on them. I'd sell them on, and I started running a small business."
Mary tirelessly pursued her fashion journey, creating dresses to sell to local shops, eventually working with Mary Portas on "Mary Queen of Shops" after winning the opportunity on national television.
She continued to push for her dream, before being picked up by Fashion East, an organisation which enables and funds young designers to show their collections at fashion week. At only twenty-five years old, her determination to succeed has drawn her into the world of high fashion, and she continues to work with the likes of Paloma Faith and Rita Ora.
When asked how to succeed in a world where everything is changing at a million miles an hour, Mary's answer was simple - "Be yourself. It's the only way."