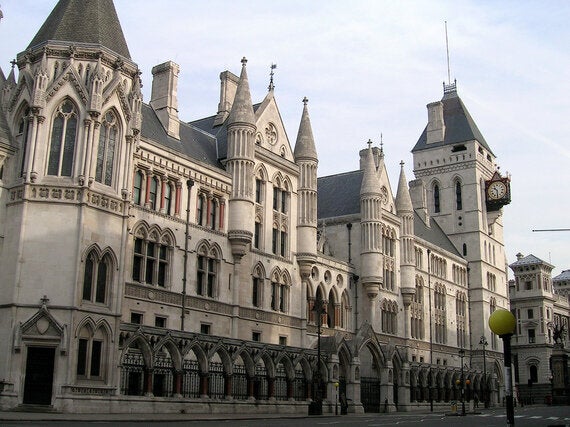 High Court of Justice via Wikimedia Commons
In the American TV drama, Breaking Bad, the venal attorney, Saul Goodman, offers this nugget of characteristically sleazy advice to his client's son, "Don´t drink and drive, but if you do, call me". With some modification the image being projected by London´s judiciary of late could be seen in a similarly mercenary light; only in the case of London's legal firms the advice is "don't get involved in dodgy business deals, but if you do, call one of us". And whereas the down-at-heel Saul Goodman could be characterised as an "ambulance chaser", London's legal luminaries would best be described as "yacht chasers". Indeed, foreign nationals are responsible for 75 percent of all cases going through London's commercial courts. But does this parade of tycoons and politicians treating English courts as airing rooms for their sordid business squabbles risk tarnishing the very integrity of the system that attracted them in first place?
The entire English legal system is being retooled to better handle complex financial cases where millions or even billions of pounds are at stake. The Lord Chief Justice of England and Wales has enacted plans to streamline proceedings for high roller cases by bringing the Commercial Court and the Chancery Division together to work on them jointly. This has allowed them to draw up a "financial list", or cases with claims of £50 million or more, as well as cases arising in financial markets. The purpose of all this is to promote expertise among the London judiciary in handling such cases and establish the city as the home of future and all seminal judgments - or landmark cases that will serve to fill the pages of legal textbooks everywhere. But even without the new legal division London had already established a reputation as the location du jour for blockbuster cases.
The most high profile to date has been that of Boris Berezovsky v Roman Abramovich. Berezovsky had sued Abramovich claiming that they had been partners in an oil firm before Abramovich intimidated him into selling his share for a fraction of its value. According to Berezovsky´s calculations Abramovich owed him more than £3 billion in damages. The court disagreed and Berezovsky walked away owing millions in legal fees. The blockbuster case was held in London in the first place because of the perceived impartiality and incorruptibility of English courts; one man had his name cleared, the other suffered the ignominy of defeat, but both respected the judgement. The system worked. And with London angling to hold many more such cases, hundreds of millions of pounds in legal fees are bound to cascade over the city's top lawyers. While this is all above board, the judiciary would be wise not to let itself acquire too much of a reputation for "libel tourism", lest some of the sleaze of its litigants begins to rub off on the judiciary itself.
Put simply, although the cases may be resolved with all the probity that the English system is famous for, it is the nature of the cases that they welcome that could come to cast it in a negative light. A comparison with the cases pursued by Spanish judges might serve to bring this point into focus. Under the Judicial Power Organisation Act of 1983, Spanish judges are empowered to prosecute crimes against humanity wherever in the world they may occur. It was under this law that the Argentine naval officer, Ricardo Miguel Cavallo, was extradited to Spain from Mexico for face trial on charges of genocide and terrorism relating to his role in the military junta that ruled Argentina from 1976 to 1983. In 2011 he was found guilty and imprisoned for life. Similar charges have been brought by Spanish judges against Guatemalan politicians for orders they gave during that country's civil war, and they have also heard complaints against the governments of China and Israel on behalf of Tibetan and Palestinian groups respectively.
The point of making a comparison like this is to contrast the motivation that sees the judiciaries of two countries (England and Spain) seeking to take on cases that relate to alleged crimes committed in other jurisdictions. In explaining why Spain took on the Cavallo case, the presiding judge, Baltazar Garzon, wrote that the crimes of which he stood accused "assault the very essence of humanity, and [its] victims are not only those directly affected but also the international community". Whereas the motivation for the English judiciary to seek out more cases like that of Abramovich v Berezovsky can be summed up in one word: money.
Alert to the danger of the English lawyers being cast as the mercenary army of the legal world David Cameron's spokesperson, Vickie Sheriff, was moved to comment that "we are trying to dissuade libel tourism on a point of principle". But on the same day that she made that statement, London Mayor, Boris Johnson, struck a decidedly more gleeful tone in his comments on the matter. Speaking to the Confederation of British Industry, he had this to say "I have no shame whatever in saying to the injured spouses of the world's billionaires: 'If you want to take him to the cleaners, darling, take him to the cleaners in London!' Because London cleaners will be grateful for your business" This is a reference to the case of Olga Slutsker who sued her ex-husband Vladimir Slutsker for 50 percent of their £40 million London mansion.
While these cases are undoubtedly lucrative for London courts, the English judiciary should be careful to ensure that the "cleaners" don't get dirty in the process.
Related