2nd April was Autism Awareness Day, as introduced by the United Nations in 2007. This time last week I was ready to light up the London Eye in hues of BLUE along with other iconic landmarks across the globe - The White House, Great Pyramid of Giza, Empire State Building, Christ the Redeemer, Tokyo Tower and many more. The American Charity Autism Speaks introduced this annual event to increase understanding and acceptance of Autism throughout the world.
However, here in London I was inundated with emails and messages from hundreds of adults who have Autism, each one expressing why lighting up BLUE actually offended them, deeply hurt them and misrepresented them for several reasons. These weren't petty little reasons, these had been justified by the continuous pain of being misunderstood and misrepresented.
To be part of this global event would have surely offered a phenomenal platform and undoubtedly spread significant awareness throughout the mainstream public. However, doing the right thing - even when no one is looking - to demonstrate all the values Autism Parent Empower is built upon; integrity, respect and loyalty for the people we represent, meant far more to me.
On Sunday night, instead of lighting up BLUE in line with the American Charity, we decided to represent the UK's National Autistic Society by lighting up PINK! For me this was the most significant and powerful landmark lighting up across the globe because it represented more than just Autism Awareness... it represented a voice, a conversation and most importantly, unity.
I was blessed to have families from Autism Parent Empower join me. It was a very small, exclusive event with six children who have Autism assisting me to push that button. Those six children will grow up one day and they too will want their voices to be heard and respected, which is why this activity stood for so much. I can only say how proud I was to be part of this event.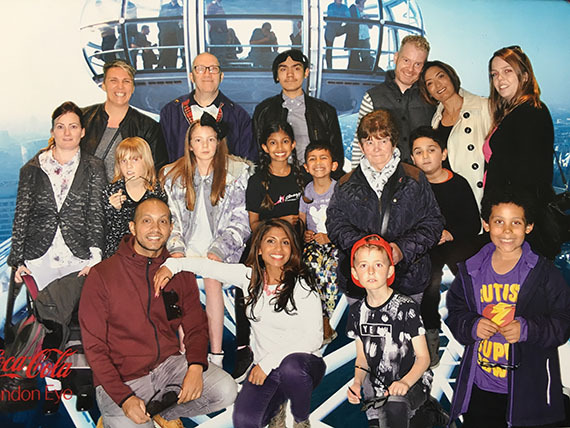 Credit: Author's Own
In a society where we are working extremely hard to bridge the gap between the Autism community and the mainstream public, it is also important that parents like myself, caregivers, schools and charities do not take over and constantly make the decisions they feel are best, but consult with those who can provide first-hand experience and advice. My recent projects with Tesco, Virgin and Magenta Star involved consulting with autistic adults on their views and ideas, and I will continue to include them in my team.
On the flip side I would also reach out to everyone in the Autism Community and ask for unity. We describe each person on the spectrum as unique and individual yet we do not allow each person to walk individual journeys. For some a certain intervention proves life changing, whilst for others it makes no difference. For some eliminating certain food groups helps them incredibly well, whilst for others there is little change. For some going to a loud screening makes the film more enjoyable, whilst for others the sensory overload is too much to cope with.
My message this year is to respect each other, none of us can speak on behalf of everyone because it is individual and should be respected. Parents, siblings, children, adults, carers, each journey is unique to each person. How can we expect the mainstream public to support and understand us if within our own community we are building walls? I don't have the right to speak on behalf of an Autistic adult because I haven't walked that journey, in the same way no one has the right to speak on behalf of me or my child because they haven't walked our journey either.
This month is the perfect opportunity to celebrate Autism in all its colours including pink, blue and a spectrum more... it should be a month to allow those touched with it to have a voice of freedom and a voice of choice. Stay united.
#autismunity
Mark Lever, Chief Executive of the National Autistic Society, said: "We're delighted that through the fantastic efforts of Autism Parent Empower, the Coca-Cola London Eye will mark World Autism Awareness Day in such a spectacular fashion. We know that 99% of people in the UK have heard of autism, but only 16% of autistic people and their families think the public understand autism in a meaningful way. Our hope is that lots of visitors to the South Bank will see the lights, and be spurred on to find out more about autism. With just a little more public knowledge, autistic people and their families will be better understood, supported and appreciated"