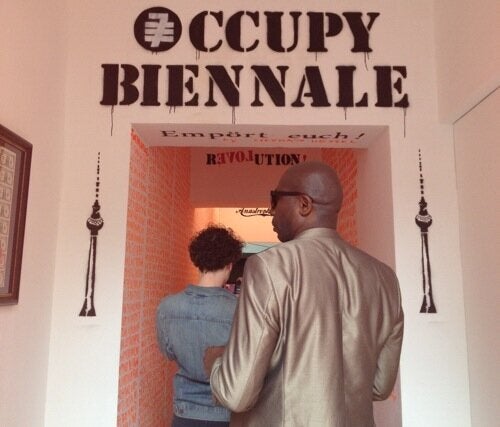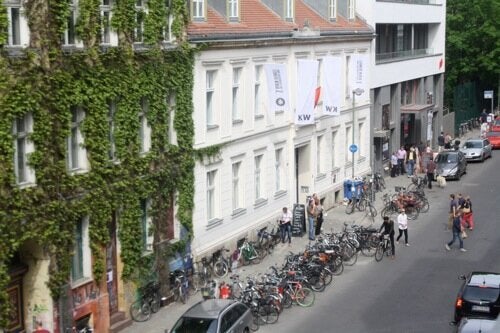 KW Institute, main site of the Berlin Biennale
We were delighted to be invited to Berlin last month for the opening of Margaret Harrison's new exhibition, Preoccupy. Margaret Harrison, an artist who has shown with PayneShurvell in London has had a long career of making feminist art that is both humourous and serious. Her show at Silberkuppe gallery, coincided with the 7th Berlin Biennale (27 April - 1 July), giving us another good reason to visit the German capital.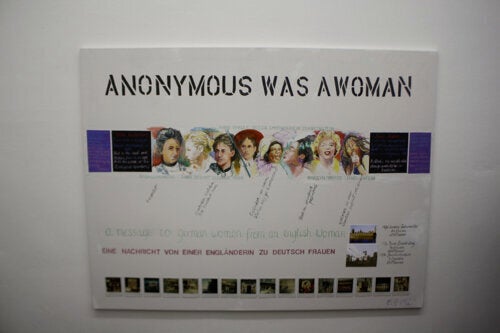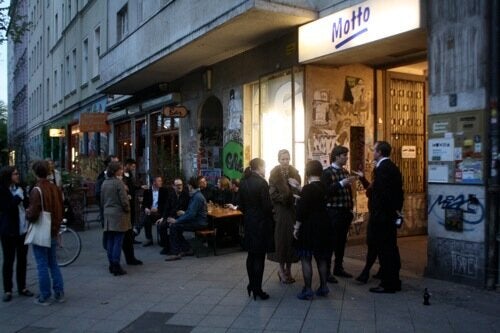 Margaret Harrison's opening at Silberkuppe. Photos courtesy Paul Allen
Among our recommended exhibitions in Berlin this month (in no particular order of preference) include Margaret's show with its re-creation of Common Land, her famous fence at the Greenham Common peace camp; Berlin-Birkenau by Lukasz Surowiec at KW Institute, a project where 320 Birch seedlings were brought from Auschwitz to be taken by KW visitors and replanted in Berlin's public parks and spaces; Draftsmen's Congress by another Pole, Pawel Althamer, at Elisabeth Church. The artist and his assistants invite visitors to join them in drawing and painting in response to current political and economic issues. Several of the galleries at Lindenstrasse 35 are worth a look. See especially Richard Long's Flint Cross at Konrad Fischer galerie and Alexander Gutke's excellent installation and photographs at Galerija Gregor Podnar.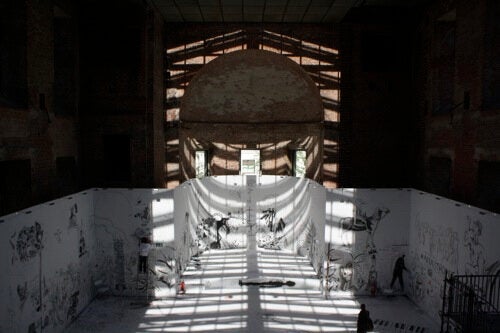 Draftsmen's Congress, Elisabeth Church. Photo courtesy Paul Allen
Our weekend in Berlin was all about contemporary art but we were also treated to a tour of Soviet art and architecture in East Berlin after enjoying brunch at Cafe am in Tiergarten, Berlin's oldest and largest park in the centre of the city. Another restaurant we loved was the newly opened Pantry at Friedrichstrasse 120. The decor and stylish distressed leather seating is almost as good as the food.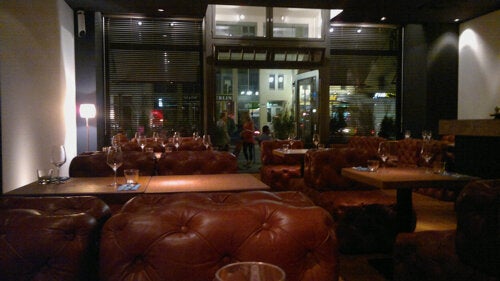 Pantry restaurant. Photo courtesy Paul Allen
We'd been told that Berlin is well-known for its fleamarkets although it's now a lot tougher to find a bargain. However, bargains aside, it's still easy to find the strange and wonderful. We chose the Sunday Flohmarkt at Boxhagenerplatz and found it to be excellent for bizarre bric a brac from former East Berlin (we were tempted by a false leg with leather straps).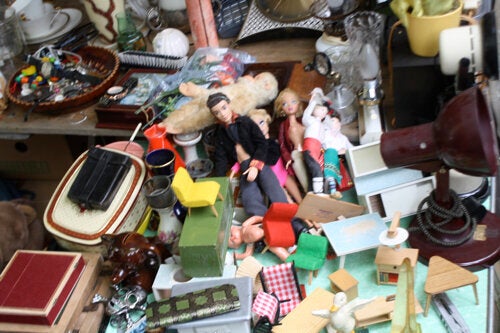 'Flohmarkt' at Boxhagenerplatz. Photo courtesy Paul Allen
Food, drink, entertainment - everything seemed a lot less expensive in Berlin than in London, partly because of the sad state of the euro. Chic and affordable accommodation was easy to find. We stayed in two excellent places. Our first stop was the stylish Minilofts, fully serviced apartments in curvy steel and concrete with windows which stretch from floor to the very high ceilings, designed and run by award-winning architects Britta Jurgens and Matthew Griffin of the architectural practice Deadline. Another nice touch was the handmade guidebook with the owners' suggestions of restaurants, shops and sights in the area.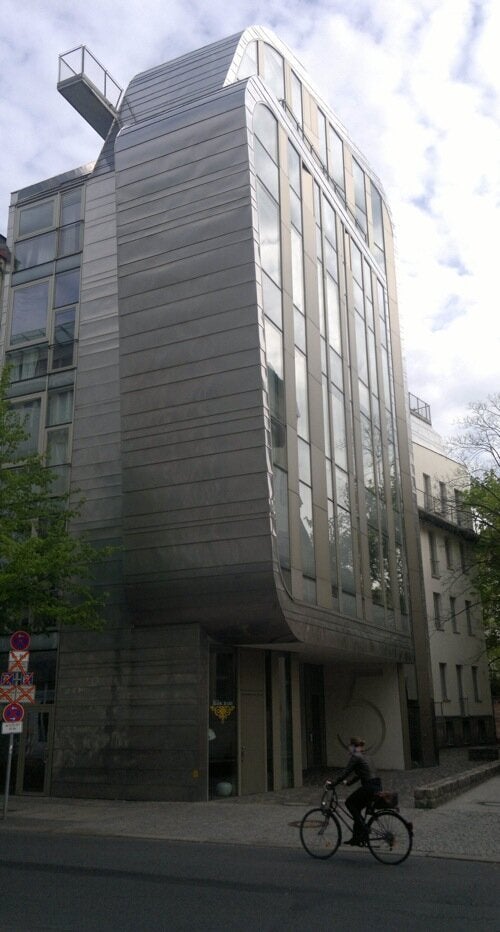 Minilofts. Photo courtesy Paul Allen
Completely different but also recommended is Casa Camper, the second hotel owned and designed by the Spanish shoemaker Camper. The comfortable rooms are painted in warm Camper red and the restaurant upstairs serves complimentary snacks and drinks 24/7. Dos Palillos, the restaurant downstairs (not complimentary unfortunately) is run by the former chef de cuisine from El Bulli.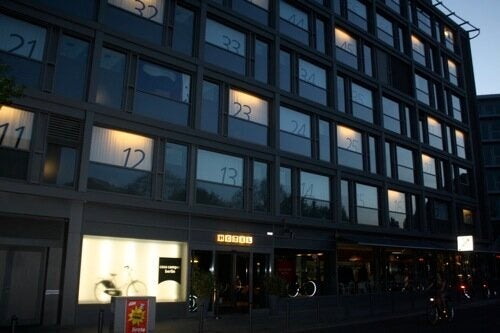 Casa Camper. Photo courtesy Paul Allen