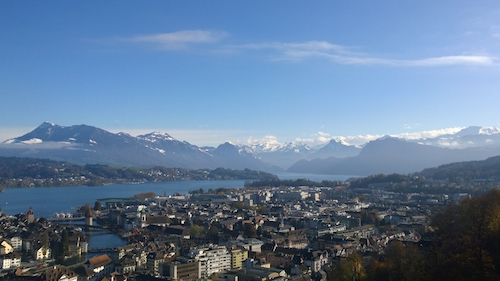 View of Lucerne from Chateau Gutsch. Photo: Paul Allen
A short flight from London to Zurich, followed by an hour on a direct train from the airport, brought us to downtown Lucerne, a Swiss city on the shores of Lake Lucerne with views of the Alps, including Mount Rigi, the subject of JMW Turner's masterpiece The Blue Rigi Sunrise. While the population is only 80,000, Lucerne has a big-town vibe with a sophisticated atmosphere, world-class art galleries, museums and a host of fine bars, restaurants and hotels. It's not difficult to understand why the area appealed to Audrey Hepburn who lived in nearby Burgenstock after her marriage to Mel Ferrer, as well as Sophia Loren, who bought a villa there with Carlo Ponti.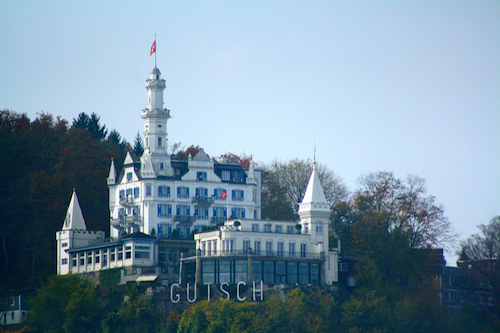 Chateau Gutsch, Photo: Paul Allen
We stayed at the picturesque Chateau Gutsch, a Belle-Epoch gem that would not look out of place in a fairy tale. Situated on a plateau at 1,686 feet above the town, the hotel offers panoramic views from its rooms, lounges and restaurants. Modelled on a Bavarian castle, 'picture postcard perfect' doesn't even begin to do this hotel justice.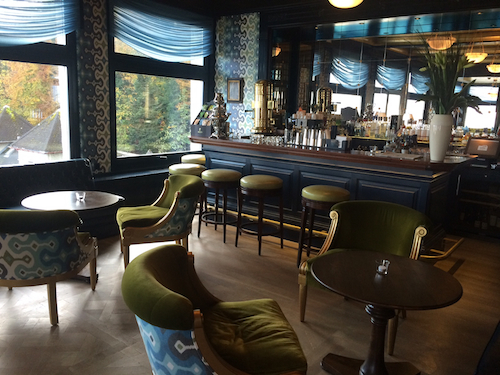 Chateau Gutsch bar. Photo: Paul Allen
The hotel reopened this year after major refurbishment by Martyn Lawrence Bullard, award-winning designer to the stars (Patti Labelle, Edward Norton, Eva Mendes, Cheryl Tiegs among others). The bar has a warm and cozy feeling with a decor in dark green velvet, teal blue leather and a gold leaf ceiling. And one wall features a fine array of eighteenth-century portraits from the Chateau's archives. The adjoining lounge is in lighter shades of blue with the blue theme continued upstairs in the lush bedrooms. We were impressed by the extra special touches such as the tray of truffles, made daily in the restaurant, that appeared in our room at the end of each day.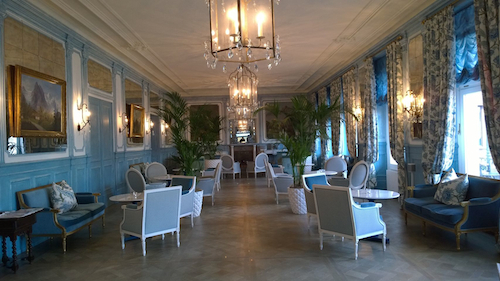 Chateau Gutsch lounge. Photo: Paul Allen
The restaurant boasts a large terrace which would be fantastic in the warmer months but our views from inside were certainly gorgeous enough. The menu features local products like lake trout, beef and venison. They also have a decent vegetarian menu with the cream of pumpkin soup a particular highlight.
Chateau Gutsch has just introduced afternoon tea which is a good reason to visit, even if you're not staying at the hotel. Finger sandwiches, cakes and of course home-made truffles filled us up nicely for our trip home. Next spring it will be possible to take the newly reopened vintage train from the main station in town up the hill to Gutsch. Tea can be taken on the lovely terrace or indoors in the lounge.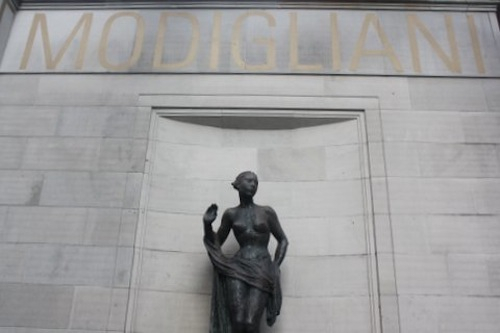 Ronsengart Museum. Photo: Paul Allen
As tempting as it would have been to settle in at Chateau Gutsch all day, there is much to do and see in town. A two-day museum pass for 36 francs (£24) allows access to 11 museums, including the excellent Rosengart Museum which features an impressive Picasso collection, along with works by Swiss-born Paul Klee and 21 other 19th and 20th-century artists.
The patron of the museum, Angela Rosengart, was a personal friend of Picasso and portraits painted by her by the artist are in the museum. And another wall is devoted to hand-made cards from Picasso to Angela Rosengart. Visitors often see Mrs. Rosengart, now 82, on her daily visits to the museum to look at the collection donated by herself and her father, Siegfried.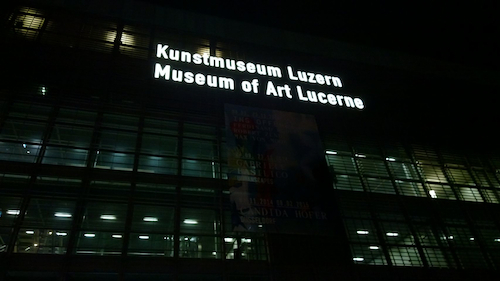 Museum of Art. Photo: Paul Allen
We also checked out a Candida Hofer show at the Museum of Art, a slick Jean Nouvel designed building facing the lake. If we'd had more time, we could have also used the pass to visit the Swiss Museum of Transport, the Glacier Garden, Richard Wagner Museum, the Bourbaki Panorama, Alpineum, Museum of History, Museum of Natural History, Museum im Bellpark Kriens and the Swiss Army Museum.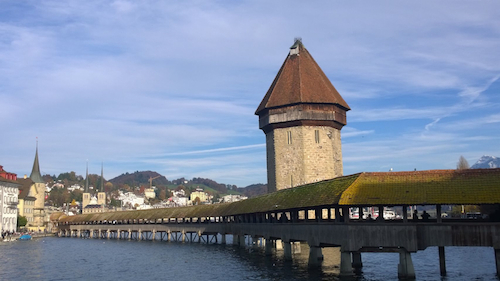 Wooden bridge in Lucerne old town. Photo: Paul Allen
Near the two art museums is the Kapellbrücke (Chapel Bridge) which crosses the lake diagonally to the old town where cafes and bars line the lakeside. The Kapellbrücke, dating back to the mid-14th century, is the oldest wooden covered bridge in Europe. It was badly damaged in a 1993 fire but has been restored and remains one of Switzerland's major tourist attractions.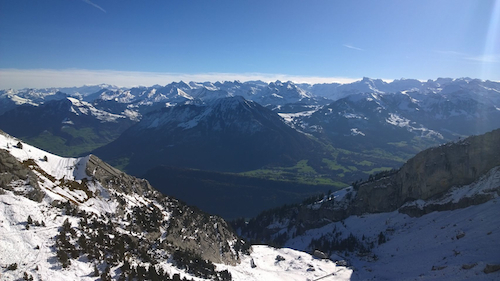 View from Mount Pilatus. Photo: Paul Allen
Mount Pilatus, at 7,000 feet, is an essential day trip from Lucerne. A short ride from Lucerne to Alpnachstad station followed by a 30-minute ride up the mountain on the world's steepest cog railway (at a 48 degree angle) brought us to the peak. On a clear day, Pilatus offers a panoramic view of 73 Alpine peaks. Not only was it clear for our visit but sunny and warm and we spent most of our time sunbathing and drinking wine instead of hiking on the trails. We admired (but weren't tempted to join them) the hang gliders sailing down the slopes and the hardy Swiss hikers who'd gotten off the train half way up and hiked for three hours to the peak.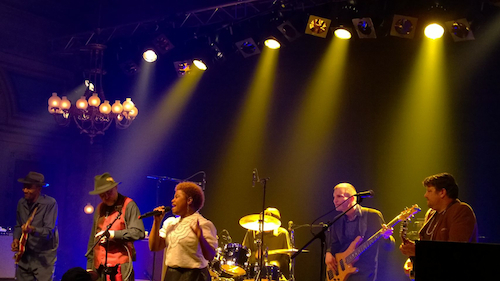 Mississippi Heat at Lucerne Blues Festival. Photo: Paul Allen
We were pleased to find that the 20th annual Blues Festival was on during our visit and we were treated to an excellent band from Chicago, Mississippi Heat , in the grand hall at the Hotel Schweizerhof on the lakefront.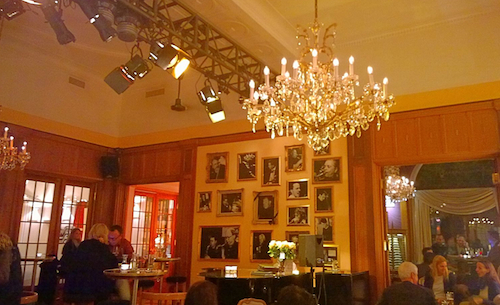 Louis Bar, Hotel Montana. Photo: Paul Allen
The Louis (Armstrong) bar at the lovely art deco Hotel Montana was the ideal place for a post-concert cocktail. A pianist played jazz standards and an impromptu set from female singer/pianist in the bar that evening was an unexpected delight.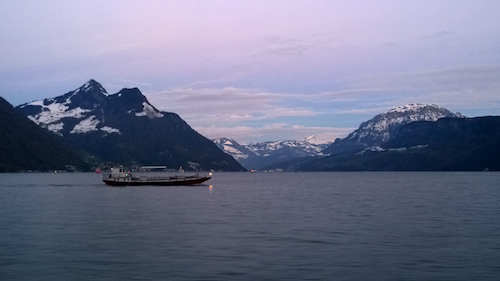 Lake Lucerne. Photo: Paul Allen
Another lovely day trip is a boat ride on Lake Lucerne. Drifting past mountains on every side is wonderful and it's also possible to disembark at various ports, including Alpnachstad, so this could be combined with a visit to Mount Pilatus.
Lucerne is the ideal mini-break destination. We flew on Swiss air from our favourite London airport, City Airport and stayed at Chateau Gutsch, where double rooms start at £216/night, including breakfast.