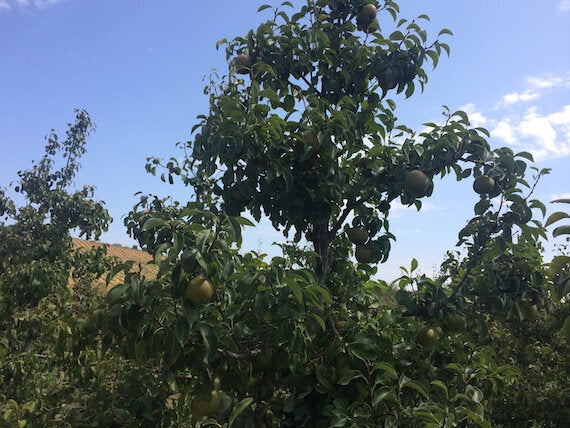 Rocha pear orchards near Obidos
My recent visit to Obidos, a gorgeous walled medieval town just north of Lisbon, is also right in the heart of Rocha pear country. This particular pear variety (there are over 3,000 worldwide) was named after Pedro António Rocha, a nineteenth-century farmer and is one of Portugal's major exports. Pear orchards lined our route to Obidos and as we were there for the harvest season, we consumed loads of pear-based dishes, washed down nicely with Rocha pear gin.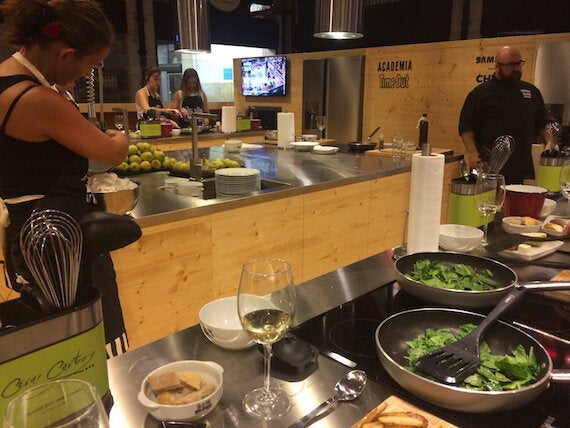 Cooking School at Mercado da Ribiero
Before setting off for pear country, we stayed the night in Lisbon at the newly opened Santiago de Alfama and decided to check out a cooking class in the buzzy Mercado da Ribiero. A retail and wholesale market since 1882, the mercado is now also teeming with restaurants and cafes. There were a number of dishes in the class led by Chef Rodrigo Meneses with a theme of how to cook savoury foods with fruit. Pairing pears with pork is not something I would have thought of doing but it actually works well with Rocha pears as they are quite hard and not super sweet. We produced a tasty dish that combined garlic, olive oil, spinach, pork and Rocha pears, topped with goat's cheese.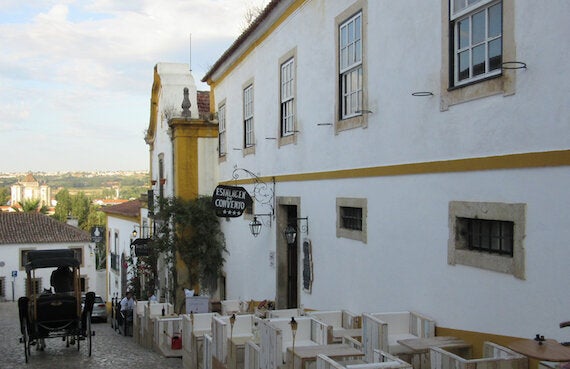 Hotel Estalagem do Convento, Obidos
In Obidos we stayed at the charming Estalagem do Convento Hotel, owned by a former mayor of the town. The hotel is conveniently located just outside the city walls and housed in a former convent although apparently it was never used for that purpose and has been a hotel since the 1970s. We loved the cast-iron beds and beautiful tiling in the bathrooms. The current owner clearly has a literary bent and in fact the dining room doubles as a library with floor to ceiling bookcases on every wall and boasts an impressive collection of books, all only in English. Another good accommodation choice would be the Pousada Castelo Obidos, a hotel in the former castle within the city walls that's described as one of Portugal's 'seven wonders.'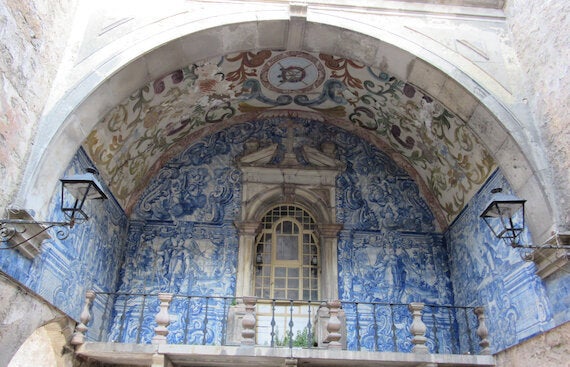 Azuela at city gate, Obidos
Walking on the walls is an excellent way to see the town and the lovely surrounding countryside but good footwear is essential as we discovered the hard way. My next visit to Obidos has to be next spring for the annual International Chocolate festival where the streets are lined with chocolate to sample or buy and chefs compete for the title of Chocolatier of the year. Or a visit during the last two weeks of July would be a good time to go when the town pays homage to its medieval roots at the annual Mercado Medieval. Apparently medieval attire is essential and costumes are available to hire.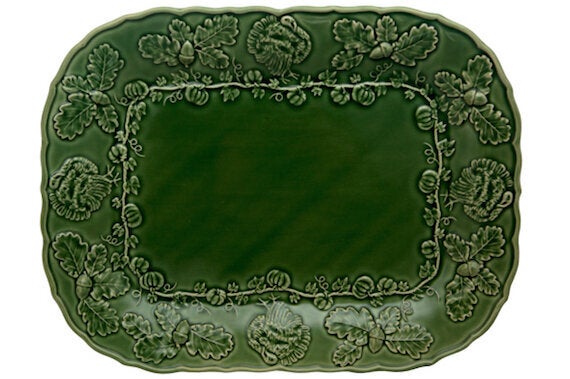 Traditional pottery from Bordallo Pinheiro factory, Caldas da Raina
The famous Portuguese green leaf ceramics can be found in the shops on the cobbled narrow streets of Obidos but we also decided to take a quick visit to Caldas da Raina, a village near Obidos where the pottery originates. We left the Bordallo Pinheiro factory wondering how we were going to fit all our purchases into our hand luggage.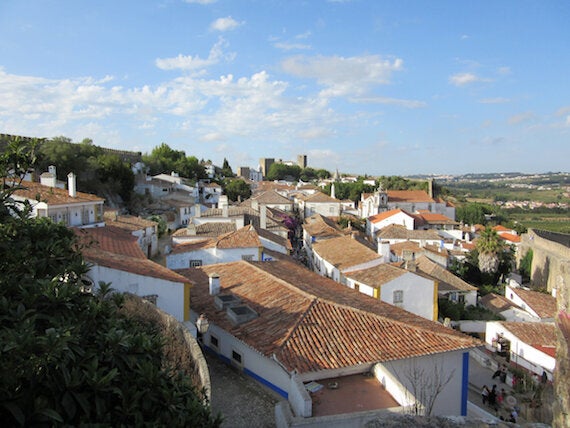 View of Obidos from city walls
We spent the night but Obidos would make an easy day trip from Lisbon too. If you're not driving, a bus is the easiest way to get to Obidos and a snip at less than 8 euros each way.