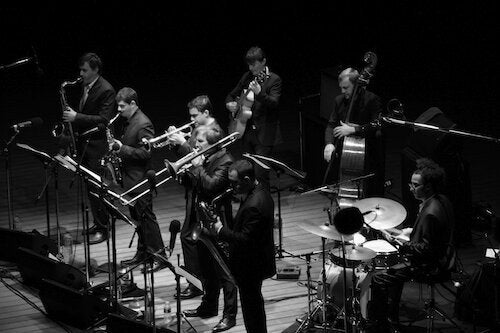 Fabien Mary Octet, Domain d'O, Montpellier
Although the coast of Languedoc-Roussillon isn't as obvious a holiday destination as the Cote d'Azur, it has just as much to offer with less crowds, even in peak season.
On our third visit to Montpellier for the Radio France music festival last month, we didn't see many signs of what the locals term 'le crisis'. What we did find was an amazingly well-funded festival in its 28th year with around 200 free classical, opera, jazz, world and electronic concerts running over three weeks in the Languedoc area. And further evidence that the city is thriving was the expansion of the funkily designed tram lines which whizzed us around town in air-conditioned comfort, to gigs, museums, wine tastings and the beach. One night at the Black Sheep, a bar that boasts over 200 beers, we met an architect duo whose next project is a massive, multi-level nightclub restaurant, the first of its kind in downtown Montpellier.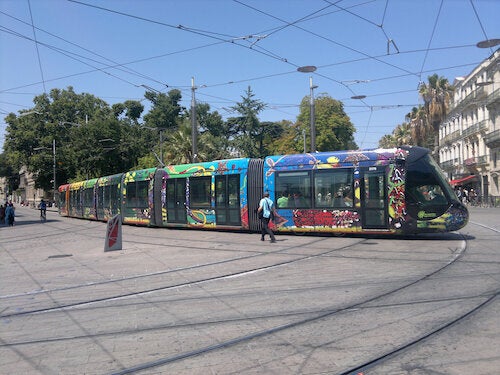 One of Montpellier's colourful trams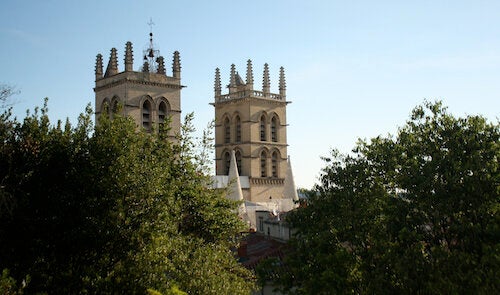 View of Cathedrale St Pierre from Hotel Le Guilhem's window, Montpellier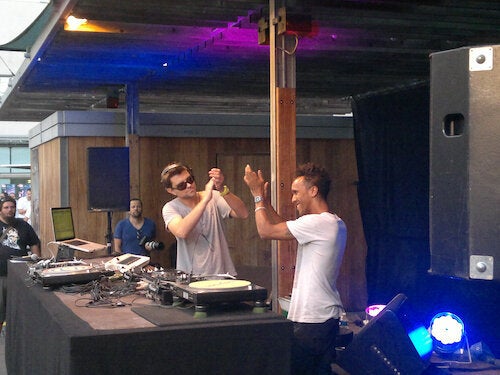 DJs Rodriguez Jr and Dyed Soundorom, Place Dionysos, Montpellier
We'll have to return to see if the nightclub comes to fruition but we certainly weren't short of entertainment thanks to the festival--a musical feast of lunchtime classical gigs at the Corum concert hall and evening performances from jazz artists and internationally renowned DJs Para One (Paris), Rodriguez Jr (Brussels) and Dyed Soundorom (Berlin). Trumpet player Fabien Mary, who has performed with Wynton Marsalis and Diana Krall, brought his talented Octet of saxophones, trombone, clarinette, guitar, bass and drums to the Domain d'O, an amphitheatre in the woods. And slightly further afield on the grounds of 17th-century Chateau des Eveques, we were delighted to hear Bartok and Beethoven performed by the all-female string quartet Quatuor Zaide who've graced the stage at London's Wigmore Hall.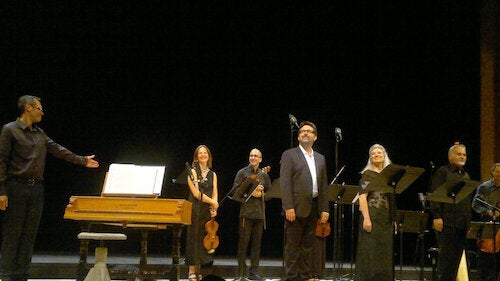 Monteverdi/Caravaggio Concert, Opera Comedie, Montpellier
After enduring weeks of rain in London we made al fresco dining our mission. We loved Tamarillos on the aptly named Place du Marche aux Fleurs. Philippe Chapon, the charming chef and owner, was the pastry chef at the Michelin starred Guy Savoy in Paris where he also worked with Gordon Ramsay. Philippe opened Tamarillos 10 years ago to serve a unique cuisine based on flowers and fruit, all organically grown by a local supplier. One of our favourite dishes was langoustine with courgette flowers and petals. Also very central, beside Musée Fabre, is L'Insense, a Pourcel brothers' venture offering a plentiful Mediterranean menu in a picturesque outdoor setting. If you like to eat your seafood at the seaside, visit Le Carré Mer, another of the brothers' establishments which features a stylish club and restaurant on the beach of Villeneuve les Maguelone (right beside a naturist beach). Jacques and Laurent Pourcel have also received well-deserved praise for their Michelin-starred Jardin des Sens at the Montpellier hotel by the same name. Our other top restaurant find on this trip was L'Episode in the Arceaux quarter near the Roman aqueduct. We sat outside on the walled terrace where we ate tuna tartare, salmon and pork dishes, all lovingly prepared and locally sourced. Inside, Don Draper would be at home with the retro 1960s décor.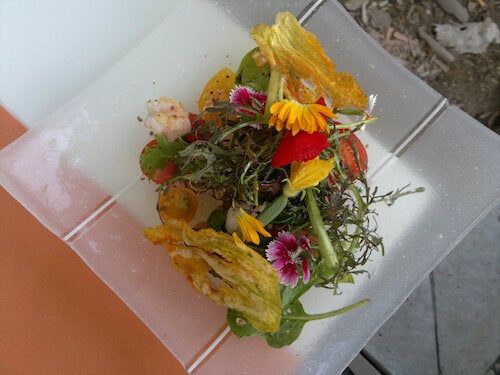 Languostine with Courgette Flowers, Tamarillos, Montpellier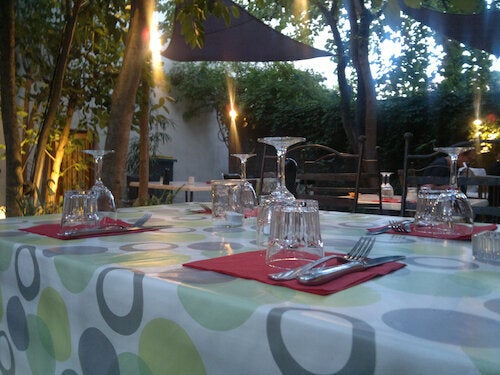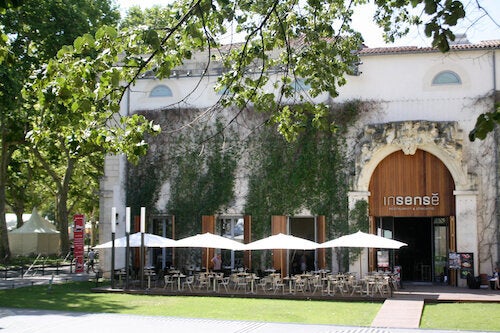 Following extensive renovations, the nineteenth-century Opera House in Comedie, the city's central square, has just reopened and we enjoyed a concert of Monteverdi's music chosen to tie in with the Caravaggio exhibition at nearby Musee Fabre. Monteverdi, a contemporary of Caravaggio, was an apt choice for a tribute concert as both men were known for drinking and fighting, violence and melancholy. By coincidence, we visited Bodies and Shadows: Caravaggio and his European followers on precisely the 402nd anniversary of the great Baroque painter's death. This fantastic painting show, on until 14 October, is alone worth a visit to Montpellier.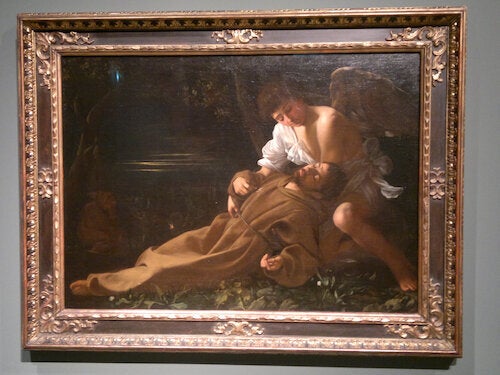 Michaelangelo de Caravaggio: St Francis, Musee Fabre, Montpellier
We took a break from music and art for a wine tasting at Chateau de Flaugergues on the outskirts of town. As Languedoc-Roussillon is the largest single biggest wine-producing area in the world, a visit to a local vineyard was in order. Owned by the same family since 1696, Flaugergues was a good choice with its impressive gardens, chateau and restaurant all open to the public. Pierre de Colbert, the son of the current owner kindly gave us a tour of his family home and gardens and later served us lunch at Folia, the fine restaurant in the courtyard. At the wine tasting, our favourite red was one which the French wine buyer at Marks & Spencer has just recently started stocking.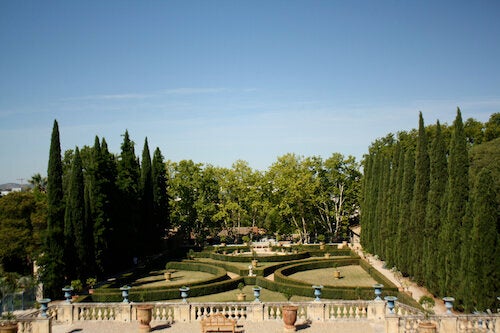 Chateau Flaugergues gardens, Montpellier
In Montpellier we stayed at two quite different hotels. The sleek new Crowne Plaza perched on a hill behind the Corum was a good luxury choice with high tech rooms and an outdoor pool. More modest but really charming and highly recommended was Hotel Le Guilhem, housed in a 16th-century stone building down a narrow cobbled street. The cute breakfast terrace and the bedrooms feature wonderful views of the Cathedrale St Pierre.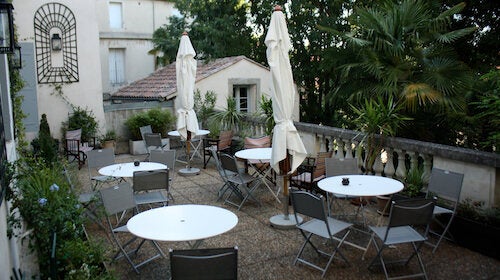 Hotel Le Guilhem breakfast terrace, Montpellier
This year we were pleased to add the pretty seaside town of Sete to our itinerary. Sete is best known to English travellers as the home of Gilles Peterson's annual Worldwide electronic music festival. What perhaps isn't common knowledge is that Sete's three canals have earned it the title Venice of Languedoc. While not as picturesque as Venice, Sete is certainly charming and had plenty to offer us post-festival. There are decent beaches a short bus ride away, plenty of fresh fish and seafood brought in daily to France's second largest port, and cultural offerings such as the Paul Valery art gallery, named after the famous French symbolist poet. We stayed at the chic Hotel de Paris, centrally located near the main canal with a great cocktail bar and dining area. Restaurants are dotted all along the main canal serving moules frites for a reasonable 8 euros. For a more extensive menu, we liked the Hippy Market Cafe, a lot more stylish than the name would suggest. We were drawn immediately to the red tuna as we'd seen mounds of this locally caught fish that morning in the market. It was a good choice on an excellent Asian fusion menu.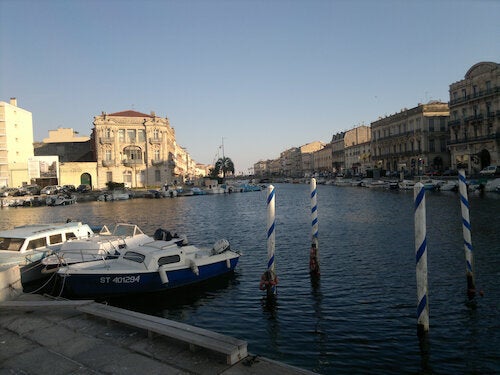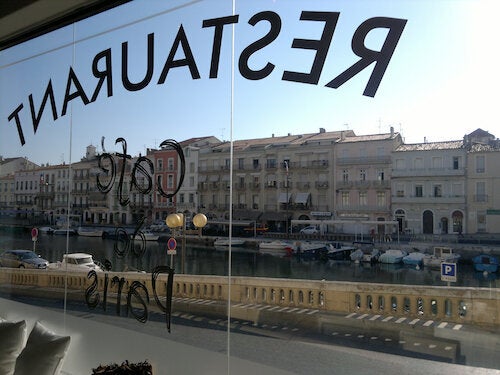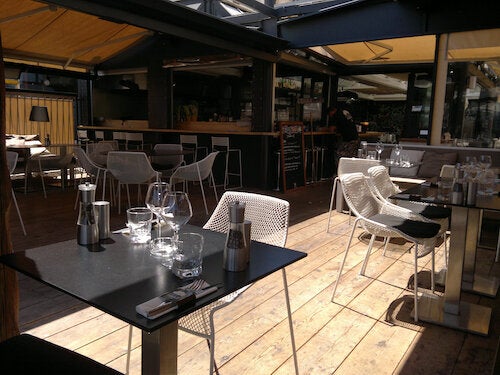 Only 20 minutes apart by train, Montpellier and Sete are easily visited together on a short trip. And with Languedoc enjoying 300 days of sunshine annually, it's very tempting to go more than once a year.