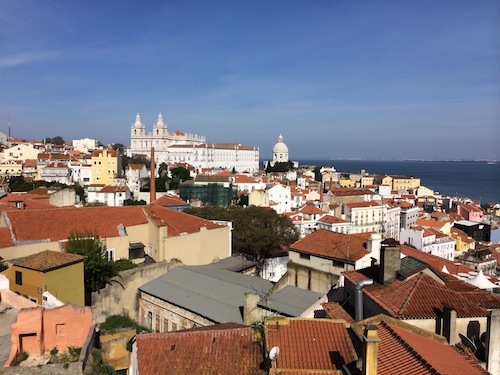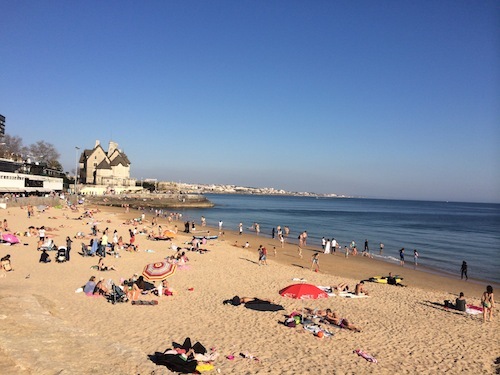 Classic Lisbon view to the River Tagus/Beach at Estoril nearby
My first visit to Lisbon ten years ago was a tad disappointing so I was surprised at how much I loved the Portuguese capital on my second visit last month. In fact I was so taken with the place that I started picking up property brochures with a view to buying a holiday flat there. And what's not to like in a city that averages 260 days of sun a year, is within 30 minutes of beautiful sandy beaches, is packed with culture and best of all, is the birthplace of one of the most delicious sweet treats on the planet - the Pasteis de Belem (custard tart).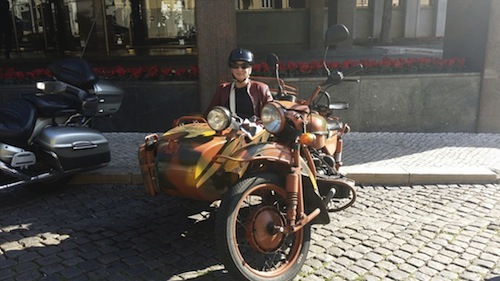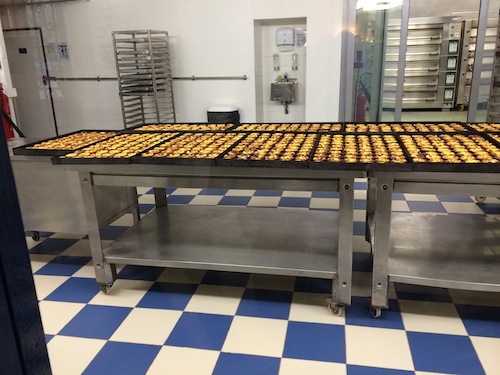 Commencing the vintage sidecar tour/Pasteis de Belem, birthplace of the Portuguese custard tart
I did my research this time starting with the regularly updated online city guide written by staff at the Four Seasons Ritz hotel where I stayed for the first part of my visit. Packed with insider advice by Lisbon natives, one of the best suggestions was definitely a highlight of my trip - a four-hour city tour by Sidecar Touring in a vintage motorcycle and sidecar through the 'seven hills' (there are surely more than that!) and cobbled streets as we stopped to admire the city from various viewpoints. The tour concluded with a drive along the river past a mini version of Rio's 'Christ the Redeemer' to Belem, on the outskirts of Lisbon. Pasteis de Belem, the originator of the Portuguese tart, was established in 1837 and still uses the same secret recipe, known by only three people, in the 20,000 tarts they sell on a daily basis.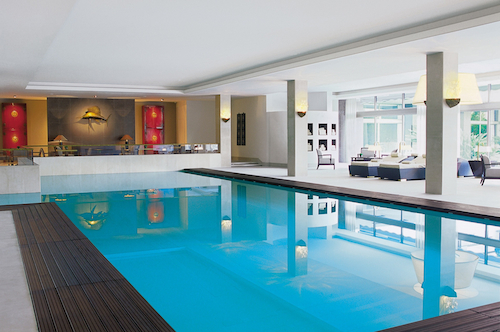 Spa at the Four Seasons Ritz Hotel
I split my stay between the opulent 300-room Ritz and the more bijoux 30-room Hotel Britania. As one would expect from a 5-star establishment, the Ritz is lavish in decor and amenities and delivers impeccable service and comforts from the lush spa on the ground floor, to the restaurants and bars, to the vast guest rooms with balconies and beds with the softest, highest thread count sheets I've ever experienced. The hotel also boasts the best sushi restaurant in Lisbon under the helm of sushi chef António Muniz, who trained under Takashi Yoshitake San, the chef who introduced sushi to Portugal. It must be good as the Japanese Ambassador to Portugal, Hiroshi Azuma, is a weekly visitor.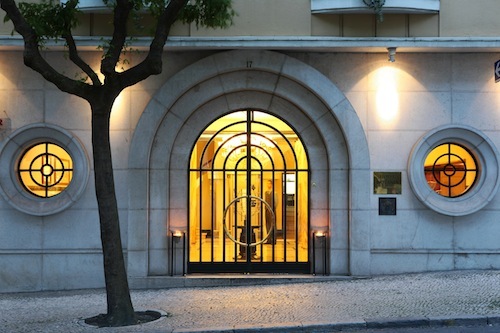 Hotel Britania's art deco entrance
The charming Hotel Britania, part of the Heritage Hotels group, was a former office building redesigned as a hotel in the 1940s by modernist architect Cassiano Branco. Just behind Avenida da Liberdade, a wide boulevard lined by high-end international shops, the Britania features gorgeous art deco styling, furnishings and the original, highly polished cork floors. And the extra touches such as bubbles at breakfast and afternoon tea, port and cakes in the lounge, made it a hotel I'd want to return to.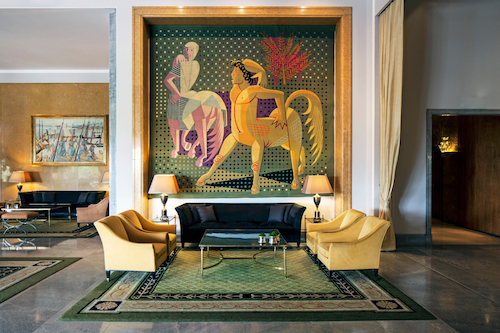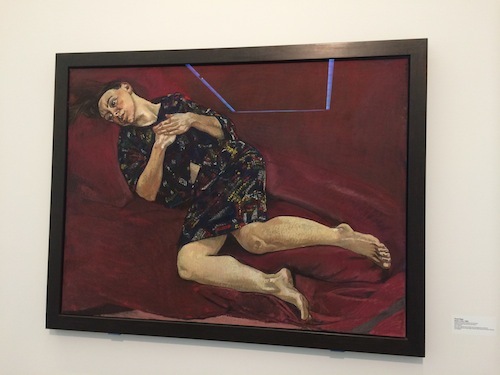 Tapestry by Almada Negreiros, part of the Four Seasons' art collection/Paula Rego, Amor, pastel on paper, 1995 at the Paula Rego house
Art played a big part of my visit, beginning with a tour of the impressive contemporary art collection at the Four Seasons. Highlights include tapestries by Almada Negreiros and work by Estrela Faria and Pedro Leitão, all of which are in the public areas of the hotel. Then I took a short train journey along the coast to Cascais to visit Casada Historias Paula Rego which houses Rego's drawings, paintings and drawings, many of which have been donated by the artist herself and features temporary exhibitions of complementary work. Satirical drawings by Paula Rego were presented alongside those of 19th-century French artist Honoré Daumier (1808-1879) the day I was there.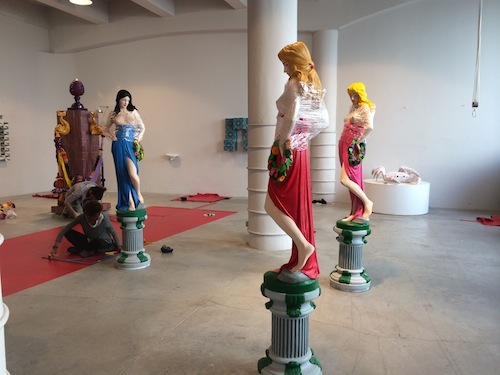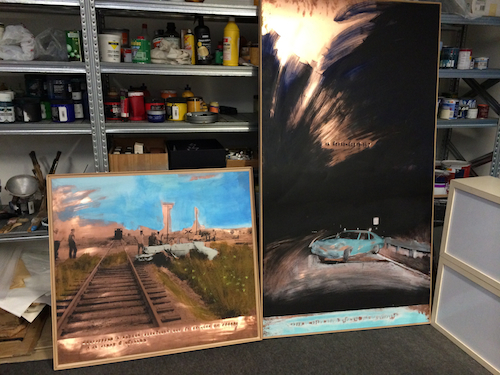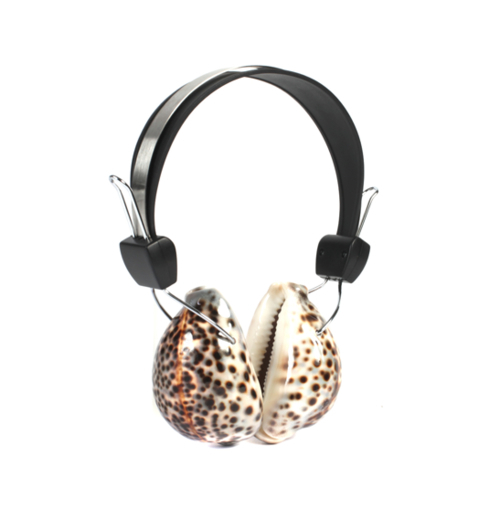 Artist studio visits: Joana Vasconcelos, Joao Louro, Joana Astolfi
An afternoon of artist studio visits was certainly another trip highlight. Former fashion editor/turned art consultant Helena Assedio Maltez kindly took us to three artist's studios starting with Joana Vasconcelos, Portugal's representative at last year's Venice Biennale. Vasconcelos creates large sculptural works made of domestic objects and colourful knitted pieces. Next up was Joao Louro's large text-based works. Louro is represented outside of Portugal by the Christopher Grimes Gallery in California which makes perfect sense as his work has a lot of film references. Our final stop was to meet former architect Joana Astolfi to see her found object-based works, including ingenious shell headphones which have been a bestseller at Colette in Paris. Her work is currently on show at hot young chef Jose Avillez's Cantinho do Avillez.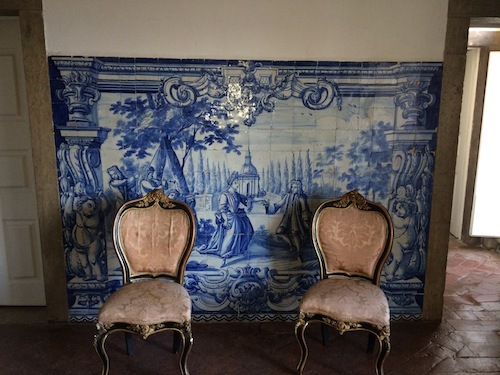 Eighteenth-century tiling at Palácio Belmonte
Continuing the art theme, it was worth the rather strenuous trek uphill to Palácio Belmonte in a small passage near the castle to see the beautiful hand-painted blue ceramic tiles inside that depict scenes from the Bible and 18th-century life. Palacio Belmonte is actually a hotel with ten lovingly designed palatial suites, owned and run by Maria Mendonca, an artist herself and her husband Frederic Coustols.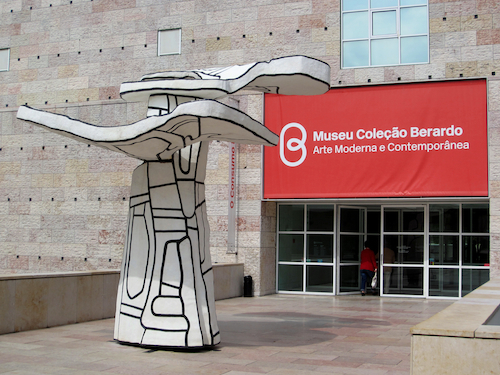 Museu Berardo in Belem
The final stop on my art tour was Museu Berardo in Belem which houses Portugal's largest collection of contemporary art. With over 1,000 works by 500 artists, we marvelled at what seemed like an endless collection of stellar works ranging from artists like Louise Bourgeois, David Hockney, Joan Miro and Chris Ofili.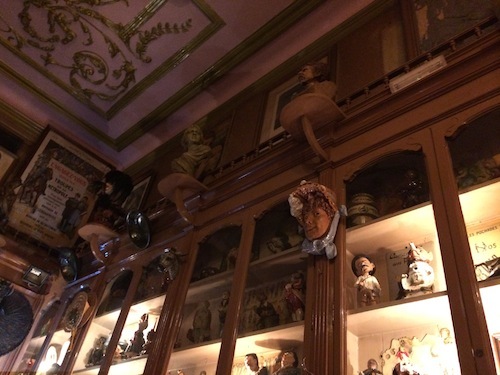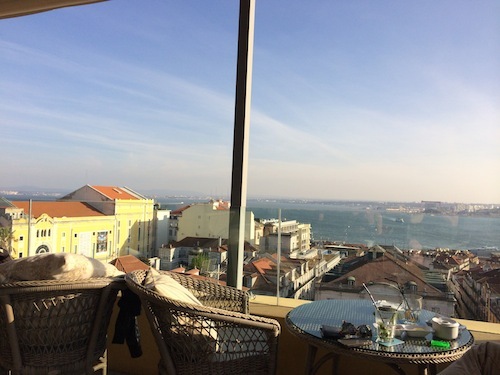 Collectibles at Pavilhau Chinez bar/ Bairro Alto Hotel terrace
Although it might sound like I spent my entire visit surrounded by art, I did make time to enjoy Lisbon's extensive bar and restaurant scene. I had drinks with Lisbon native Diogo Correia who has just launched a new venture called Lisbon Foodie Walks. I didn't have time to go on one of the walks which are themed as sweet and savoury and start at a reasonable 35 euros (including food and drink) but I did follow some of Diogo's advice on where to eat and drink. Cafe a Brasileira established in 1905 has a beautiful interior which is worth seeing over coffee at the bar. While politicians, writers and artists once were frequent visitors, apparently only tourists sit at the tables these days so we of course wanted to avoid that! I met Diogo in Pavilhao Chines, an excellent cocktail bar dating back to 1900 which is also a showcase of the owner's 4,000 miniatures ranging from toy soldiers and antique dolls to glassware and porcelain. And although I'm not convinced this should be considered a plus, the bar's website mentions that Tony Blair is a frequent guest! Also recommended were rooftop bars, naturally a big draw in a city with lots of sunshine and I managed to check out a few including Portas dal sol, which as the name suggests, has a sunny large patio near the Castle Sao Jorge offering lovely views over the terracotta roofs of the Alfama district. And sipping wine and catching the late afternoon rays on the 10th floor terrace bar of the Bairro Alto Hotel felt like sheer decadence.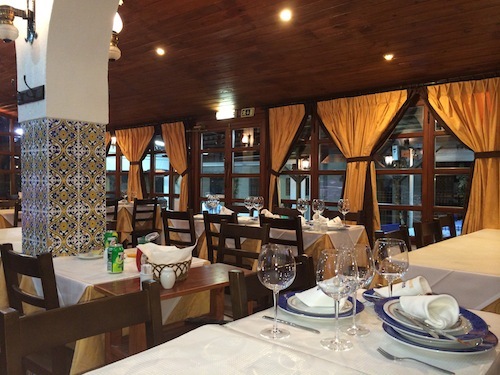 Restaurante A Gina
For food, we loved Gina's restaurant, tucked away in the back of a vast parking lot a few streets over from Avenida metro station on Avenida Liberdade. There's no way we would have found it if our concierge hadn't recommended what turned out to be another good fish restaurant. We had grilled Dorado and Cod baked in so much garlic and olive oil, it's no wonder that people gave us a wide berth at the cocktail bar in Bairro Alto we went to later on.
We chose the trendy Cantinho do Avillez for another meal, primarily to see artist Joana Astolfi's installation but were pleased the food was good too from the deep fried green beans (alone worth a visit) to the tuna tartare and Portuguese suckling pig.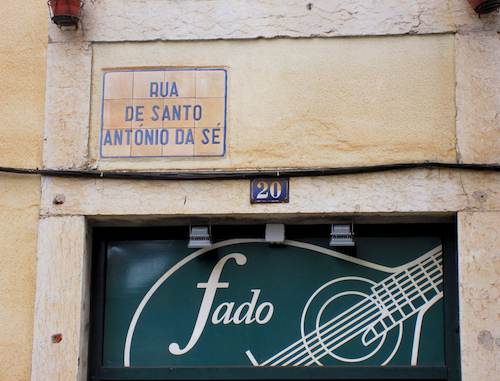 No trip to Lisbon would be complete without hearing traditional fado music. We headed to the restaurant and bar-lined streets of the Bairro Alto area where free performances are on offer for the price of a meal. We passed on the jam-packed, dark recommended restaurant and opted instead for Adega do Ribatejo which turned out to be a good choice as the food (grilled squid and salt baked cod) was fresh and delicious. Our fado experience for the evening was headlined by the enthusiastic Sandra Macieika accompanied by various restaurant staff who often double as performers.
I couldn't leave town without buying bottles of Port and it was worth checking my suitcase for the dry white I bought at Napoleao, a shop stocked with every brand of port imaginable.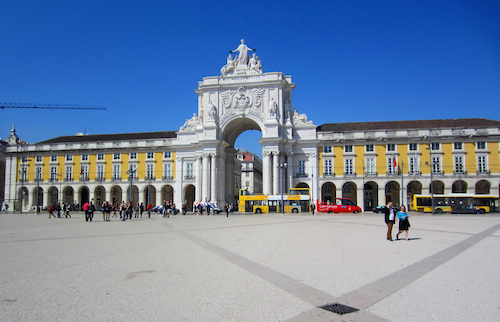 Praca do Comercio on the riverfront