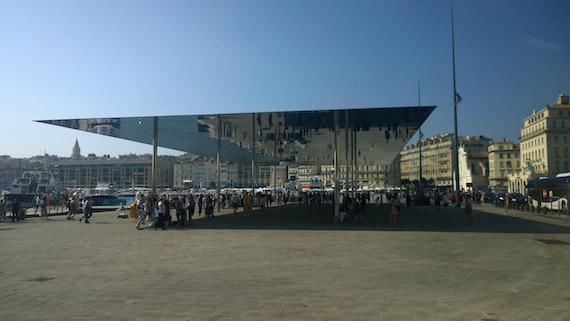 Norman Foster's Ombrière, Vieux Port, Marseille. Photo: Paul Allen
Our visit to Marseille,Provence this summer was a revelation. The epitome of cool, we loved the simultaneously chilled and vibrant atmosphere of France's second largest city. Cultural activities are a given but an afternoon at the beach is also within easy reach by local buses along the corniche. Plage des Catalans is right beside the vieux port and further along the coast, Plages du Prado are a good choice.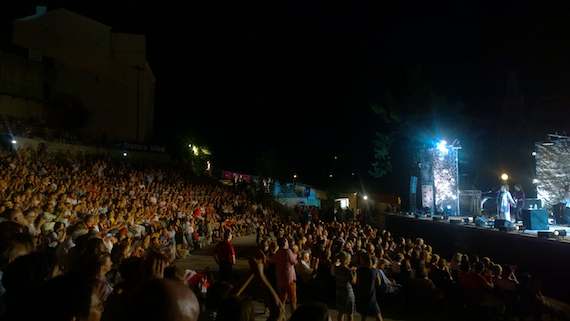 Lisa Simone wows the crowd at Theatre Silvain. Photo: Paul Allen
Our stay nicely coincided with the brilliant annual Marseille jazz festival-Jazz des cinq Continents which took place in two sensational open air venues. The first was Theatre Silvain, an amphitheatre along the corniche and the second was the grounds of Palais du Longchamp which houses the fine art and natural history museums.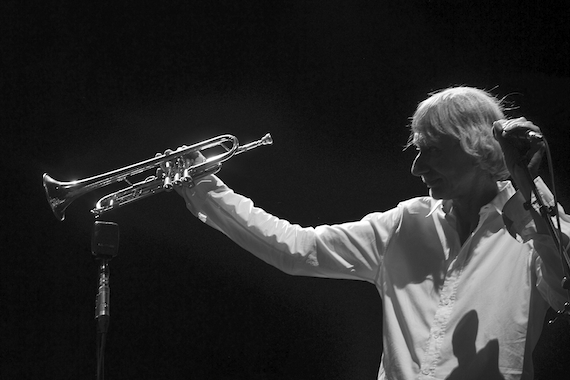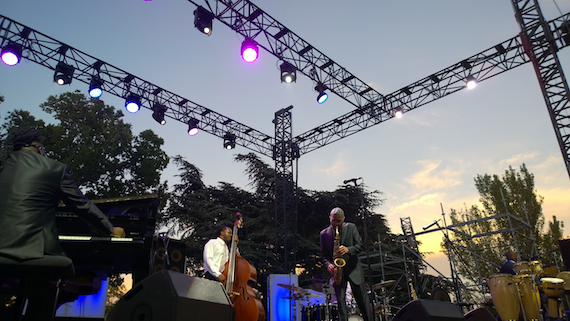 Erik Truffaz, Kenny Garrett at Marseille Jazz Festival.
Photos: Paul Allen
Highlights from this year's festival included Lisa Simone (daughter of Nina), singing her own soul and blues with one of Nina's classics thrown in, local accapella quintet Radio Babel Marseille, inimitable bassist Stanley Clarke and his band, brilliant Kenny Garrett quintet, and legendary jazz trumpeter Erik Truffaz performing his unique fusion of hiphop, drum'n'bass and classical music.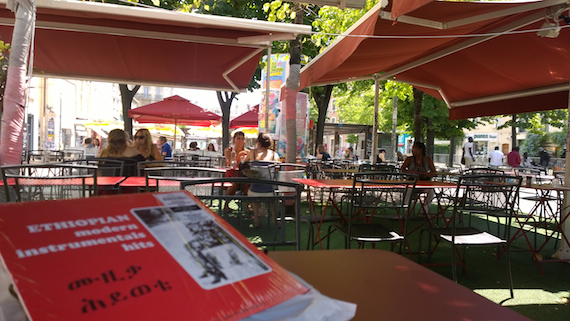 Cours Julien. Photo: Paul Allen
Cyril Benhamou, a musician from past jazz festivals who we met at this year's festival, suggested we visit lively, bohemian Cours Julien and Galette, one of his favourite record shops. After an enjoyable rummage through Galette's vinyl, we popped into Le Wishes, a nearby boutique offering imaginative clothing and jewellery from local designers.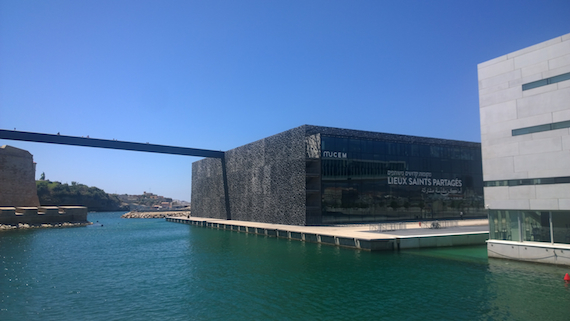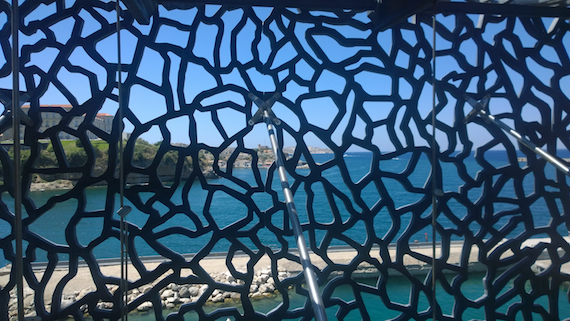 MuCEM. Photos: Paul Allen
Marseille was cleaned up for its reign as European City of Culture in 2013. The vieux port and the striking MuCEM (Museum of European and Mediterranean Civilisation) are the clear evidence of that. The attractive port is jam-packed with sailboats and pleasure boats transporting visitors to the islands, alongside fishermen's vessels. And Ombrière, the mirrored steel canopy by Norman Foster, provides both a visual feast and shade from the +35 degree heat in the summer. At night, happy customers fill vibrant bars like Bar de la Marine on the harbour front.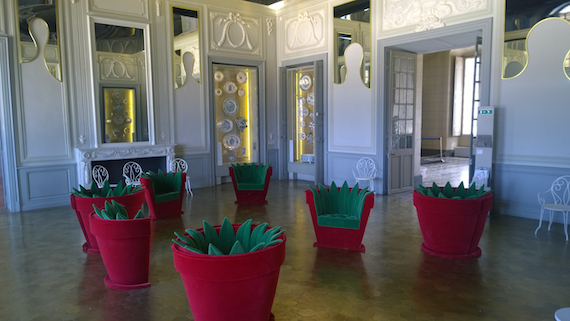 Hubert le Gall chairs at Musée Borely. Photo: Paul Allen
Other essential highlights include the super touristy but fun Petit train de tourisme from Vieux Port up to Notre Dame de la Garde for the ultimate panoramic views of the city. Musée Borely, an 18th-century chateau, now a decorative arts museum, featured red and green cactus chairs by Hubert le Gall as part of Pop Art Design. La Vieille Charite, a 17th-century homeless shelter with a fine Baroque chapel in the courtyard, shows modern art exhibitions. Futurs, an excellent exhibition of Matisse, Miro and Calder is on until 27 September.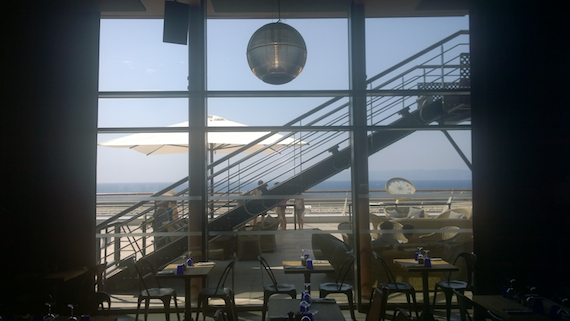 Le Refectoire. Photo: Paul Allen
The roof terrace of Le Refectoire, a chic new restaurant at Les Terasses du Port, is ideal for afternoon cocktails and evening clubbing. Our lunch highlights included chickpea fritters, a Marseille specialty, fresh calamari and divine pistachio and strawberry ice creams made by a local 80-year-old lady. The kitsch interiors also feature an actual boxing ring and retro arcade games like Space invaders and Pac Man.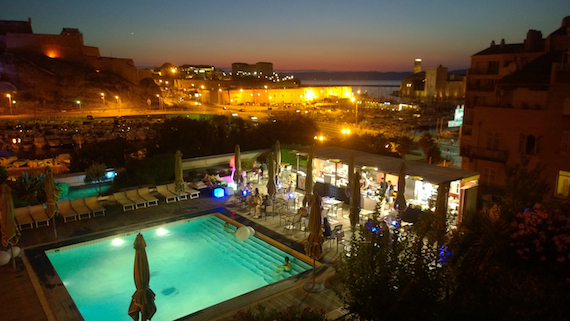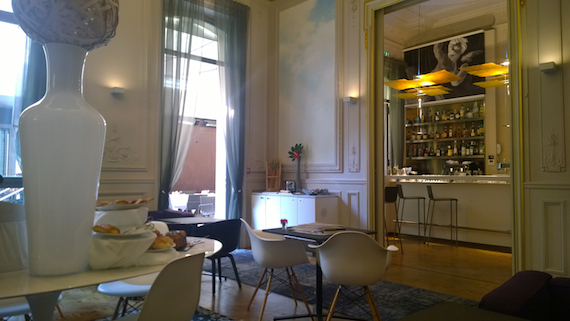 Radisson Blu/C2 Hotel. Photos: Paul Allen
We stayed in three different locations in Marseille, starting with the New Hotel, conveniently located on the bus route to Theatre Silvain, a jazz festival venue. The Radisson blu was comfortable and relaxed, with a fantastic location on the harbour and spectacular sunset views of Vieux Port from our room. C2, so named after its architect owners Claire Fatosme and Christian Lefevre, is in a discreet location a few streets up from the port. Claire and Christian lovingly renovated the 19th-century former mansion, keeping most of the original features, including a gorgeous ceiling fresco in our room. Excellent house music contributes to the cool vibe and chilled atmosphere, as does a petite, lovely spa on the lower ground floor where we relaxed before heading back to London.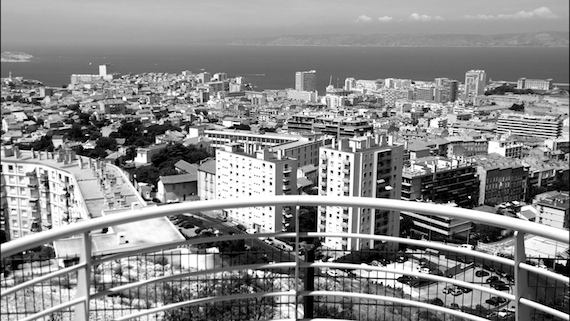 View of Marseille from Notre Dame de la Garde. Photo: Paul Allen