When I heard that The Sanctuary, the beloved women's day spa in Covent Garden would be closing after 37 years in business this spring, I wondered if this heralded the end of day spas. Are people too time and cash poor for such indulgences? This is clearly not the case as I found a multitude of spas to choose from. In an attempt to escape England's wettest winter in 250 years, I decided to make it my mission to find London's best day spas.
I found that unlike at the Sanctuary where it's possible to pay for a day pass to enjoy the spa facilities, most of London's spas are accessible only when a treatment is purchased. The spas I visited were all in luxurious/boutique hotels that probably don't want to be overrun by noisy hen parties and the like. The exception to this is the spa in the St Pancras hotel where a day pass is a reasonable £45.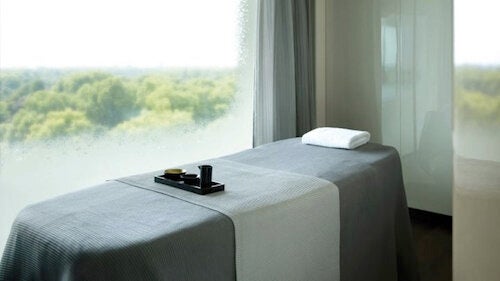 Four Seasons treatment room with views of Hyde Park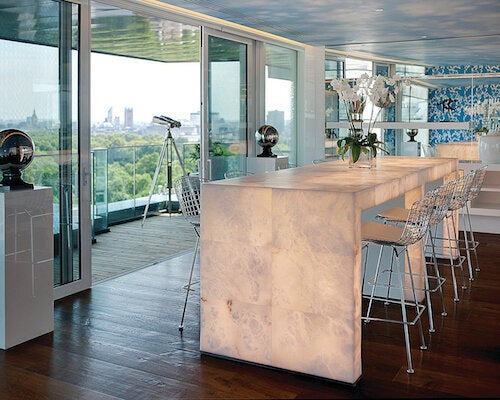 The spa cafe at Four Seasons
After arriving at the Four Seasons on Park Lane drenched by yet another torrential downpour, I hoped for a respite from the rain in order to take advantage of the stunning views on offer from the spa on the 10th floor. I wasn't disappointed. After warming up in the steam room and sauna, I ate from a delicious sushi bento box while enjoying panoramic views across London from the super stylish spa cafe. And even more pleasing was my massage in a treatment room that boasts floor to ceiling windows with views of Hyde Park. My personalised Swedish massage was firm yet relaxing. The only thing missing at the Four Seasons is a swimming pool but the luscious treatment room and womb-like post-treatment pod where I sipped mint tea and listened to jazz more than made up for no pool. Treatments that include access to the spa start at £110. It's also possible to take a less-expensive treatment and pay a £45 supplement for spa access.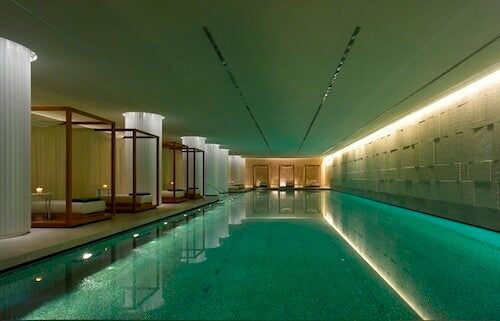 The 25 metre pool at the Bulgari
The Bulgari on the other hand has an impressively large swimming pool that's half Olympic size so a proper workout is possible. However I'm all about the relaxation aspect of a spa afternoon so I was content to do a few gentle laps in between dozing under one of the canopied beds lining the pool. I also experienced one of the best facials I've ever had which featured the use of a Clarisonic electronic brush which cleansed my face so well I was sorely tempted to buy one afterwards - an absolutely genius product. All the Bulgari spa visitors appeared to be hotel guests or spa club members using the personal training gym run by a company called Bodyism. However, it is possible to use the facilities if a treatment is purchased, the least expensive being a champagne afternoon tea, shampoo and manicure or pedicure for £150 which seems a bargain considering the lush surroundings. I'll definitely be back!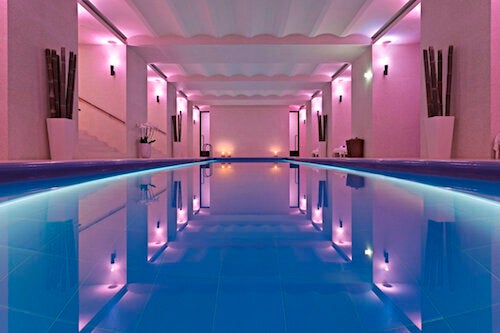 The lap pool at Akasha Spa, Cafe Royal hotel
The Akasha spa at Cafe Royal is happy to welcome day visitors if a treatment is purchased for £95. I chose a massage that turned out to be a wise decision as I was told the knots in my back indicated major stress. My therapist attempted to work out the knots with a deep tissue massage that left me with the euphoric feeling achieved after a tough but really satisfying workout. An unexpected aspect of the treatment was dripping oil on my 'third eye' which I thought would be bizarre and unpleasant. However, the warm oil gently trickled between my eyes and forehead was amazingly comforting. The spa is based on the four elements of Akasha; earth, water, fire and air in the pool, jacuzzi, sauna and steam rooms. I discovered that it's possible to enjoy the facilities by booking a 50-minute treatment (from £95). Comfortable beds surround the pool area and I had a hard time persuading my spa companion that it was time to head back out into the hustle and bustle of Piccadilly Circus.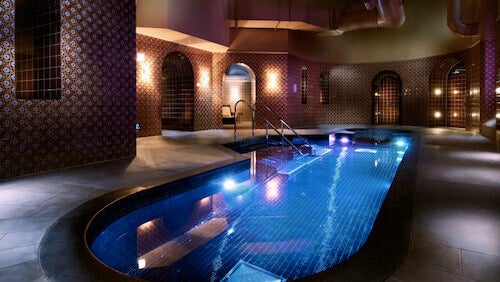 St Pancras spa, located in the old kitchens of the hotel
Glorious tiles covering brick arches with light seeping through the skylights in the high ceilings, the St Pancras spa, located in former kitchens far below the hotel, was the prettiest of the spas I visited. Unique in its use of attractive, colourful ceramic tiles, the spa has a Moroccan feel to it. There's a shimmering, warm lap pool, a sauna and steam room with comfortable lounge areas around the pool and places to relax in more private nooks as well. The treatment menu includes an extensive list of scrubs and massages. I had an awesome combination of both called Journey to Africa that involved a clay wrap followed by a fragrant Moroccan massage. I emerged calm, tension-free and smelling like cinnamon and eucalyptus. Half-day passes are available from £45 and free access to the spa with a treatment start at £105.