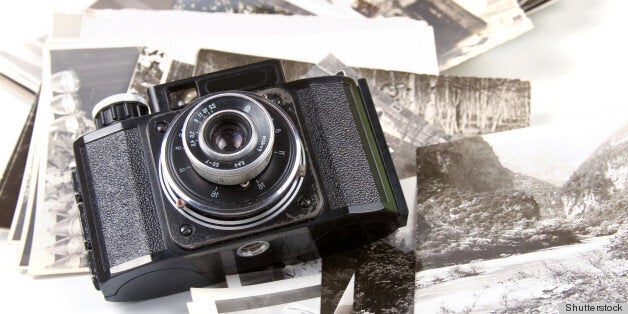 London's Somerset House (which has over the years, secured a deserved esteemed reputation for hosting the best fashion exhibitions in the British capital) is currently displaying 'Miles Aldridge: I Only Want You To Love Me', a major retrospective of the work of photographer Miles Aldridge. Coinciding with the publication of a book with the same title by Rizzoli, this is the largest exhibition of Aldridge's work to date, and one that should not be missed by anyone who has even the most passing interest in fashion or photography.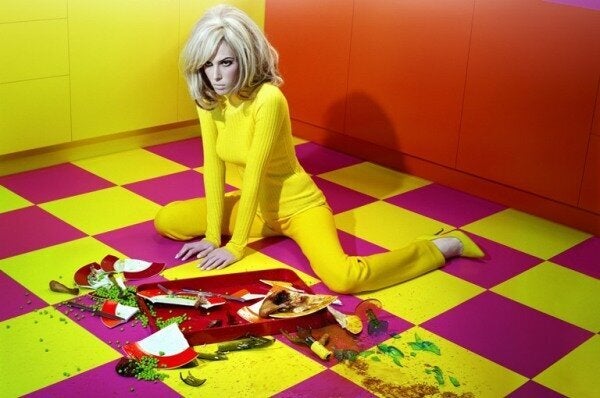 I Only Want You To Love Me #1 © Miles Aldridge (2011)
Born in London in 1964, Miles Aldridge studied illustration at Central Saint Martins College of Art & Design and had a brief career directing music videos before becoming a fashion photographer in the mid-1990s. His many influences include the highly stylised films of David Lynch and Federico Fellini, the elegance of the fashion photographs by Richard Avedon and the psychedelic illustrations of his father, Alan Aldridge. Over the last two decades, Aldridge's photographs have been published in numerous magazines and newspapers including Vogue Italia, American Vogue, Numéro, Ponystep, The New York Times and The New Yorker. In addition, his work was displayed in the exhibition 'Weird Beauty: Fashion Photography Now' at the International Center for Photography in New York in 2009, and some of his photographs are part of the permanent collections of the British National Portrait Gallery and the Victoria & Albert Museum.
The exhibition at Somerset House features over 50 large-scale photographic prints produced throughout Aldridge's career, including previously unpublished material. More importantly, it includes hand-drawn story-boards, drawings and polaroids that allow a glimpse of the methodical and creative mind behind the immaculately crafted glossy prints.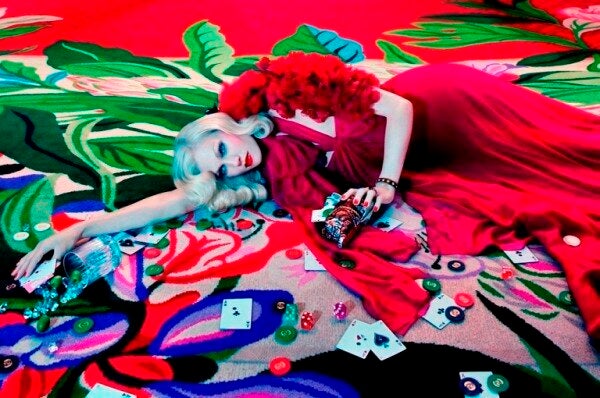 The Rooms #2 © Miles Aldridge (2011)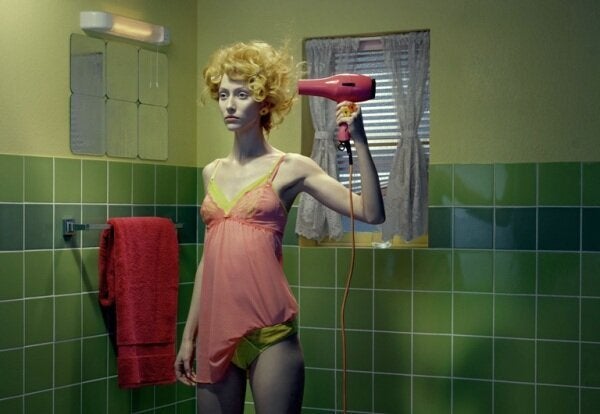 Chromo Thriller #3 © Miles Aldridge (2012)
Aldridge's work is replete with representations of beautiful women in the most diverse contexts, from dazed housewives to sunbathing hedonists to ecstatic Virgins. Even though these women are frequently described as having blank expressions (a perception that often equates abandonment to the desires of men), Aldridge prefers to describe the faces of his subjects as representing states of contemplation. One can delve deeper into this debate by suggesting that Aldridge's work portrays a beguilingly veiled sense of societal disturbance and personal neurosis. Such an interpretation ultimately enriches the sartorial realm by dethroning prejudices associated with superficiality; instead, the subjects in Aldridge's photographs embody the emotional and intellectual qualities of those who do not shy from celebrating the ingenuity and beauty of fashion.
Regardless of this debate, the final result of each photograph produced by Aldridge cannot but be considered extremely enthralling. A meticulous approach to photography is evident in the thoroughly detailed considerations involved in producing each piece of work, from the carefully combed locks of hair to the highly studied positions of objects and people to the exhaustively scrutinised choices of colours and shadows. 'Miles Aldridge: I Only Want You to Love Me' at Somerset House leaves no doubt that the women in Aldridge's photographs describe an unrequited need for love that only highlights the complexity of the human condition. As for the exhibited photographs themselves, they cannot make you love Miles Aldridge's talent more.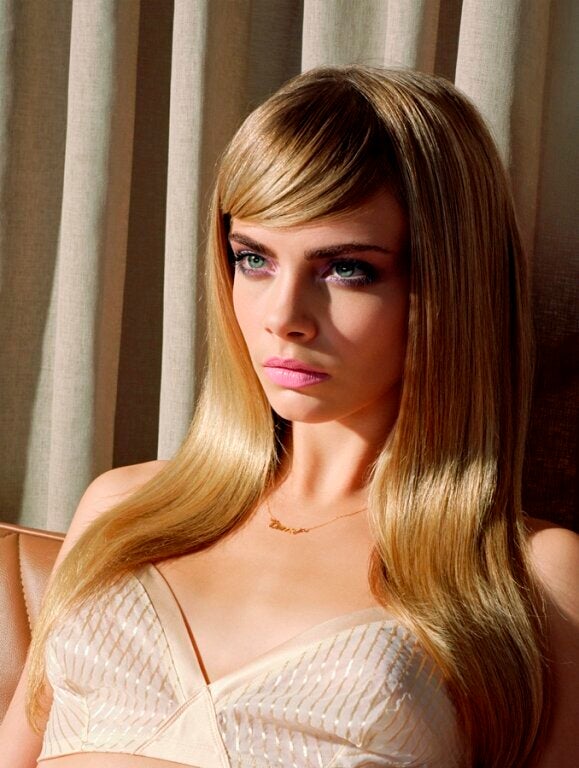 Venus Smiles #8 © Miles Aldridge (2011)
Photographs courtesy of Somerset House